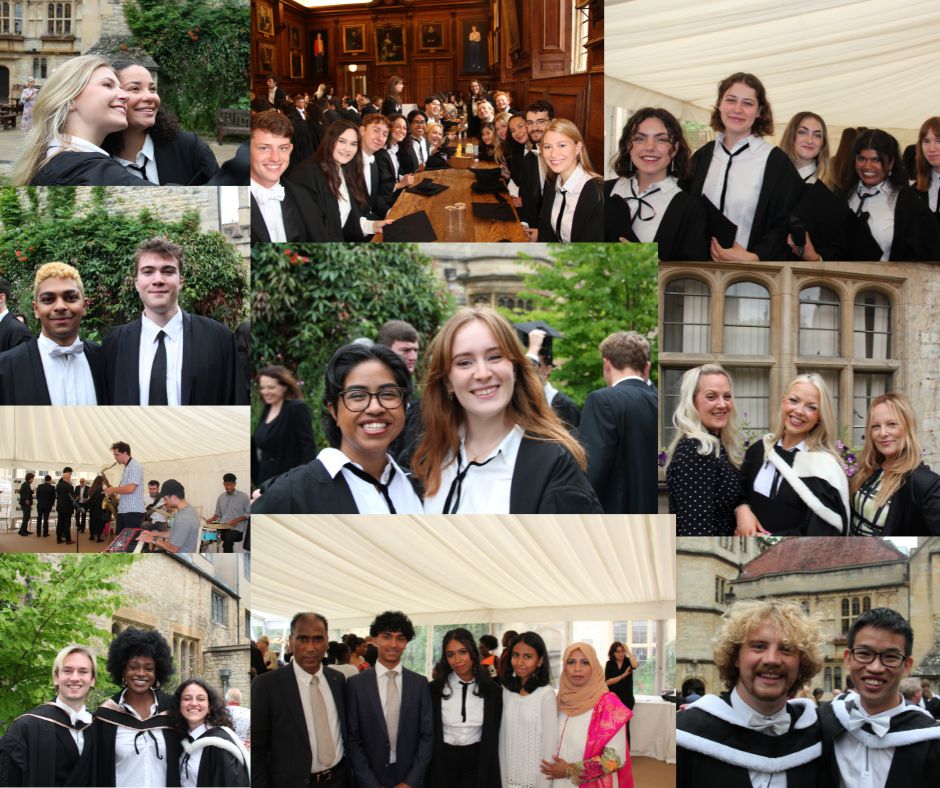 We are pleased to announce that undergraduates at Brasenose College have achieved fantastic results in their final examinations, with 45% achieving a First and 97% either a First or Upper Second.
We are delighted for every one of our students, who have worked so hard and fully deserve their Oxford degrees. Supporting them has been a real team effort – not just our fabulous Tutors but the whole Brasenose community who create a beautiful and enriching place to live, study and relax. It's easy to forget that the early part of our Finalists' studies was disrupted by the pandemic, and the group showed great determination to progress through those difficult times.
Gaby, who first visited Brasenose College when she was in Year 9 as part of an outreach programme, commented: "From the moment I arrived at Brasenose to receiving my First-class Honours BA at the Graduation ceremony today, I have loved my time here and will cherish the memories I have made. Reading French in such an inspiring, stimulating and welcoming environment was a true privilege". Joe, who gained a First Class degree in Physics and Philosophy, added "I'm very pleased to be leaving my time at Brasenose with a First, and I'm grateful to my tutors who have supported me extensively throughout. I've received very detailed feedback, and always felt they cared about how I was getting on. Outside of academia, Brasenose has given me the opportunity to take part in whatever I was interested in. I loved the college sport community, which takes anyone from complete novices to experienced athletes up to a very competitive and encouraging standard. It's a good symbol of how welcoming Brasenose is, and the emphasis it places on balancing studying with making the most of your time at Oxford."
On Friday 28th July the students and their guests gathered in the College for their graduation ceremony. After donning graduand gowns, the students walked the short distance across Radcliffe Square to the resplendent Sheldonian Theatre, built in the 1660s and designed by the young Christopher Wren when he was still predominantly an astronomer. Once inside, each student was presented to the Vice-Chancellor and Proctors in subject groups, live-streamed, before leaving the theatre briefly to put their graduation gowns, re-entering to wild applause.

Following the ceremony, Brasenose students returned to the College for a party, with parents and other relatives joining them. A marquee, a jazz band, refreshments and drinks were all provided and the weather was kind.
Saying goodbye to our finalist students is always tinged with sadness, yet they are always welcome back and remain a member of the Brasenose community for life. Some will be continuing with postgraduate studies in Oxford or elsewhere, and others will be off traveling round the world or beginning work. Aptly enough the next crop of Brasenose undergraduates, who will join us in October, will shortly receive their A-level results and we are very much looking forward to meeting them all.
Our Senior Tutor, Simon Smith, commented: "I greatly enjoyed congratulating many of our graduates and meeting their guests at the reception. They take with them happy memories and our very best wishes for the future".
If you are interested in applying for undergraduate study in October please visit here and also consider engaging with our open day on 15th September. Try the student takeovers on Instagram @brasenosejcr and also have a look at our prospectus, our alternative prospectus, and videos, as well as twitter @brasenosenews. Why not read some students views in blog posts from Brasenose students Alex Hattie, Sam, Lucy, Jui, Liberty, Josh, Jackson, Joel, Fran, Krishan, Eleanor and Chris. Brasenose is located at the very heart of the cosmopolitan city of Oxford, and is able to offer single bedrooms to undergraduates for all years of study.
An admissions report for the 2022 entry admissions round provides some further statistics.