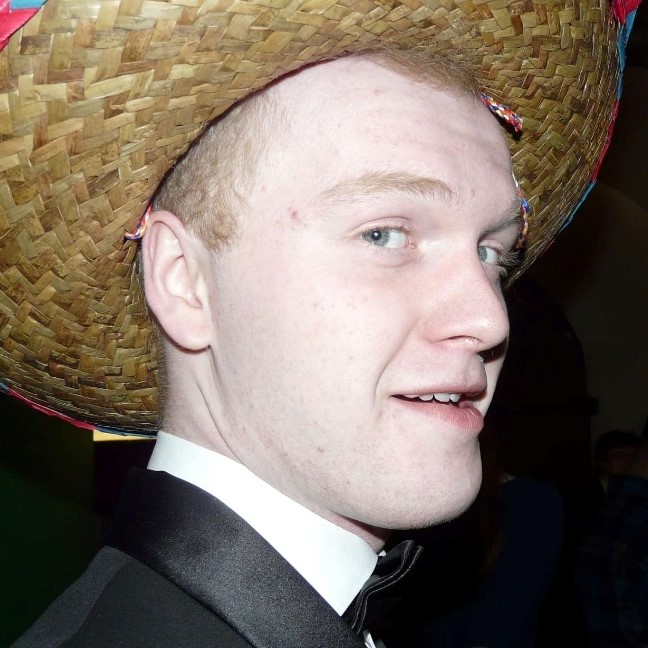 My first year at Brasenose seemed like a fairy-tale so when our schools officer Joe asked me to write an article about my first year at Brasenose there was no other response than to say "yes: of course!". However, a year ago today I had trepidations about coming to Oxford. My name is Sam and I am about to go into my 2nd year of Medicine. I come from a state school in Manchester, which meant the world of Oxbridge felt like a mystery. Whilst my school wasn't new to getting people into Oxford my teachers and friends still warned me about Oxford. They spouted warnings that my social life might be non-existent or curtailed by the never-ending workload. They suggested that Oxford was too "posh" and "southern" or I might feel out of place in such a prestigious institution. However, they did admit I would thrive with the tutorial style of teaching and gave me the confidence to apply even if it was a long shot in my eyes. I am pleased I overlooked these warnings: they were totally wrong!
Oxford, especially Brasenose, is so much more than the stereotypes: it is such a beautiful, welcoming place that I now proudly call home. My year was filled with so many opportunities both academic and social. The stereotype that Oxford is only for work was amiss. I had a rich and thriving social life. The Oxford college system acts as a social cauldron; living with 100+ people in your year (and those in the older years) means you will inevitably form a diverse and exciting friendship group. Everyone at Brasenose is so unique and interesting from those who speak multiple languages to the musical fanatics that it is easy to feel like an imposter. Yet everyone at Brasenose brings something special to the college, no two people are the same! Brasenose really is the "friendliest college" where inter-year interactions and a wealth of activities fill your time that the 8 week term flys by. I am always eager for the next term to see what comes next. I loved all the events that Brasenose runs from fancy dress parties called BOPs to balls that are extremely inexpensive but extremely fun (~£20) to small things like punting in the sun during summer. Sport at Brasenose is also a massive part of life but sport at Brasenose is for everyone. This meant I could get involved in sports I've never done before like ice hockey (yes really) and rowing to getting involved in sports like Badminton in a relaxing, non-serious way- all for free! We even had a sports day in the place that shall not be named…Cambridge... playing against our sister college. Brasenose also won the inter-college croquet competition this year! My team got to the 4th round, which for freshers was amazing. I loved croquet, mainly because my team insisted we all wore the same Hawaiian shirt to our matches. This meant embarrassingly we had strangers ask for a photo with us in the street… multiple times! My friends in Manchester often tease me for getting involved with croquet (and for our team Instagram page).
However, what I realised most is that Oxford is just mis-understood. Croquet is a perfect example as to why. One worry I had was that Oxford is too "posh" but Oxford is just steeped in tradition. From wearing sub-fusc for exams to wearing gowns for formal meals these traditions might seem "posh" and ancient to many but they are actually extremely fun. It is what makes Oxford unique and I have grown to love them. Everyone does them no matter their background. In fact I believe they bring us all together recognising that we are all a part of the same place sharing this amazing opportunity together regardless of background. I actually like wearing my gown, it's my guilty pleasure (alongside watching Love Island). Nothing can beat being "trashed" after my final first year exam, it was a fitting end to an unbelievable year. But everyone here is innovative, striving to foster a strong sense of community regardless of people's backgrounds. The people definitely make Brasenose and they made my first year!
Brasenose put all my worries to bed extremely quickly. From freshers Brasenose was very welcoming. In the 1st week we had a meal with everyone that does our subject across all years, which for Medicine is a rather large event with 6 years' worth of students!!! But we also had a "parents dinner" with our college family. The college family system is one of the many ways we are the "friendliest college". Every student has a parent who does their subject but also another parent who doesn't. This means you have college parents and siblings who you can go to with any queries about college life or your subject. During your 1st term there will be a wave of college marriages… I remember my marriage in a Weatherspoon's after a college cocktail evening! This warmth I had from Brasenose was pivotal to me who was worried about settling and fitting into Oxford.
Yet, as I look back at my year with a smile across my face I cannot pretend it was completely a "fairy tale" as my friends from home described it. I must be candid: at times it was hard. The workload was high, especially for Medicine and at the beginning I struggled to adapt to the new way of learning using libraries and textbooks. The essays also took a while to get used to and could be stressful if I had three due in a week. Yet my tutors were so helpful, they knew university is a jump from Sixth Form so they were always there to help me if I was struggling. Despite the high workload I actually enjoyed my work. Everyone at Oxford does their subject because they are passionate about it meaning the work is enjoyable as opposed to a chore. Tutorials were exciting yet demanding but this meant I learnt so much. I felt great satisfaction when I could come up with an articulate, academic argument challenging current scientific consensus or I found a new way to explain something trivial. For me as a medic, I had opportunities others didn't have. From meeting real life patients, to experimenting on myself. I remember electrocuting my arm to test nerve conduction or doing an ECG to experiment how it changes with different stimuli. With Brasenose I had talks and meals with people at the forefront of their field. These inspired me and these opportunities are so unique to Oxford.
Yet Brasenose has been supportive academically in a new way for me. I was diagnosed with dyslexia this year… a shock for me but certainly not a shock for my friends back home in Manchester who thought it was a desperately needed diagnosis. I was worried being labelled as intellectually disabled would make me an out-cast from such an academically rigorous institution but in fact it was the opposite. My tutors praised me for going so long without realising and treated my diagnosis as a way to enhance support. They helped me with my writing skills, allowing me to type essays as opposed to handwriting them and they helped me find more accessible text books. In hindsight I should have felt relief not concern when I was told I was "definelty in the spectrum of learning disabilities". This too showed me how welcoming and inclusive Brasenose really is.
I can't wait for next year! New content, a new room, a kitchen and most importantly a plethora of opportunities to take in my stride. To anyone hoping to apply to Brasenose or Oxford more generally all I can say is… apply! Don't believe the stereotypes; if you are good at time management and love your subject you want to study then Oxford is the place for you! Oxford is full of opportunities for everyone from all backgrounds. Oxford really is what you make of it.
By Sam (Formerly of Parrs Wood High School)