Brasenose has a reputation in the university as a happy and friendly college. Student life can on occasion be stressful, and we are determined to do everything we can to help resolve problems before they become serious. Tutors get to know their students much better than is possible in most universities and are ready to offer help with any difficulties their own students face. In addition, there are a number of students and staff with roles dedicated to student welfare, whose details are below.
JCR Welfare Representatives
Ruth Holliday - 2nd Year English Language and Literature student
Hi, I'm Ruth! I'm the female welfare rep at Brasenose and I work together with Jago as part of the welfare system in college. With Oxford life being as busy as it is, it's so important to look after yourself, but this isn't always something you can do on your own! That's why our roles range from organising welfare activities (like free yoga sessions and film nights) to being friendly faces around college and someone you're always welcome to come and chat to about anything that's on your mind. We also provide confidential peer support counselling, as part of a great team of other Brasenose students from all different year groups, to make sure there are plenty of different opportunities and people you can chat to if there's anything on your mind! It's such a privilege to be able to perform this role, and I hope we can help to make your time at Brasenose that bit more welfare-y!
Jago Bruce - 2nd Year Medicine student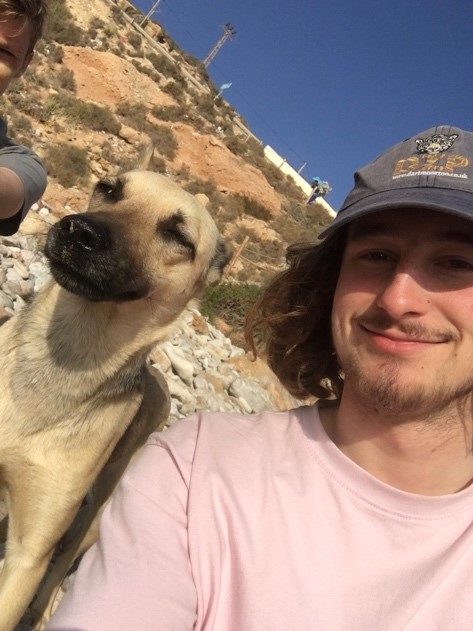 Hi! I'm Jago, the JCR male welfare rep, and I work with Ruth to help make Brasenose a happier place. We have varied roles, organising all kinds of different welfare activities from meditation to chocolate fountain evenings – hopefully something for everyone! We also act alongside the peer supporters as thoroughly trained listeners and points of contact for other students, signposting to the wealth of staff that are available for further support when needed. I'm really lucky to be involved in this hugely important aspect of college life, and look forward to seeing what the next year brings!
HCR Welfare Representatives
Ben Singer - DPhil Bioscience student
Ben is a Bioscience DPhil student at Brasenose, having continued at the college from undergrad. He's been a peer supporter and rainbow peer for nearly three years now, and is currently the HCR welfare rep. Interests include flowers, network theory, and listening confidentially and non-judgementally to any problem, big or small.
Student Support Advisor - Ellie Raikes
I provide an independent, confidential support and wellbeing service in college for students 3 times a week. I am a fully qualified psychodynamic counsellor registered with the British Association for Counsellors and Psychotherapists (BACP) and offer all students at Brasenose the opportunity to address confusing, stressful or distressing issues with a trained professional. My sole role within college is to provide emotional support and be available for students should they need a neutral space in which to work things out. It could be that the rhythms and pressures of the academic term are affecting you; you feel you aren't coping; difficulties arise within relationships; you feel 'out of sorts' but don't know why; you notice low mood or increased anxiety; a life event causes you distress or things feel overwhelming. Whatever is happening, I am here to support you. My task is to help students develop coping skills for when things are challenging or stressful but also to help you make sense of your experience. Through talking and reflection comes self awareness which can give you have the opportunity to build a greater sense of resilience, control and a clearer path ahead.
Ellie's hours in College are
Mondays: 12 noon to 2.00pm
Tuesdays: 1.30pm to 2.30pm
Thursdays: 1.30pm to 2.30pm
To make a confidential booking for a 30 minute session with Ellie, see www.bnc.ox.ac.uk/support
Dean and Junior Deans
The Dean and the Junior Deans work with the Chaplain and Senior Tutor to coordinate pastoral support within the College.
Counselling Service
The University Counselling Service is located at 3 Worcester Street, OX1 2BX. Email them or telephone (01865) 270 300 to arrange an appointment.
Chaplain - Julia Baldwin
The Brasenose Chaplain is Julia Baldwin: [email protected]
Other useful contacts: Dr Anne Edwards
Harassment Officer, Disability Officer and Adviser to Women Students, Dr Anne Edwards: [email protected]
For information regarding the college's policies on: equality and diversity, harrassment, harrassment reporting and staff-student relationships please see the links under the section headed: legal obligations on the following link: https://www.bnc.ox.ac.uk/about-brasenose/official-information
For college policies and information relating to many issues which may be of concern to students please also refer to the relevant sections in the 'Blue Book' which can be found here:
https://www.bnc.ox.ac.uk/current-students/handbook
The college harrassment officers for students are: Dr Anne Edwards, Professor Mark Wilson, Revd Julia Baldwin and Dr Simon Smith.
If you would like to talk to an harrassment advisor external to college please get in touch with the university harrassment adviser network, which also has contact details for harrassment advisers who identify as LGBTQ+ or BAME see the link here: https://edu.admin.ox.ac.uk/support and general contact information: Telephone: 01865 270760 / E-mail: [email protected]
for BAME students [email protected] is also available as an harassment advisor to Brasenose students and she sits on Brasenose's Diversity and Equality Committee.
Read about College provision for students with a disability or special need here
Read information on Transgender and Gender Identity at Brasenose College here
University Health and Welfare Provision:
The Health and Welfare section of the University's Student Gateway provides students with University information on:
Health - Details on registering with health professionals, medical emergencies, occupational health and an A-Z of health advice pages on common topics;
Disability Advisory Service - Guidance on study support including funding, special examination arrangements and fact sheets on specific disabilities;
Counselling Service - Comprehensive new range of pages outlining the support available to students in the form of individual and group counselling, workshops and self-help resources plus additional pages offering advice for those supporting students such as University & college staff, parents, other students and GPs & health professionals;
Student-led support - Information on the Peer Support scheme, OUSU Student Advice Service and Nightline;
Equality & Diversity - Introduction and links to the Equality and Diversity Unit website and an outline of the role it plays in ensuring no student will be treated less favourably on the grounds of age, gender, race, religion & belief and sexual orientation;
Childcare Services - Useful links to services and support available for student parents.