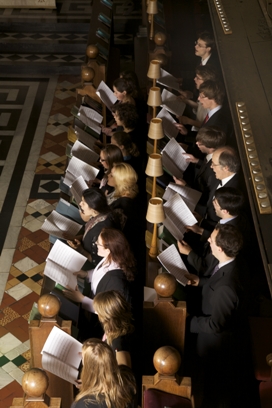 Brasenose College Chapel Choir comprises students mainly from Brasenose, in addition to a modest intake from other colleges, and is reputedly the largest college chapel choir in Oxford (between 42-50 members). The choir prides itself on its friendly atmosphere which fosters musical excellence within a sociable environment. In keeping with this philosophy, no auditions are required and membership of the choir is entirely voluntary.
Chief among the choir's duties is singing Evensong every Sunday, but it also sings for various special services and events, including two Carol Services, a termly Eucharist, the annual joint service with Lincoln College, and other College occasional including feasts and reunions. The choir rehearses every Thursday, and every year workshops with singing teachers or professional church musicians are organised.
Brasenose recognises the importance of the college choir through the appointment of up to eight choral scholars and four choral exhibitioners each year, auditions for which take place the year before entry, or at the beginning of the academic year. For further details, click here.
Cathedral visits have become a regular feature of the choir's activities. Recent visits have been, or will be: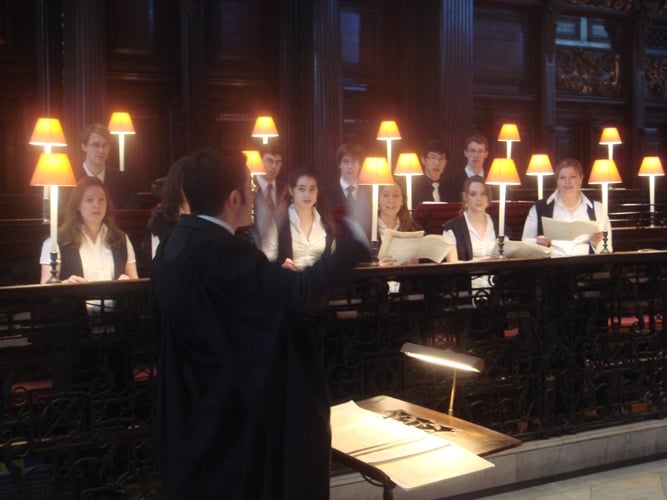 2011
Southwark Cathedral
St Paul's Cathedral
Winchester Cathedral
2012
Tewkesbury Abbey
New College, Oxford
Magdalen College, Oxford.
2013
Winchester Cathedral
Worcester Cathedral
2014
Christ Church Cathedral, Oxford
Tewkesbury Abbey
2015
Magdalen College, Oxford
The College also supports foreign tours. Following a successful tour of Rome in the summer of 2004, which included singing Mass in St Peter's Basilica, the Bishop of Santa Maria Maggiore invited the choir to participate in the Basilica's annual festivities of Santa Maria della Neve. The choir went to Paris in the summer of 2006; its members joined forces with Pembroke College, Oxford in June 2009 for a tour of Lombardia, Italy; and the Brasenose choir went to Rome in June 2010. The choir sang a memorial service in St George's Church, Ypres on 10 April 2011. In 2014 the choir went on tour to Bruges in Belgium, giving two well received concerts and singing Eucharist at the Anglican Church there.
Brasenose College is fortunate in having Stephen Taylor as Voice Tutor to the choral scholars. Anyone interested in joining the Chapel Choir should contact Christian Wilson, the Director of College Music