Food & Drink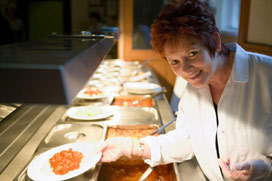 A range of catering options are available for both undergraduate and graduate students.
Breakfast and lunch are served in Hall, and are informal self-service meals. There are informal and formal dinners in the evening and a popular weekend brunch. For those who prefer to cater for themselves there are shared kitchens in the Frewin Annexe, which is a five minute walk from the main buildings; there are also some microwaves for the use of those who live in the historic college.

As well as providing food in the Hall and Gertie's Brasenose also has a popular bar.
Meal Times
Breakfast & Lunch
Breakfast in Hall: Monday-Friday, 8.00-9.00am
Lunch in Hall: Monday-Friday, 12.30-1.15pm
Brunch in Hall: Saturday and Sunday, 11.00-12.15pm
Dinner in Hall
Informal Hall: Monday, Wednesday, Thursday, and Saturday, 6.15-7.00pm
Tuesday and Friday, 5.45-6.15pm
Formal Hall: Tuesday and Friday 7.15pm
Sunday: 7.30pm.
Dinner is booked via the terminals in the Frewin computer room or Lodge using the Meal Card, or via http://www.upay.co.uk/.
Gerties
Snacks and drinks can be purchased from Gerties 9.30-12.00 and 12.30-3.00 each day.