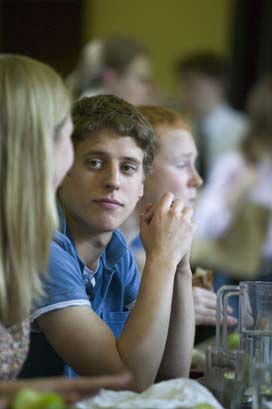 All meals are optional. There is plenty of choice and food is paid for using a pay-as-you-go swipe card system. All students, including those in self-catering accommodation, are welcome to use their cards to eat in Hall. The kitchen can cater for a wide variety of dietary requirements.
Breakfast is an informal, self-service buffet-style cooked breakfast. Cereals, toast and tea, coffee and juice are always available.
Lunch is also self-service with a wide variety of hot and cold options. There are three hot mains, fresh vegetables, a hot pudding, and fresh fruit and yogurts. There is also a salad bar with cold meat, fish and vegetarian choices.
On Saturdays and Sundays breakfast and lunch are replaced by Brunch.
Gertie's snack bar is another option. Their sausage and bacon baguettes are popular, as are light cooked breakfasts, with late risers who miss hall breakfast. Gertie's also serves hot and cold drinks, cakes, chocolates, crisps and baguettes and panini with a variety of fillings.
There are informal dinners on Mondays, Wednesdays, Thursdays and Sundays. Dinner is self-service with a choice of three hot options, together with fresh vegetables and a pudding. There are occasional themed nights, such as Mexican, Italian, or 'Green' where all produce is sourced locally.
There are formal dinners on Tuesdays, Fridays and Sundays when gowns are worn and a three course meal is served at the table. There are several College feasts during the year, including the Burns Dinner in January and Ale Verses on Shrove Tuesday.
Read a recent news article about food at Brasenose.