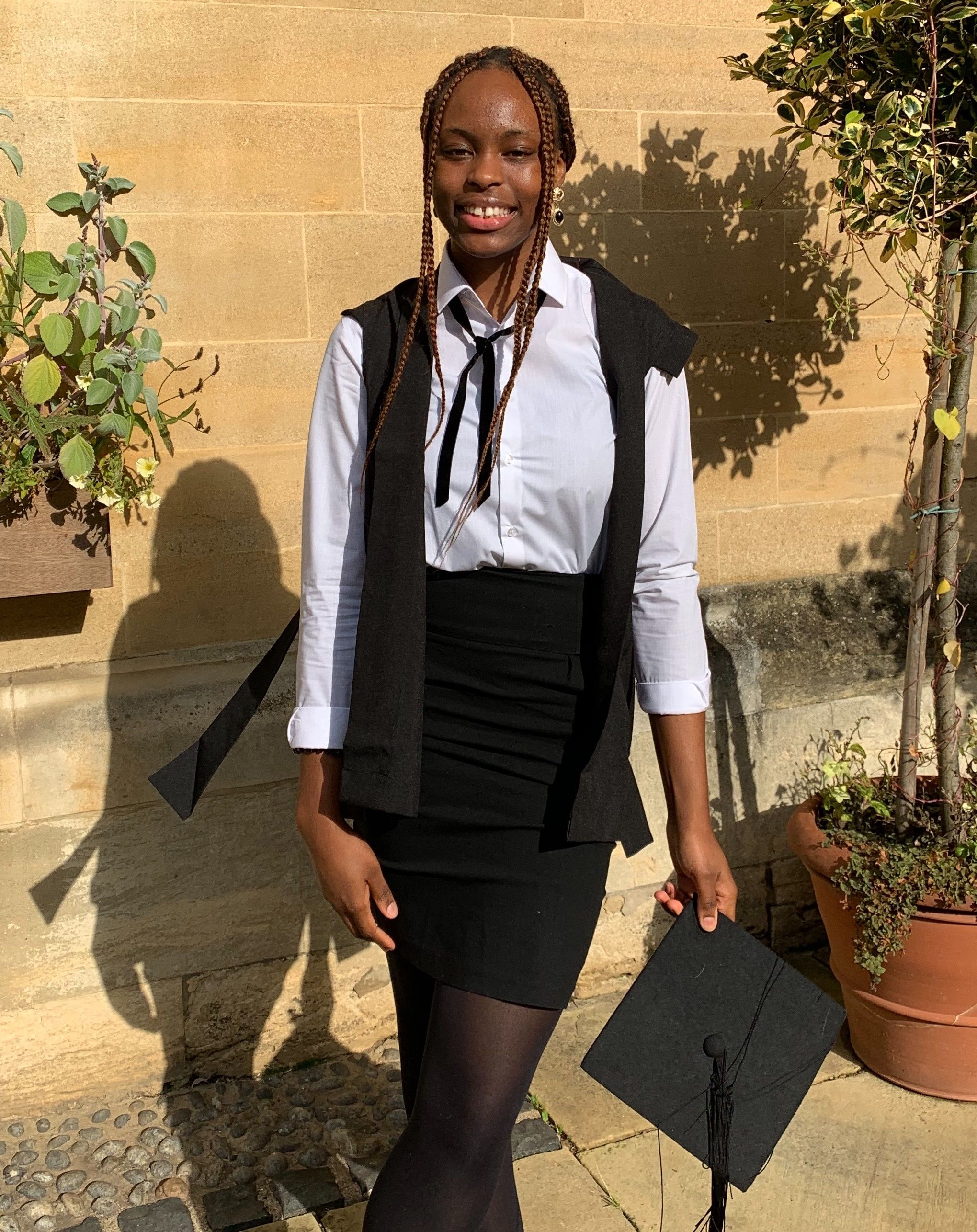 Sitting here and reflecting on my first term I can't help but feel utterly overwhelmed by the many beautiful experiences, amazing lessons and valuable changes I had within the short eight weeks of term! From being a first-generation university student and one of the first from my state school to attend Oxford to having regular tutorials with some of the world leading researchers and renowned academics, my first term as a Brasenose medic has been a whirlwind of both challenges and incredible blessings. Where do I begin?
My first weeks at Oxford were a vibrant blur of fledging new friendships and my first steps into the world of independence. For starters, it was important that I got my head around Oxford's often niche but delightfully rich culture and traditions. This involved mastering Oxford Jargon such as Bops (Big Organised Parties), term names (1st- Michaelmas, 2nd – Hilary, 3rd- Trinity), to being officially matriculated, wearing the infamous sub-fusc and being the stars of many tourist photos. Another fond memory of fresher's week was meeting two of my closest friends who also live on my staircase! Meeting them was a huge blessing and relief, as similarly to me they don't drink alcohol or go out nightclubbing much. This assuaged the pressure to go out during fresher's week; from chilling with other people in the student common room to simply having a banter-ful natter in our rooms, never was there an evening left unrelished. For a large patch of first term I felt the looming grasp of home sickness however with the support of the new friends I've made we were able to overcome occasional doses of blues together.
Fresher's fair was a highlight of fresher's week! Whether it be Tea drinking society, Bollywood dancing society or an abundance of £2.49 Domino's vouchers, the fair easily had something that tickled everyone's fancy. Inevitably, I got carried away and signed up for tens of societies and events that were passionately advocated to me by the budding student ambassadors, one in which included Oxford University Netball club. I eagerly attended the three-day trials for netball on the weekend of freshers week and upon selection for the Roos (seconds team) I have since had 4-5 training sessions a week whilst playing in regular BUCS (British university and college Sport) league matches on Wednesday. Amazingly, the last week of term marked our first match against Cambridge (our infamous rivals) and I'm proud to announce that we beat them with flying colours! Whilst doing university level sport has been a wonderful way of meeting new friends from various colleges and maintaining a high level of fitness, towards the start of term I struggled with balancing my academic workload with my sport commitments. This definitely was a stress inducing situation, however speaking to both the Netball Welfare officer and my "college parents" (second year students who mentor freshers), helped me to craft a healthy work-life balance which by the end of term I was thriving from! But to be honest, the 6:45am training sessions are still growing on me!
First term as an Oxford medic has encompassed a dynamic blend of lectures, practical classes (including anatomy and histology) and a few GP placements. First term witnessed the firsts of many things: my first 1500-word essay submission; my first essay crisis; my first late nighter at the library; my first MedSoc Ball and my first viewing of real cadaver body parts! Whilst work here at Oxford is quite challenging in terms of the quantity and speed of learning but also the difficulty, support infrastructures put in place by tutors and peers ensure that the workload is manageable and remains enjoyable. Also, medics from older years and other colleges are super helpful and are often willing to explain difficult concepts to you or send you their notes (lifesavers!).

Coming from an ethnic minority and low socioeconomical background, moving into Oxford and integrating into the student life involved quite the culture shock which has sculpted my experience at Oxford. I went from being a regular teen in the midst of my diverse home city to one of the few Black females in my college and university. Suddenly, I was thrown into a world where simple day-to-day tasks such as walking around campus to walking up the stairs of my lecture theatre felt unnatural. Looking around me it was rare to see faces that looked like mine or simply hear daily experiences that were familiar to me. In a sense, this interaction with people of such different walks of life is eye-opening and beautiful. However, there is an unspoken comfort in having the ability to relate to someone else on such a unique basis. Despite the continuous battle to improve university level diversity and equality, Brasenose has still been an amazing home for me. Through the college family system, I was paired to my college mum and current Diversities & Equalities rep Sanjana who has been incredible in showing me the ropes of Oxford and helping me settle into college. She also helped organise a Brasenose Black history month event last term which continued the valuable tradition of celebrating and encouraging Black British culture and success. Alongside this, Brasenose is home to some of the friendliest and most caring students and staff members, who upon meeting shattered any of my pre-conceived fears of not being accepted for my differences and background. I have been fortunate to meet an amazing and supportive group of the six other first year medics at Brasenose. From meeting at the plodge (porter's lodge) to sleepily waddle to our 9am lectures together, to regularly organising small 'medic Mondays' social events, Brasenose medics helped create amazing memories during Michaelmas term.
Whist diversity, whether regarding ethnicity or wealth, has always been a hot-topic for many world leading universities - and Oxford is no different – Brasenose are incredibly passionate about promoting and implementing change. During my time in Michaelmas, I immersed in the Access and Outreach events that were organised by the passionate and welcoming Brasenose team. From being an Interview host and helping create a comfortable and positive experience for candidates, to participating in regular student-led college tours for prospective students, I have found continuing Brasenose's access work incredibly rewarding. Likewise, I have participated in the access and outreach initiatives in the ACS (African Caribbean Society) such as helping organise student conferences to being shadowed by a prospective student for a half day. All in all, these approaches have helped shift this narrative towards one of change, debunk the mythical construction of what a stereotypical Oxford student looks like and helped elicit a conversation of solving this deep-rooted issue. Evidently, Oxford have seen an increase in BAME (Black and Minority Ethnic) and state school representation, with 22% of students being BAME (2020-2021) 1 and state schools students winning more than 69% of UK offers for the 2020-2021 academic year2 across all colleges (and nearly 80% for Brasenose). Also, joining the ACS has given me a place to celebrate and embrace my culture. Whilst being an opportunity to meet others who identify like me, lit events such as 'Chats and cheesecake' (where we discussed current issues whilst devouring through homemade cheesecake) and 'ACS Christmas' ensure that there is always something to do during the week!
Oxford will never cease to be a beautiful city; adorned in its traditions and idyllic landscapes Oxford's rich culture continues to grow on me! Whilst I am still finding my feet in the world of adulthood, I am excited to rise to the challenges of 2nd term in my home and community at Brasenose.
By Franceska Tchapdeu (formerly of Cardinal Wiseman Catholic School)
See more about Fran on her YouTube channel
References:
1 ITV (2020) 'Oxford University takes on more BME students', viewed 24/01/20 < https://www.itv.com/news/meridian/2020-01-13/oxford-university-take-on-more-bame-students
2Cherwell (2020) 'Breaking: Oxford announces record that school offers', viewed 24/01/20 <https://cherwell.org/2020/01/15/breaking-oxford-announces-record-state-school-offers/?amp&__twitter_impression=true