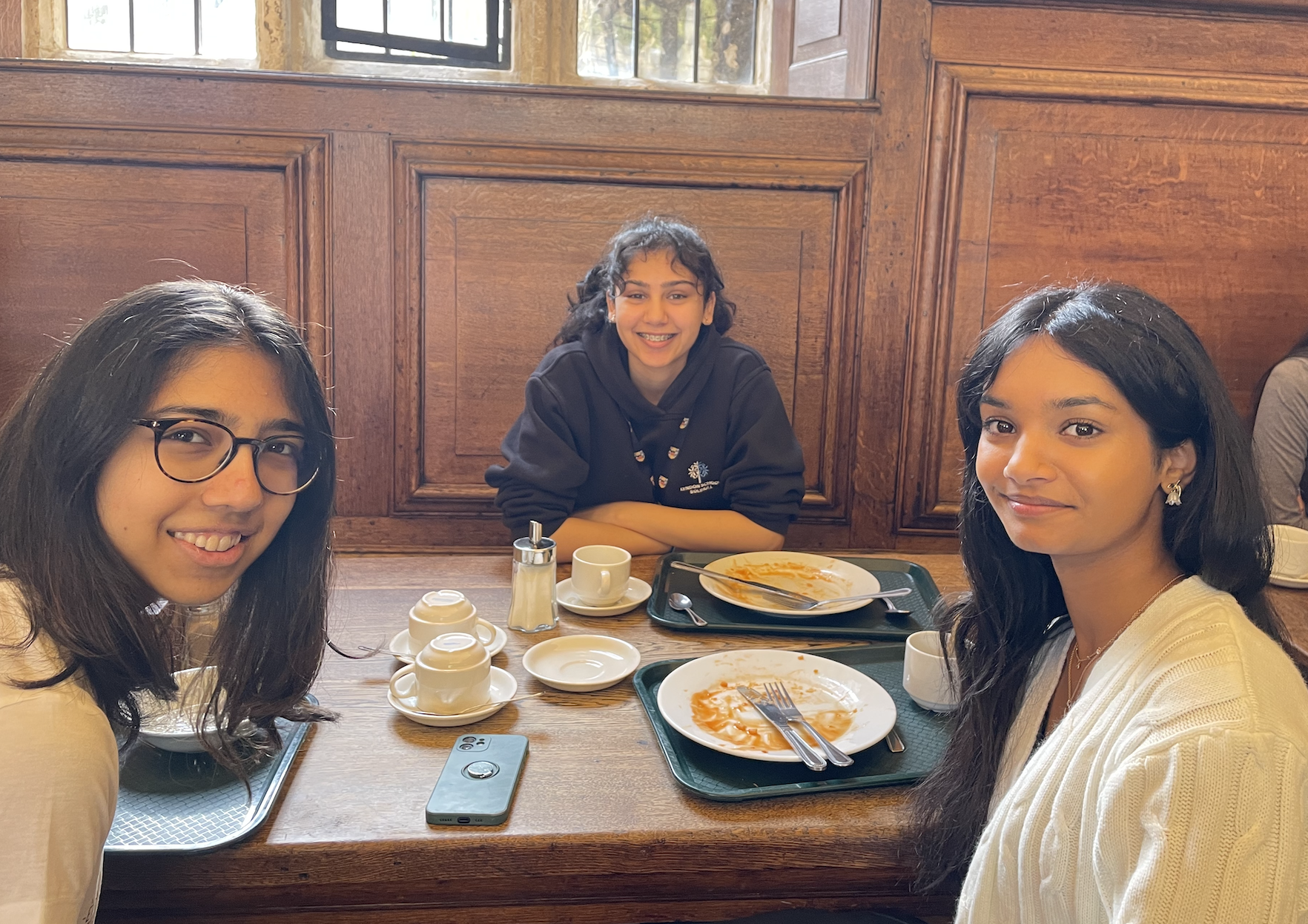 Around this time last year, a small Indian kid sat by her window watching the rain trickle down the pane as she ate the last of the snacks her mum had packed for her and felt indescribably lonely. She had great friends (as great as they got for people that she had known for about a week and a half), the hall food was perfectly fine and the tutors had been kind with deadlines. So what was this feeling? This feeling was homesickness and this fresher was me. Hi! I still can't fully explain why I felt the way I did but a huge factor was definitely that I didn't feel like I had met people like me and while I absolutely adore the diversity of the Brasenose community, at that moment I wanted nothing more than a conversation with someone who shared my background and culture, even in the broadest way possible.
Skipping ahead a couple of terms, I was lucky enough to have the opportunity to join the Diversity & Equality subcommittee as the Race and Ethnic Minorities Rep (lots of big, scary capitals). Armed with this newfound power, I decided that the one thing I wanted was to make sure no one - or at least fewer people - felt the way I did at the start of my first term. We already had subject-based College Families in place, along with an International Godparents scheme as well as the university-wide LGBTQ+ Rainbow Parents. So, I thought, why not have one more? One for freshers of colour who weren't necessarily international but still wanted a point of contact with a more seasoned member of the community of a similar ethnic background? I know that I would have loved to have somebody tell me how to get tickets for the Diwali Ball or that Tahmid Stores in Cowley had sesame thins or that biryani from the canteen wouldn't exactly be quite as spectacular as it sounded. So with the help of the lovely Joe Organ, I managed to form some cohesive thoughts and put together a proposal for the Admissions Committee. Finding out that the whole thing had been approved was genuinely more exciting than getting my Prelim grades. Then at some point in the Summer vac, I sent along a message to the offer holders, inviting them to sign up if they thought a RAEM parent would be beneficial for them and a similar message to the BNC community asking them to parent the freshers who wanted to take part. I created the most barebones Google form in living history (name, ethnicity, interests & hobbies, pronouns/other info) so that the manual matching process might be a little easier for me to carry out. Responses trickled in and I ended up with a whole ten freshers to pair with five college members which was perfect as it would help build bonds within the year group as well as between different ones.
I dropped my own "children" a message in Freshers Week and arranged a tea date with them. To be entirely frank, on the day, I was having my doubts. Surely they didn't really need this? Was there any point really? Had I just been overly sensitive when I had been in their position? A couple of hours later, I was excitedly waving my arms and telling anyone who made the mistake of asking that I think that I had done something real, something good, something that might actually have made a difference. Over tea and home snacks (my mother did it again), I watched two "kids" realise that for perhaps the first time that week, they were with people who kind of got it. The repetitive 'name, course, staircase' conversation was replaced with a deeper understanding punctuated by shared experiences and a reassuring sense of familiarity. The moment that nearly reduced me to an emotional mess was when one of my children shared his struggles with his accent and microaggressions. Before I had a chance to tell him that I would have very strong words with anyone giving him any trouble, my other child jumped in with the reassurance that he could always come to her to speak about these things and that she'd always be on his side. Surely this is what I set out to achieve? We had a wonderful afternoon and we have dinner cooked by me (dangerous but hopefully Google gets me through) on the cards soon.
Time for me to sign off and wrap up the sentimentality! Even if starting the RAEM parents scheme positively impacted one person's life in a marginally positive way, I can sleep happy knowing that the Brasenose community is a bit more welcoming and warm than it was before. Read on for some more parent experiences!
Jui Zaveri, 2nd-year Classics and English student :)
Taylor - ​​We shared a hotpot and soju at Bamboo Korean Restaurant, and talked about how fresher's week went, exchanged recommendations for food places, and also complained about how hard the water in Oxford is. Had so much fun we've planned for another dinner night on Wednesday!
Oyinda - We played a game of pool with her and her friend, and incidentally, my other college daughter, as they are both friends. It was really nice to talk and bond over niche similar interests, such as Korean dramas and that both of our dads are bald men in their fifties! And she also came with me to Christian Union, which was a really lovely time! All in all, would really recommend having RAEM children - it helps you meet more freshers, and provides minority freshers with a way to get to know more second-years, and ask very specific questions, e.g., Rebecca asked me a couple days ago for recommendations for where to buy black hair products. So it was nice that I could help out with even small things like that.