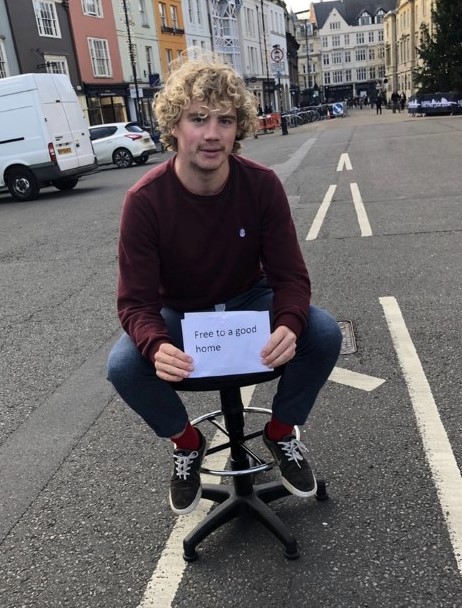 2020. By the time you are reading this that fateful year will be just a memory, although, as I write this, the pandemic that has plagued it is far from over. I would love to say I could write a blog about my first term at Brasenose without mentioning *whispers* The Coronavirus, but it has become such an integrated part of all of our lives that it is important to contextualise our (hopefully) unique experience here. I hope that wherever you are, reading this, that the world has healed significantly, and that the coronavirus of 2020 is nothing but a distant memory, but know that I sit here on a snowy New Year's Eve reminiscing about the strangest, yet most exciting year of my life so far. I look forward to a year in hope of what is to come, dreaming of returning to the city of dreaming spires sometime soon.
Now that's out of the way… Hi! I'm Jackson, and I am lucky enough to have just finished my first term of medicine at Brasenose College, Oxford. Medicine is weird here. Rather than the usual integrated 5 year course, we study a purely scientific degree for 3 years and then move to more clinical applications of this science- for me this is really cool, but it's really not for everyone. Probably my favourite thing to say about Oxford is that, despite all the history and the stigma, for medicine at least, it is no better or worse than any other uni, it's just different. Wherever you study you come out a qualified doctor. The tutorial style of teaching that is so unique to this place is incredible, but it's not how everyone learns best. If you're a prospective medic and you're reading this, I beg you, be honest with yourself about what style of learning works for you.
This time last year people thought I was mad for applying to do medicine at Oxford, and I agreed, but I did it anyway. After visiting the place and talking to people that study there, I realised overwhelmingly that, although there is a really tough admissions process, it was the best place for me to learn. So I took a risk and applied, and here I am! Now that I actually study here, I realise how good a decision I made.
The science focused course is perfect for me. We are one of the few science subjects that write essays (don't let this put you off if you don't like writing, the tutors are super good at bringing out the writing ability in you) which I love because I'm one of the few medics who did English Lit at A level. The ability to dive into the most interesting subjects to you is like nothing you'll have had at school. In one of my most recent essays I went completely off topic and started writing about how the new COVID vaccine worked. I got lost in all the details of it and found it so cool that all this research was being published from labs only a ten minute walk from where I was reading it from. It is a pretty fab degree to be doing when the people of the world are more focused on medicine and health than ever before. This research led to an in depth chat with my tutor that went on well beyond our allotted time (despite him trying to tell me to stay on topic in future!) that had almost nothing to do with the actual syllabus and everything to do with his own cool research. We also started to do an extra kind of tutorial that I love (and that is totally unique to one of our Brasenose tutors), a clinical tutorial. This may sound like a contradiction of what I said just a few lines ago, that the Oxford course is (initially) a purely scientific one. This is still true, science and understanding come first, but this tutorial helps to put all that science into perspective and makes it seem even more impressive than it was before. It runs pretty similar to a differential diagnosis scene in the American TV show: 'House' (it's great I promise, basically Sherlock but a doctor- cancelled A levels left me with far too much time…) which for me is exactly what being a doctor is about, using the things that I've learned to solve problems and hopefully one day fix people. I'm a long way from becoming a doctor but they definitely make me feel a little closer to it.
This is all a part of the huge learning adjustment that I've had to make at Uni, which has also been extenuated by the lockdown. You will probably remember the changes in your own life and it was no different for us. Lockdown means all lectures and practicals online. Therefore, even more than in the normal university experience, my time was truly my own. If I wanted to, I could watch all of my recorded lectures at 2x speed in the middle of the night and sleep all day (I definitely didn't, although I did have a couple of late night, last minute essay writing sessions), which is so different to the 9-3.30 nature of school that you get for the first 18 years of your life. This meant I had to develop my own healthy patterns of working, exercising, eating, sleeping and socialising, which has been tough. There's no pretending medicine at Oxford is easy, there is so much content to get through and it's an intense 8 weeks- but I wouldn't have it any other way. There is, however, always time for other things (I promise I'll stop talking about all the academic stuff soon, the extracurricular stuff is way more exciting!) whether it's sport, art, pursuit of other learning, helping out with roles in the community or just chatting with your mates over a £1.71 full English in a cardboard box sitting around a bench in new quad. The tutors are constantly checking to make sure you're ok and keeping up with the workload, and there's always the older students to ask for help. I hope someday soon we go back to lectures in real life as it can get a bit isolated working in your room or in a socially distanced corner of the library.
I have never felt lonely, however. Brasenose has such a strong community, everyone says it's like one big family, and I've really started to feel a part of that. Being a part of that community has really opened up my eyes to the world that exists out there. Being from just inside Cornwall, it is easy to feel cut off, miles away in the land of tourists and farmers. Don't get me wrong I'm immensely proud of where I come from (I never fail to remind anyone who will listen that the beaches in Cornwall are the best in the world, that jam must always go before cream on a scone or that pasties and rattler truly makes the greatest meal imaginable) but there are the smartest, most interesting and also most ordinary kids from all over the country and the world that study at Oxford, it's impossible not to fit in and experience people that you would never otherwise meet. It's amazing to have met so many genuinely lovely people from all different walks of life and to have heard their stories and to call these incredible people some of my closest friends after only a matter of weeks. COVID may have tried, but it has not stopped us getting to know each other.
Our fresher's week was like none before, with the (at this point standard) zoom quizzes, mixing with our households to make questionable cocktails and meeting people in small groups outside. A far cry from the wild nights clubbing and whole college 'bops' that exist only in the memories of the older years. Yet in some ways I think it was better than ever. Being locked away inside college has led to me spending a lot of time getting to know the people around me so much better than I would have in a normal year. I have made friendships I genuinely hope will last a lifetime, already, just from spending nights aimlessly wondering the empty cobbled streets in the drizzle nursing a portion of chips from Hassan's, chatting about things as wildly random as the philosophy of the existence of extra-terrestrial life or how Sergeant Pepper's is definitely better than Abbey Road. Basically, what I'm trying to say is that socially it's been amazing. I've never in my life felt like I belong so much as I do in this community, everyone I've met has been so kind and supportive and also really interesting to talk to at the same time. It was really cool for me to live in such close proximity to friends and to try to learn how to be adults all together (although I can't say I'm very good at it yet, Brasenose providing all meals you could want has been lifesaving) I would even say I've learnt far more about the world from talking to other students than I have from my degree, which is something so amazing about Oxford and Brasenose.
Also, despite the restrictions, it has been possible to join in with so much stuff within college and also the wider University. One of the best things about Oxford for me when applying was that they have an underwater hockey team, which is very strange for most but it's a sport I've been in love with for years. So when I say there is something for everyone, I really mean it! And if the crazy sport or niche society you are desperate for isn't there, set it up! There will always be someone else across the huge student body who will want to join in. I've also got involved with university swimming (before lockdown 2.0 cancelled it again) which has allowed me to meet people from all different years, colleges and subjects across the university. Once again, the community is amazing, as everyone unites over the desperation to 'shoe the tabs' (or beat Cambridge, in Oxford speak). There is a great team spirit on a college level too. I'm a rubbish footballer and I've still managed to make it on to the pitch for the black and gold in one of the two uncancelled matches this term which was great fun. The noise we created from the subs bin was incredible, I can only dream of the camaraderie that a real post-coronavirus crowd could bring on a sunny Saturday morning. Or maybe the Bob Ross style zoom painting class would be more your thing? Whatever you enjoy, from my short experience, there is always someone and something there to keep your mind off next week's essay.
As you can probably tell if you've read this far, I'm absolutely infatuated with Oxford and especially Brasenose after my first term. Despite being in the weirdest (A level free) circumstances, getting in to study medicine has been probably the best thing I've ever done and although this term and this year have been tough for a million reasons I wouldn't change it for the world. I hope you enjoyed this love letter to a term in a pandemic and I hope it makes you excited at the idea of studying in the best uni in the world. I know I'm excited to do it all over again as soon as possible!
-By Jackson Spry (formerly of Devonport High School for Boys, Plymouth)