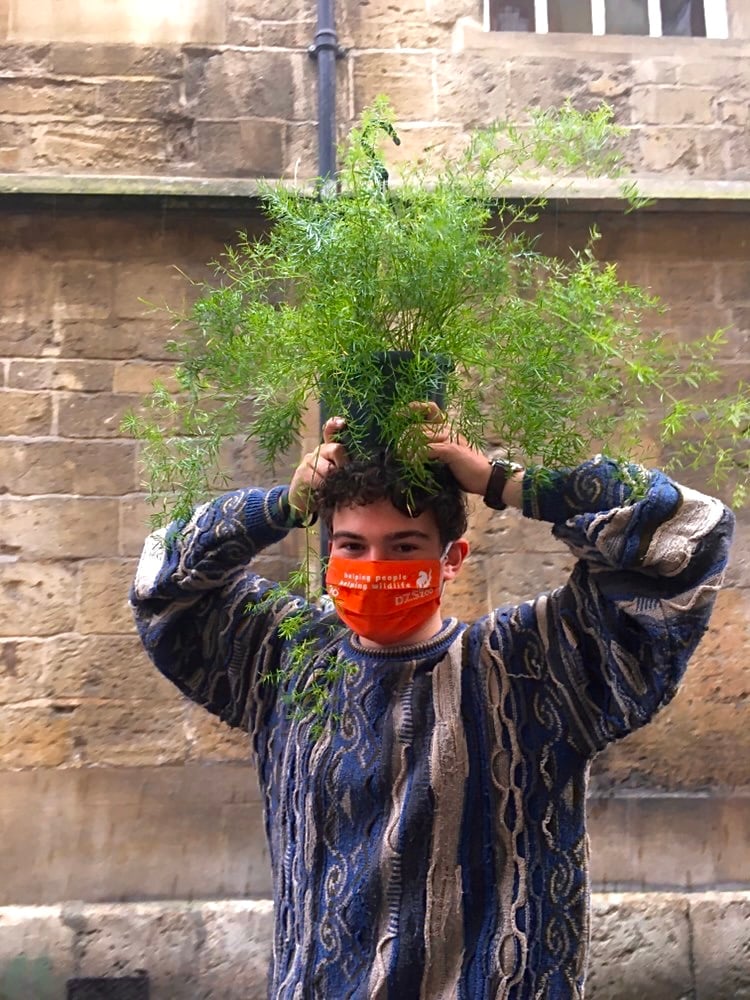 After moving from southern France to a Zoo in southern Devon, I hit English primary school with the complete and happy obliviousness of any 6-year-old. I distinctly remember looking at my 'homework', bifferentiating 'd' from 'b', and comparing it to the considerably longer strings of symbols my classmates were given. I spoke as much French and English as a bilingual 6-year-old should, but written language was truly foreign - squiggles and numbers everyone but me seemed able to lift common meaning from without any effort. I was lucky enough to be given a dyslexia test early on, and my result was loud and clear: totally disslexic.
With the help of teachers and fuel of my own frustration, my time at primary school was really just spent learning to read (I don't think I did any work apart from the practical bits of art and some very messy science quizzes). Although I could eventually read cool books, I couldn't spell very well or do much other than talk about science and draw things, so when it came to do the 11+ it was widely acknowledged I would not do well, and my dad - an iconoclastic 'I had a mohawk in the 80s' single parent - joked that he could ideally just home-school me. I had no concept of what following years of school were meant to entail and unexpectedly agreed wholeheartedly.
After a few attempts at standard home-school teaching in the first few years (we relaxed into a style I was very happy with of letting me learn whatever I liked without any need for producing actual 'work'), my dad (an Open University alumni) suggested I take the same two Level 1 Open Degree courses that he took in his 20s in order to get him in for Psychology at UCL. So, at 15 I started S111 'questions in science', at 16 AA100 'the Arts past and present' and MU123 'discovering mathematics', at 17 S112 'science: concepts and practice', and at 18 MST124 'essential mathematics 1'. These were all fairly blind choices, guided by general interests with a hope of maintaining some breadth so I could have more choices when applying to University for something.
Open University was a fantastic choice for me, and they accommodated me and my youthful situation brilliantly. I was able to continue learning independently and now had a continuous workload perfectly designed for remote learning part-time students - building towards concrete qualifications. For each course, I had textbooks to work through according to a weekly planner, and I would submit one assessed Tutor Marked Assignment a month and have a single, optional in-person tutorial a month with adult students in a borrowed room at a local college. As is expected of home-schooled kids, through all of this I developed independent learning skills, which I feel have made the transition to university study and the tutorial system more comfortable. Although still unusual in the UK, home education can suit some in ways that the traditional school system does not, and I want to encourage those with aspirations of applying to Oxford. The homely environment of Brasenose College and its community has made this strange new form of study 'with' 'other' 'people' all the more accessible for me. Similarly, applying to Oxford with only Open University courses to my name was nerve-racking as it is not a path that I found many others had taken (I sent MANY emails asking if my qualifications would be competitive). Nevertheless, despite the painstaking justifications and explanations in my personal statement, neither my background as an Open Uni or home-schooled student (or otherwise) was mentioned in my interview, and I was convinced to apply to Brasenose the moment I set foot here on an open day - and have felt welcomed ever since. When it came to my University offers, I was rejected by Imperial College London and UCL, and Bristol required a distinction in my final OU course. Luckily, Oxford gave me the lowest offer out of my university choices. I was surprised by this, but it also affirmed what I had been told about Oxford as a place for people in love with learning.
A perhaps unusual part of my background is that I have lived at Dartmoor Zoo for 15 years. It is a wooded 32-acre site on the very southern edge of Dartmoor National Park, home to ~67 (the number of minutes it took for me to remember them all) species. My extended family bought the Zoo in 2006 in order to save it from closure and the animals from euthanasia - and my dad wrote a book called… 'We Bought a Zoo', which was made into a Hollywood film called… 'We Bought a Zoo'. The public attention generated has been essential to keeping the Zoo running, and it was recently converted into a charity. The focus of the Zoo is to promote conservation, education, human wellbeing, and carry out research in association with Universities across the country to support animal rights and welfare. Living at the Zoo through its ongoing evolution is a privilege, and there is no doubt the experience has shaped my interests, knowledge, and perspective - both about biology and the wider world!
The freedom presented to families choosing home education can leave them tangled in options of uncertain destinations. Instead, the structure of schools creates a time and tide that marches those in mainstream education - this may or may not suit everyone, but it certainly helps keep you practically on track with the bulk of people your age. Many kids will grow up with only siblings as peers or may take part in home education groups. For me, the home-schooling itself was solitary but I was situated in a bustling social zoo of people (and animals), from all conceivable ages and backgrounds. This meant I hadn't really been prepared for the joy of learning in a social environment filled with others my own age on similar paths. I can't speak for other colleges, but I suspect Brasenose really is the friendliest. From the open day, interviews, and finally living in college, I have met brilliant people to both learn from and get away from learning with. I still find myself secluded in my room to 'get stuff done', but the more I experience the community of an Oxford college, the more I realise first-hand its value for learning but also mental and physical health. The reps and welfare teams reflect a self-consciousness of inequality and injustice in the student body, and are able to be continually adapted and improved to make Brasenose a more inclusive place. I hope it is not too optimistic for me to say that in my experience, the strain of workload is seen and heard by seemingly every echelon of college - and the empathy of other students is felt keenly.
Covid has of course kneaded itself into more aspects of the college and university experience than us first years can conceive of. But happily, we are confined by the narrowness of our own experience, and I hope I speak for the majority when I say that although our first two terms have been profoundly disrupted, we have been very lucky to be where we are and with who we are with at Brasenose. I have found the transition from home-ed OU DZP to OU BNC wonderfully smooth, and even maintained some composure and life in the face of the perpetual roll of essays, practicals, and online tutorials and lectures - all of which are so absorbing it is a wonder someone so ruled by Parkinson's Law 'work expands to fill the time available for its completion' has been able to stay even partially afloat. Although I miss the unstoppably alive surroundings of the Zoo there has been joy trading mossy dry-stone walls for sandstone cladding and gargoyles, gelada monkeys for students, tigers for tutors, star and moon lit mud footpaths for lampposts oozing orange onto copious cobbles, and of course a 40-minute bus available four times a day to/from Plymouth for a 1-minute walk past the Radcliffe Camera to Cornmarket Street.
Here's to future times, filled with vaccines, sports, societies, clubs, pubs, events, and forgotten terminology (social distancing, rule of 6, households, quarantine, essential activities, flattening the curve, R number, etc). See you at my next essay crisis (always).
By Milo Mee