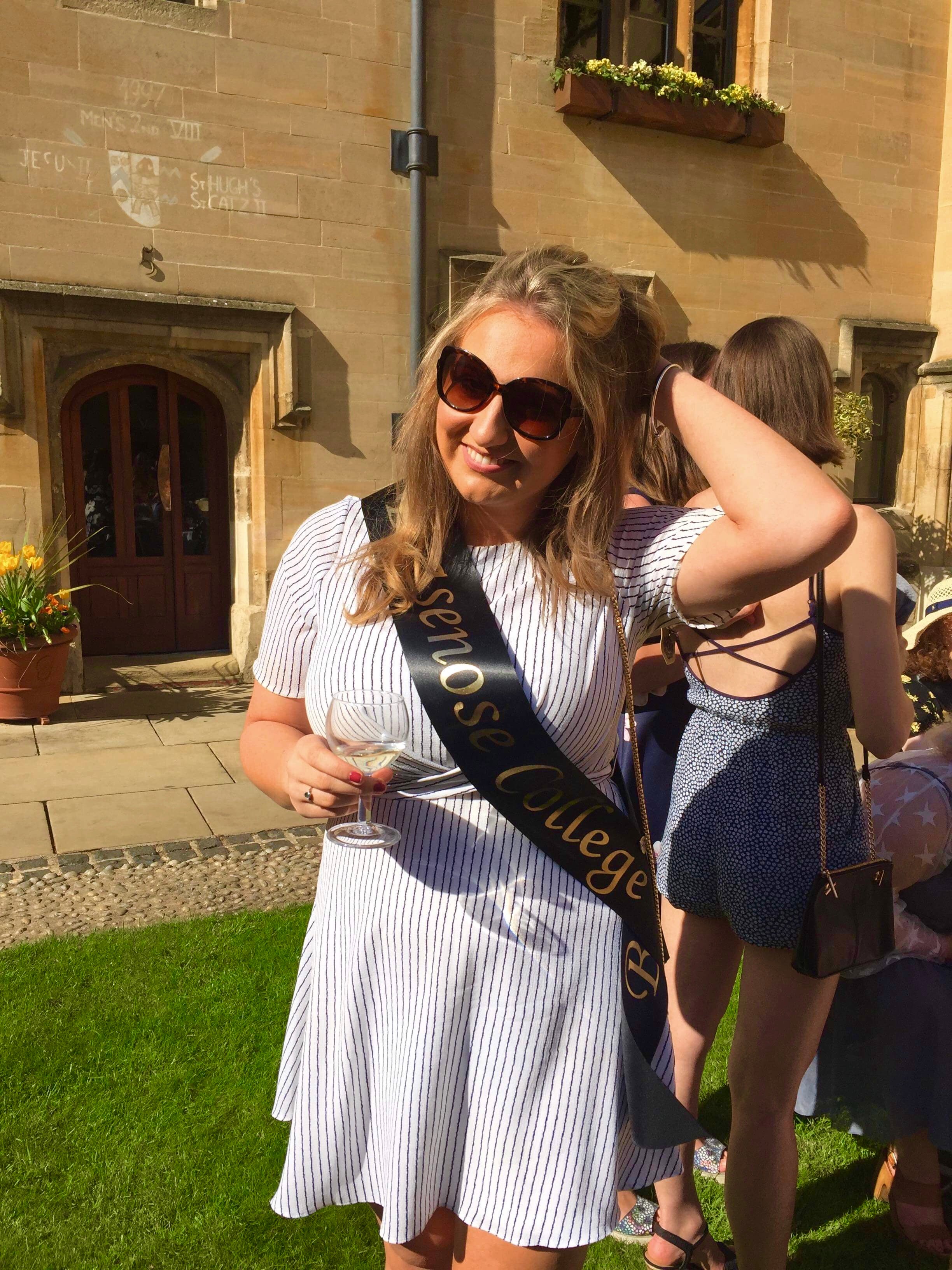 I was lucky enough to spend 4 years of my life as a student at Brasenose. In 2015, I arrived from a small village school in Durham to begin my English degree, comprising 3 jam-packed years of reading, stimulating discussion, and even learning Old English! I loved the tutorial system and the incredible support we had from our tutors – not to mention the other 5 English students who were doing everything alongside me. I applied to start my Masters at Brasenose straight after finishing my degree.
My college life was far from exclusively academic and I was involved in almost every possible Brasenose activity - Vice-President of the 2017 Brasenose Ball, Arts Week Producer 2017, organising Freshers' Week 2017 and graduate Social Secretary 2018-19 - I was certainly busy during my time at Oxford. Perhaps most impressively, I never missed a single Brasenose BOP [College social night]!
I am proudest, however, of my role as undergraduate Access & Admissions Rep, which allowed me to introduce school pupils from all over the UK (& the rest of the world!) to Brasenose and the possibility of an Oxford degree. Having attended a school with no previous Oxford applicants myself, I know how confusing and off-putting the application process, and the university itself, can be to a variety of students (for a variety of reasons!) However, I had fallen in love with Brasenose on an Open Day and knew I could give the same experience to others who were apprehensive about applying here. Giving tours, talks and manning the doors at Access events are some of my favourite memories of my university experience, as well as the two tours to North Yorkshire which I undertook with other students and the Access maestro Joe Organ!
My work as Access rep had showed me that education was going to be my life's passion, and so it made sense to apply for the Teach First Leadership Development Programme. I was accepted and found out in April 2019 (whilst still at Brasenose) that I had a place beginning that September at a large secondary school in East Durham, 30 minutes from the village I have always lived in. I was ecstatic – I was excited to return to Durham, missing my family and fuelled by weekly cups of tea with (Durham-born) Head Porter Andy – and ready to begin my career in education.
I had heard that Teach First throw you in at the deep end, and it can certainly feel like it at first – I had just 6 weeks of summer training before standing in my very first classroom in September – but they also provide a wealth of support and a huge network of fellow trainees and more experienced teachers and education professionals to help you through. I work in an amazing school and department which, despite challenging circumstances, achieves some of the best GCSE results in County Durham & nationally. With support from my incredible new colleagues, I quickly set about working hard and throwing myself into school life – 6 months later, I am happy to report that I absolutely feel like a teacher and know I made the right decision for my first job. I am certain that I will work with children for the rest of my life.
There is no thrill like introducing a class to a book you love, or seeing students who proclaim to "hate writing" producing a beautifully-written (and terrifying!) horror story. I love the fact that my degree is useful every single day, and I continue to learn about the thing I love most – literature. I have had conversations about Shakespeare with Year 8 pupils who could give Masters students at Oxford a run for their money already! It certainly isn't easy, but loving what you do can carry you through most difficult lessons and children really are a joy to work with. Recently, I got a new haircut and was met with a bellow of "MISS, YOU'VE GOT A FRINGE!" echoing from a excitable Year 7 boy. As we all know, kids are notoriously honest - I took this as a sign of approval.
I have already started introducing the children at my school to the idea of applying to Oxford & Cambridge – something which can seem very far removed from life in the North East (the English region with the lowest number of applicants!) is suddenly brought within pupils' reach if they know and are taught by a former student. I have also held assemblies to help Year 10 and 11 pupils think about their future choice of university, should they progress to higher education. Some of my pupils expressed surprise that someone who "wore make-up" and "sounded normal" went to Oxford – it is easy to forget, wrapped up in the Oxford bubble, that this is the view of many teenagers, and it is an opinion I remain fully committed to changing.
Recently, of course, world events have taken over and I am out of the classroom almost as quickly as I was in it! Distance learning is a real challenge for all teachers, and as a trainee it could be quite daunting. Luckily, my degree and the other roles I held at Brasenose have been excellent preparation for being able to adapt, and 2 weeks in I feel much more confident with teaching online. My school have been following a normal school day timetable, with pupils logging in for 5 lessons a day and receiving work and advice in real time from teachers. Our excellent pastoral team are helping pupils to access internet and devices, and we are being as flexible as possible – for some families, there is 1 computer between 5 children, and some children can't commit to 5 hours sitting still, among other issues – but, for the most part, English lessons have continued as normal. As ever, children amaze with their adaptability, and nearly all of my students are engaged, completing work and communicating with staff about their learning.
I certainly didn't think in September that I'd be teaching lessons from my living room, and I look forward to being back in the classroom, with 30 faces in front of me, waiting for the class to stop talking while I get ready to rave about Macbeth...
By Phoebe Bradley - formerly of Fyndoune Community College

ps: I'm more than happy to discuss teaching with any current or former Brasenose students who might be interested in going into the profession, or the education sector more widely.