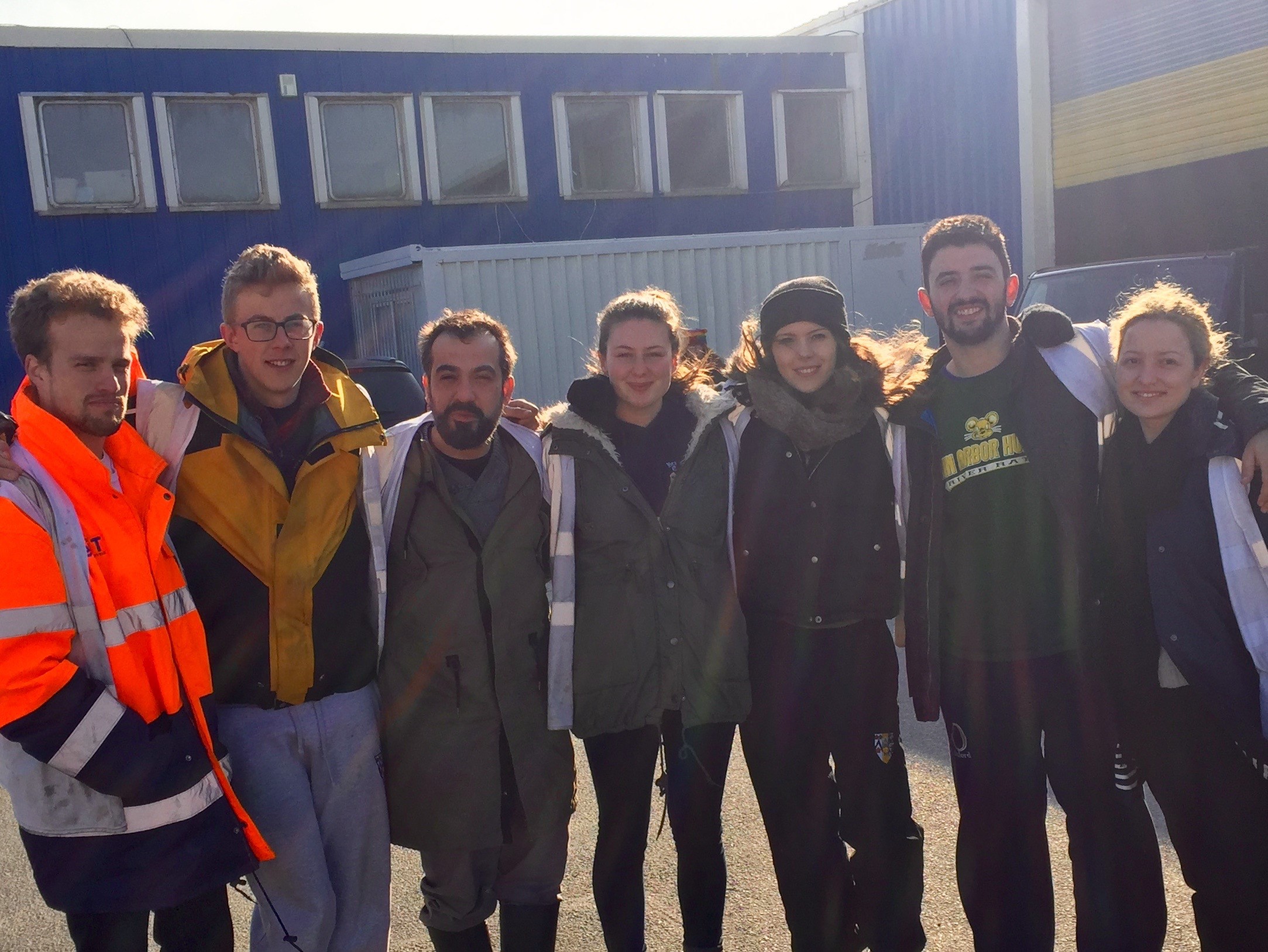 The Collect4Calais campaign was the first time I had really engaged with charity work in Oxford. The proximity and inaction surrounding the situation in Calais grabbed my attention and, together with Sarita Shah, I formed Collect4Calais. We aimed to leverage the Brasenose community to create an engagement with the refugee crisis, fundraise, collect resources, and send volunteers to assist grassroots organisations in the camp. Our success in fulfilling these aims was due to an inordinately committed, hardworking committee and huge support and engagement from Brasenose. Sarita Shah co-ordinated our publicity campaign, spreading awareness through social media and covering the Radcliffe Camera railings in Collect4Calais ribbons, as well as managing the collection drive fantastically. Amy Hammond organised a variety of fundraising events, including a 'promise auction' in the Brasenose bar which raised over £800, leaving some happy bidders looking forward to promises of breakfast in the principles lodgings, a roast dinner for four, or walking a certain unnamed member of Brasenose around Christchurch meadow like a dog. Overall, we raised £2200, collected 12 crates of clothes and food donations, and provided 15 volunteers to work in Calais.
In Calais we were determined to channel the hard-work and resources from our campaign into an effective and lasting impact. Entering the camp for the first time we were faced with the shock of facing the reality of a situation that is usually so distant. Walking down the camp's 'high-street' my mind constantly flashed back to images attached to the blogs, newspaper articles and BBC clips. The scenes of indignant riot police who stood tall and bulky in their black padded gear, Banksy's graffiti on a musty grey wall, and rows of makeshift structures covered in blue and green tarpaulins felt somewhat familiar. This did little to ease the shock that washed over all of us and silence that set in as we were met with the grim reality of the camp and came face to face with the refugees that lived there. The atmosphere in the camp was striking, an air of transience and hopelessness prevailed. Inside the high street cafes men were subdued, slumped against the walls charging their phones with their gazes glued to the small television screen, and outside many sat aimlessly around small dusty stoves or at the entrances to their tents.
We spent three full days in the camp supporting one of the grassroots organisations left to provide basic aid for refugees in the Calais camps, reliant on volunteers and donations. Over the course of the three days, we undertook a variety of tasks with the organisation Care4Calais. These included sorting food and clothes donations that were sent in for distribution inside the camp. Several times a day we would drive into the camp and distribute these items from the back of a transit van. A significant amount of time was also spent helping refugees relocate makeshift houses that were being threatened by police demolition. Separately, Persian-speaking tutor Ufuk Ozturk, our Arabic and Turkish-speaking volunteers Sophie Dowle, Rhiannon Rees and Esme Bayar, spoke with many refugees in the camp whose stories we have been releasing on our blog. We also spent time trying to identify how best to spend the money raised by Brasenose.
I think we were all quickly frustrated with the seemingly ongoing, hopeless situation in the camp, and increasingly realised that food and clothes-based aid efforts were only able to provide small relief. Higher level changes were what the 'Jungle' inhabitants were desperately asking for; a case by case examination by the British government, an end to brutal treatment by the French police, recognition of the hardships of the refugee crisis as a whole by Europe. Esme Bayar interviewed the 'Jungle' Hunger-strikers, whose mouths had been sewn up with a needle and thread in protest. One of the strikers explained 'this is not about food or clothes, what we really need here is an end to brutality of forced evictions and beatings from police and right-wing groups, and a wider recognition of our situation in Calais.' Indeed, whilst the refugees are reliant on outsiders' donations, it was apparent these basic needs were being sufficiently met and spending our money in this way may not have a lasting impact.
At the end of our three days, supporting a volunteer-run medical centre with whom we had established contact seemed a highly effective way to use the fundraised money. Flo Downs spent time with the medical centre staff that now support the entire camp, comprised of three caravans offset from the camp's 'high street' constantly surrounded by queues of people. She spoke to Dan who ran the centre who described how many of the camp's residents suffer from persistent chest infections and colds, aches and pains, as well as lice, scabies and dental hygiene-related problems, and how the centre is completely out of medical resources which are infrequently donated. In response, Sarah Shone succeeded in emptying Calais's pharmacies of as many of these items she could find. We donated 115 tubes of Bonjela 45 tubes of Ibuprofen gel, 40 lip salve sticks, 40 packs of throat lozenges, 18 bottles of cough syrup, 10 family size bottles of mouthwash and 5 multivitamin tubs to the centre.
James Scoon found 'football to be the universal language that opened up conversations and overcame language barriers' with his preferred method of introducing himself simply by asking 'Manchester United?'. After medical supplies, our remaining money was spent on footballs, basketballs, hoops and goal posts that we thought may provide at least a little distraction from the boredom and challenges of day-to-day life in the 'Jungle'. Recently I'm told in the past month Care4Calais have set up football tournaments that have been enormously popular with those in the camp, 90% of whom are male.
Our experiences, perspectives and takeaways of the Jungle, and indeed the refugee crisis as a whole, varied enormously. Flo Downs described her overall impression upon leaving the camp as mixed, 'when considering the situation at large, it's difficult not to feel hopeless. Aid continues to be stretched thin; and as short or long-term volunteers, at best, you can try to alleviate the symptoms of this problem but an actual solution is far, far from being in our hands.' Isobel Phillips believes 'the true tragedy of Calais is not only that these young men are living in poverty, but that their lives and homeland have been destroyed. If they had, by good fortune, been born within the EU these individuals would be your classmates, boyfriends and siblings, enjoying a satisfying and prosperous life. This, for me, was the crux of the issue. It wasn't the desperate living conditions, or tales of police brutality and gang control that upset me, but the stifling half-lives the refugees I met had been confined to.'
I am proud of the achievements of the Collect4Calais campaign, particularly in the engagement created within Brasenose and hard-work and insights of the crisis gained by volunteers. I would like to thank John Bowers, Sos Eltis and Julie Sturgess in particular for all their help and support with the project, and also Ufuk Ozturk and Elias Dinas for joining us in Calais. I am also left increasingly aware of the need to address the serious humanitarian issue of the European refugee crisis, of which Calais is only a small manifestation. The reality of the impact of aid work in comparison to the potential impact of a political solution and end to government and policy hostility was frustrating. I hope that Brasenose can continue to engage with the situation and pursue further aid projects in Calais. For example, I am looking forward to a series of talks on the crisis in Brasenose currently being organised by Leila Al-Izzi. For further information on the Calais crisis, interviews and volunteer experiences please visit http://collect4calais.wordpress.com.
By Fran Hine (3rd Year Geography)