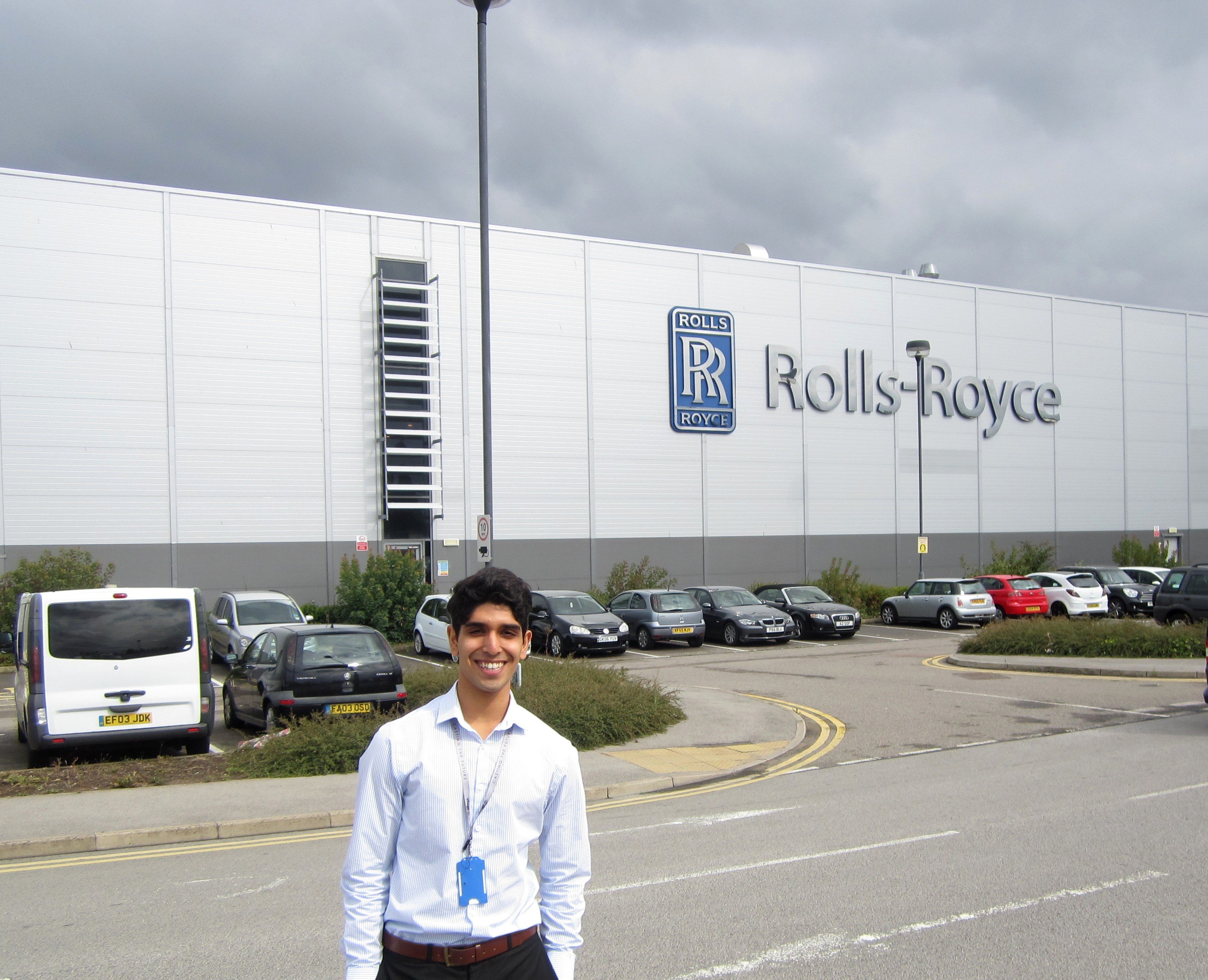 There is no doubt that an air of prestige surrounds the brand, Rolls-Royce. Although most of those outside engineering circles may hold the belief that Rolls-Royce are responsible for manufacturing the line of luxury cars, the reality of their nature – an aerospace giant which delivers civil and military aircraft engines – still beckons that same degree of class in the world of engineering. Needless to say, I was very excited about having the chance to work at Rolls-Royce for ten weeks this summer.
The first few days of the internship were certainly inspiring, filled with the excitement of discovering fascinating details of our new workplace. Whether it was being introduced to the company by an ex-SAS commander, and learning that there are a staggering number of Rolls-Royce engines flying at any given moment, or hearing about the existence of a freezer stuffed full with lifeless chickens waiting to be hurled at a running engine (for testing whether or not the engine would fail if a bird flew into it during a flight). Even the internship program itself was impressive, with an intake of roughly 360 interns every summer and an equal number of graduates. These big numbers made for a very social environment both at work and outside work. Most interns chose to live in university halls in Derby (Rolls' primary base), which made for easy socialising despite the mutual tiredness that comes with a full-time job. Although the presence of some of the comforts of Oxford was dearly missed, the transition to a new living space for 10 weeks was carefree and not unlike staying in a Frewin staircase. The sense of community was further promoted when we were introduced to the various sports and leisure societies and facilities (tennis/squash courts, gym, football fields) exclusively for Rolls-Royce employees, akin to a fresher's fair for grown-ups.
I was placed in 'Raw Materials & General Components', one of the fairly large organisations within the company, which comprised of several smaller teams, all trying to work together to meet the several requirements of customers (airlines or aircraft manufacturers) and suppliers (of parts, materials, manufacturing processes), with the final aim of having functional engines. The beginning of my work was certainly challenging; interns were expected to be very familiar with a gas turbine engine from the start, which wasn't the case for many of us. Furthermore, the colossal number of abbreviations and terms felt like everyone was speaking a different language for the first week or so. Nevertheless, it didn't take long to settle into this culture, and soon it was the case of asking question after question to learn as much as possible about our work. My understanding was also supported by regular visits to the factory floor on the Derby site, where we were lucky to see engines being built and tested before being delivered to the clients.
The purpose of the work I was doing for the company, was to plan the development of future engine models. To remain a competitive leader in its industry, Rolls-Royce must consistently deliver more efficient engines to meet the demands of the air industry. These new engines can be a modification of an existing line, or a completely fresh design. In both cases, it is important for Rolls-Royce to plan which materials and components can be reused for the new models, and where new components or materials need to be introduced. My responsibility was to produce a set of 'road-maps', which outlined how some of these components needed to be changed in the next 6 years, for the new models that would be tested and released. At times, my work felt as though it was more a management role rather than an engineering one. Although I would have preferred it to be the other way, this project still helped in giving me a good understanding about the nature of the aerospace industry, and a detailed insight into the engineering behind these engines.
The internship required that I make a final presentation to the executives and team members who worked in my office. Doing so was a great pleasure, as the response to my work was very positive. It was encouraging to see that the department were keen to carry on using my work for the remaining engine components, and it was agreed that the road-maps I had produced were beneficial in managing the various developments occurring throughout the company. I am glad to say that when I left Rolls-Royce for the last time, I felt like I had managed to make a small change to the company, and learn a great deal on the way.
By Prashant Pandey (3rd Year Engineering)
Read more about Engineering at Brasenose