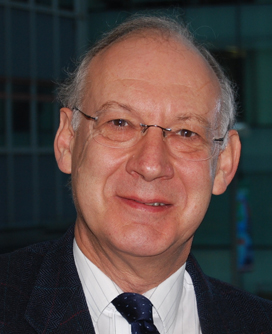 Positions
Interim Head of the Medical Sciences Division
Qualifications
MBBS, PhD, FRCP, FMedSci
Background
Professor Kennard was Head of the Nuffield Department of Clinical Neurosciences in the University of Oxford (2008-2016) and an Honorary Consultant Neurologist in the Oxford Radcliffe Hospital's NHS Trust. Before that he was Deputy Principal of the Faculty of Medicine and Head of the Department of Clinical Neuroscience at Imperial College London.
He was previously Chairman of the Medical Research Council's Neuroscience and Mental Health Board.
Research Interests
Professor Kennard's group has researched widely in cognitive neuroscience and visual sciences, particularly using the analysis of abnormalities of visual perception and eye movements in human neurological disease to further understanding of brain function.
The group are now mainly studying the utility of measurement of saccadic eye movements and somatomotor movements as biomarkers for the early recognition, progression and effect of treatment in patients with Parkinson's disease.
Recent Publications
Please click here for a full list.
2015 Cazzoli D, Muri R, Kennard C, Rosenthal C. The role of the right posterior parietal cortex in letter migration between words. J Cognitive Neurosci, 27, 377-386.
2015 Antoniades CA, Kennard C.Ocular motor abnormalities in neurodegenerative disorders. (Lond), 29, 200-7
2015 Ajina S, Kennard C, Rees G, Bridge H. Motion area V5/MT+ response to global motion in the absence of V1 resembles early visual cortex. Brain, 138,164-78
2015 Ajina S, Kennard C, Rees G, Bridge H. Absent contrast saturation in hMT+ after V1 damage. J Neuroscience, 35, 8201-13
2015 Antoniades CA, Demeyere N, Kennard C, Humphreys GW, Hu MT. Antisaccades and executive dysfunction in early drug-naïve Parkinson's disease. Movement Disorders, 30, 843-7
2015 van Rheede JJ, Wilson IR, Qian RI, Downes SM, Kennard C, Hicks SL. Improving mobility performance in low vision with a distance-based representation of the visual world. Invest Ophthalmol Vis Sci 56, 4802-9
2015 Antoniades C, Kennard C. Oculomotor abnormalities in posterior cortical atrophy: are they different from those in Alzheimer's disease after all. Brain, 138, 1773-5
2015 Chechlacz M, Humphreys GW, Sotiropoulos SN, Kennard C, Cazzoli D. Structural Organization of the Corpus Callosum Predicts Attentional Shifts Following Continuous Theta Burst Stimulation. J Neurosci, 35, 15353-68.
2015 Antoniades CA, Rebelo P, Kennard C, Aziz TZ, Green AL, FitzGerald JJ. Pallidal Deep Brain Stimulation Improves Higher Control of the Oculomotor System in Parkinson's disease. J Neurosci, 35,13043–13052.
2015 Cazzoli D, Rosenthal CR, Kennard C, Zito GA, Hopfner S, Müri RM, Nyffeler T. Theta burst stimulation improves overt visual search in spatial neglect independently of attentional load. Cortex, 73:317-29.
2015 Proudfoot M, Menke AL, Sharma S, Berna C, Hicks SL, Kennard C, Talbot K, Turner MR. Eye-tracking in amyotrophic lateral sclerosis: a longitudinal study of saccadic and cognitive tasks. Amyotrophic lateral sclerosis and fronto-temporal dementia, 17(1-2):101-11 (e-version)
2015 Ajina S, Pestilli F, Rokem A, Kennard C, Bridge H. Human blindsight is mediated by an intact geniculo-extrastriate pathway. eLife, e08935.
2016 Rosenthal CR, Andrews SK, Antoniades CA, Kennard C, Soto D. Learning and recognition of a non-conscious sequence of events in human primary cortex. Current Biology, 26(6):834-41.
2016 Thomas V. Wiecki, Sara Tabrizi, Chrystalina Antoniades, Kennard C, Beth Borowsky, Monica Lewis, Mina Creathorn, Michael J. Frank. A computational cognitive biomarker for early-stage Huntington's disease. Plos1, 11(2), e0148409.
Contact Details
Professor Christopher Kennard PhD, FRCP, FMedSci
Professor of Clinical Neurology,
Nuffield Department of Clinical Neurosciences,
University of Oxford Level 6,
West Wing John Radcliffe Hospital,
Headley Way,
Headington,
Oxford, OX3 9DU
The Fellowship: Interviewed
From Diagnosis to Treatment
Click here to read an interview with Professor Kennard by Editor of Oxford Today, Richard Lofthouse
Email