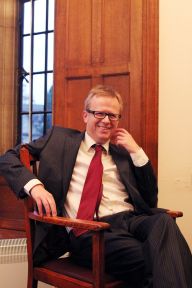 Position

Senior Tutor

Qualifications
BA (Hons) and Ph.D (Cantab)
Background
Dr Smith was formerly Head of the History Department and Professor of Modern History and Diaspora Studies at the University of Hull. Prior to this, he was Lecturer and Senior Lecturer in the Departments of Economics and History at the University of York. He joined Brasenose as Senior Tutor and Admissions Tutor in September 2011.
Role
The Senior Tutor has general oversight of all the academic activities of the College. The role is combined with that of Admissions Tutor which carries responsibility for matters
relating to the admission of all students, both graduate and undergraduate.
Research interests
Dr Smith's primary interests lie in British History and the History of the Americas, from the mid-seventeenth to the mid-nineteenth centuries. Specialist areas include the study of eighteenth-century merchants and transatlantic trade, coffee production and consumption, the demography of slavery, and natural hazard impacts in the West Indies. He is also interested in the History of Technology and Innovation.
Publications Include
An Exact and Industrious Tradesman': the Letter Book of Joseph Symson of Kendal, British Academy Records of Social and Economic History, new series 34, (Oxford University Press, 2002)
Slavery, Family, and Gentry Capitalism in the British Atlantic: the World of the Lascelles, 1648-1834 (Cambridge University Press, 2006)
E-mail