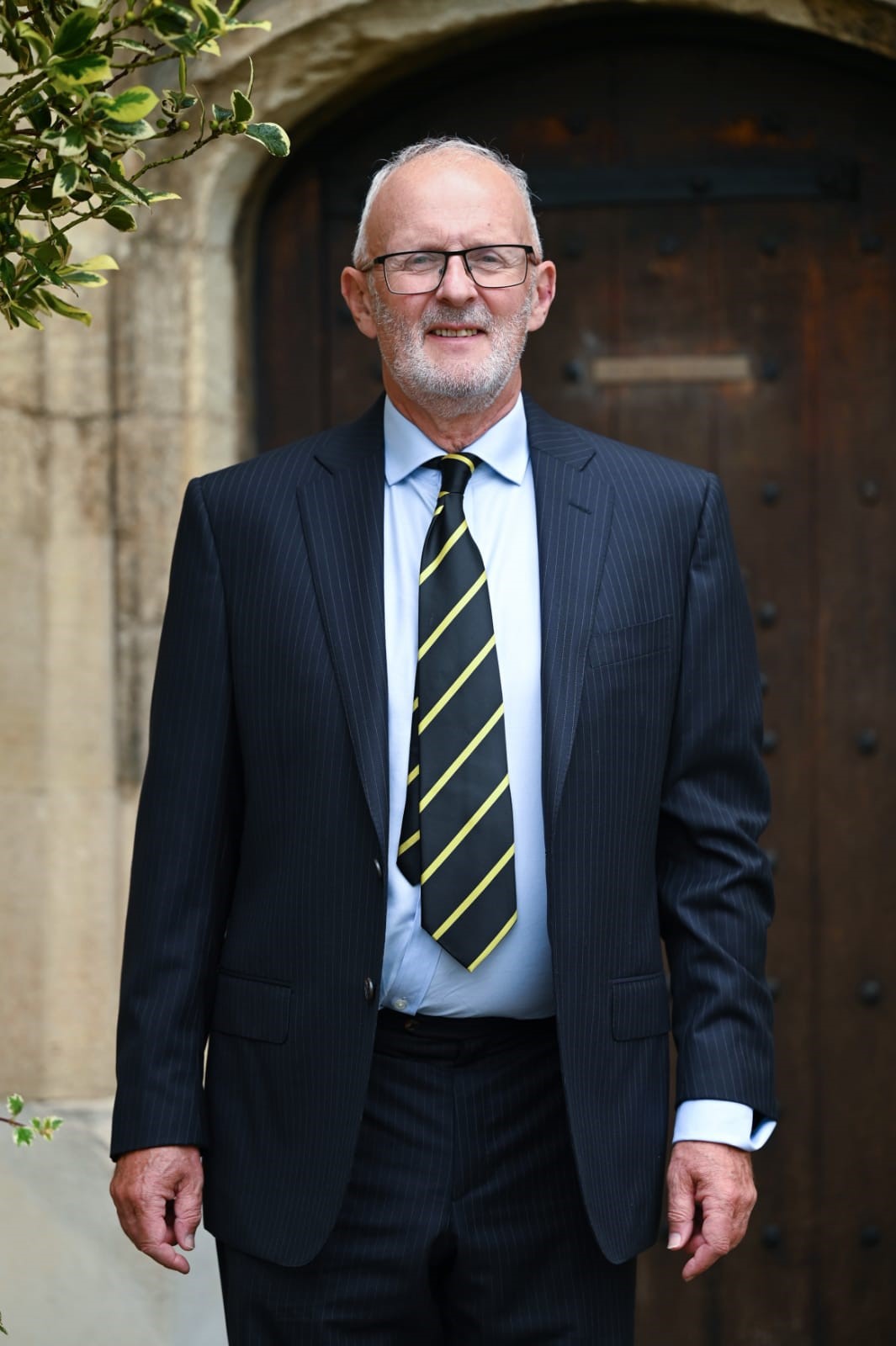 The Coronation
Our official name is indeed the King's Hall and now we will have a King! On Friday 5 May, our Development Director stepped into my place at a special service in celebration of the Coronation at Christ Church Cathedral. Attended by representatives of the University, City and County councils, local MPs, the services, the emergency services and NHS, and local faith leaders, the service featured some tremendous choral music in the stunning environment of the candle lit Cathedral.
The Vice Principal represented the College at a service in the University Church on the same day to give thanks for the imminent coronation of the King (our Chaplain was also there, officiating, and doing a much better job of looking resplendent). The Chancellor gave a typically thoughtful and pungent address, another highlight of the service: he noted that the second Elizabethan Age was also one of decline of Britain's status in the world, at the close of which we find ourselves increasingly impacted by problems, political and environmental, which we have ourselves created. While these words sank in, the sun came out, and its rays, all too rarely seen this spring, slanted in through the high west window of the Nave, bathing the choir in a gentle luminescence as they sang the Te Deum Laudamus.
Congratulations
We congratulate Prof Mike Dustin for his Fellowship of the Royal Society and Alex Betts on becoming the University's Local and Global Engagement Officer. Both are very singular achievements and the College is very proud of our association with both of them.
Lunchtime roundtables
I have instituted regular lunchtime roundtable discussions for Fellows. On 26 April John Simpson spoke about his recent visits to Ukraine including an interview of President Zelensky. His insights as always were fascinating. Four weeks later we heard from Temesgen Gebrehwit who is a graduate student with us. He hails from Eritrea and told us of his extraordinary escape through Kenya and Zambia. It is one of the most repressive regimes in the world. Conditions in the country are very difficult; compulsory army service can last for decades and there is no Parliament.
Events
The Access and Admissions symposium event held in the Amersi Room on 3 May saw three fascinating talks by our recent graduate Alice Wilcock of the Centre for Social Justice, Natasha Plaister a researcher at FFT Education Data Labs and James Handscombe Executive Principal of Harris Westminster 6th Form. There was a spirited discussion afterwards.
Arts Week
Arts week (week 5) is one of our many treasured traditions. Brasenose is proud to host one of the largest of such events around Oxford; this year was no exception. Over 350 attendees participated in activities in the marquee ranging from life drawing to pottery painting, allowing students to express their artist passion in various forms. The evening events provided an escape for many who are studying for their Public Exams this term; highlights include the University's LGBTQ+ society's weekly drinks and two plays written and directed by our very own Brasenose students. All in all, I am proud to say that the Arts culture in college remains strong.
Jo Baring, the current Frankland Visitor, a well known art historian, curator of the Ingram Collection which adorns the Amersi Room and alumna conducted a session in that Room with our students . She discussed plans to rehang the paintings which will continue over the next few months.
We were also privileged to host Kenny Lonergan our former Frankland Visitor (the director of Manchester by the Sea and a prolific playwright) and his wife J Smith Cameron, better known as Gerri the lawyer in Succession. They did several events for students and alumni which were well received. They both love the College and we hope to see them back regularly.
Congratulations to Peter Chen for organising a very successful week as the JCR Arts Rep.
Miscellany
I always enjoy the Finalist lunch which we held on 28 April. It is a great opportunity to wish our finalists well. At the other end of the age spectrum is the Diamond Jubilee lunch which was for our alumni who had matriculated over 60 years ago. This was held on 5 May and I heard some fascinating stories.
I started term with a visit to Genoa between 19 and 21 April to lecture on the use of skeleton arguments in civil proceedings which you might think was a rather recondite topic but is in fact important in Italy because of the need to speed up proceedings. We were privileged to be taken round the Amico yacht refitting yard (one of the largest in the world) by our alumna, Jessica Timberlake.
I judged a primary school debating competition for Debate Mate on 22 May between Dalmain School in South East London and Littlefields Primary School in my home town of Grimsby.