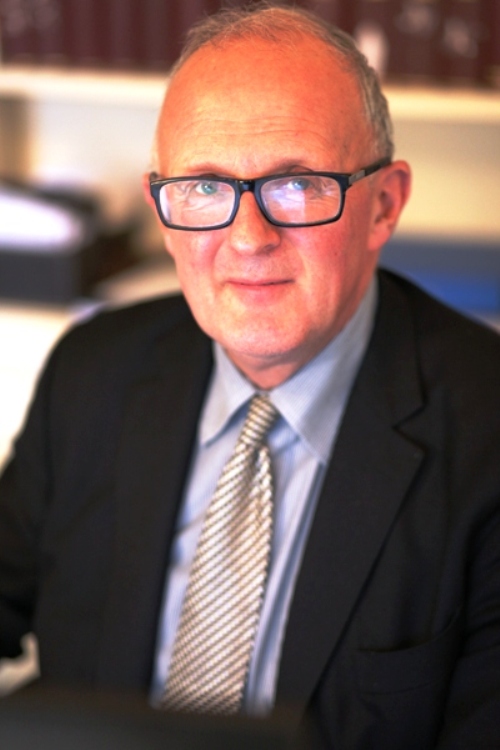 BNC dominates the Supreme Court!
We send congratulations to Dame Vivien Rose, our Brasenose Honorary Fellow and alumna who will soon be sworn in as a Justice of the Supreme Court of the United Kingdom. She is only the fourth woman to receive this ultimate accolade of the legal profession. She is currently an Appeal Court Judge, having served in several other judicial roles including High Court Judge in the Chancery Division. Before her judicial roles, she worked in a number of government positions including in the Office for Fair Trading, the Ministry of Defence, and the Office of Counsel to the Speaker of the House of Commons. There are currently two Brasenose-educated Supreme Court Justices – a testament to the quality of legal scholarship in our community. Peter Birks had the honour of teaching both of them.
Owain Yeoman:
On 1 March (St David's Day), our alumnus and the Hollywood actor Owain Yeoman joined me for a vibrant Principal's Conversation. I was moved to wear a daffodil in honour of the day and of Owain and I even spouted a little Welsh which I did not understand (namely Noswaith dda which I was told meant Good evening).
Owain had just returned to LA after filming in his native Wales for a 'based on real life story' of how a small Carmarthen cinema managed to get the rights to screen the premiere of Jurassic Park. He was speaking to us while jet lagged in his temporary quarantine home; not that we noticed though – the conversation was lively and questions and answers most interesting.
Owain answered questions on the role of Hollywood in telling the story of Covid, his transition from banking in the City to acting, and the impact of the industry on the mental health of actors. Recent alumnus James Akka, who is interested in pursuing a career in acting, questioned Owain on his 'origin story' and how his time at Oxford sowed the seeds of his acting career. Diolch yn fawr iawn Owain.
Our Student Support Adviser Ellie Raikes:
Ellie Raikes talked about her work at Brasenose at our Week 5 Governing Body meeting. She is a psychodynamic therapist. As well as working for Brasenose, Ellie runs a student counselling service for the Stanford University overseas programme in Oxford.
Since starting the service with Brasenose in 2017, it has been in high demand and very well used, with about 25 students engaging in support per term. It is important that access to Ellie is discreet and easy for students to attend if they are feeling vulnerable and anxious. Students have an initial assessment, followed by 3 more sessions. Although sometimes just one session is needed, students usually benefit most when accessing fortnightly sessions across a term. If a student's needs are more complex, Ellie will liaise with college GPs, University Counselling Service psychiatrist, AMHT, or other appropriate services, and where confidentiality allows with the welfare team. Once students have used the service, they often seek it out at different points again, such as finals, when Ellie is able to help them keep steady, contain their stress and support healthy routines.
Students are going through huge change and facing many challenges. For example, the terms are rigorous, they are stretched in unprecedented ways, there are practical and emotional challenges such as leaving home, entering a new phase of life, sometimes emerging mental health issues, physical and sexual health worries, difficult life events, struggles with identity (racial, gender and sexuality), historical trauma, relationship issues, family dynamics, financial concerns, etc., etc.
Ellie reported that since the start of the service in 2017, 100% of students who have used the service would recommend it to a fellow Brasenosean, demonstrating that the service is fulfilling an important role within college, and is effective at supporting students through their time here.
From Ellie's point of view, the value of the service offers a space with a different pace and tone to the frenetic pace of the academic terms. It is a confidential relationship away from peers and academic staff in which students can express their vulnerabilities and feelings which contribute to the development of their sense of self and their emotional intelligence.
Ellie believes the opportunity to do this safely and confidentially within the college, helps students learn how to sustain their wellbeing, which contributes to their ability to perform in the way that Oxford demands, and in the way that they would wish.
First digital reunion:
On 4 March we had a reunion over zoom for 2005-6. With help from my team, I was able to remind them of these aspects of their life at College.
Sub fusc referendum – JCR voted to keep the tradition
2006 was the first year of top up fees – the JCR supported the NUS 'Admission Impossible' campaign against raising the £3,000 cap on top-up fees
Tongue-in-cheek motion in JCR: putting the BNC JCR collectively forward as England football manager
Daniel Whalen and Matthew Cole cycled from Land's End to John O'Groats. They raised £1,500 for the Robert Whalen Trust (Dan's brother)
Ben Spencer and Hauke Engel named an apparently previously unclimbed mountain in Greenland Mount Brasenose.
Burns Night supper attended by the Visitor, the then-Bishop of Lincoln, John Saxbee, who proved himself to be an "enthusiastic" dancer. The Bishop invited them for a reciprocal visit to Lincoln. They went on this 'pilgrimage' to see him by way of a visit to the Brasenose-related sites of Stanford.
Over sixty people attended and there was a range of Fellows who spoke to their subject groups in specially and carefully named rooms. Talk was still going on at 10 15.
Miscellany:
We are delighted that the DfE have confirmed continued funding for the rollout of the Nuffield Early Language Intervention to support oral language development in the early years in which our Golding Senior Fellow Charles Hulme is the key player. This is already a key part of the COVID-19 catch up package for schools, with over one third of primary schools signed up for this school year. The additional funding will enable more schools to benefit from the intervention, which has been proven to boost children's early language skills.
It is always good to receive congratulations and I wanted to record as a tribute to our great team here a note from Joshua Down (Modern History, 2002) "Can I also say that I have continued to be impressed by the variety of the online event offering, and the quality and frequency of communication with alumni, over the last year."