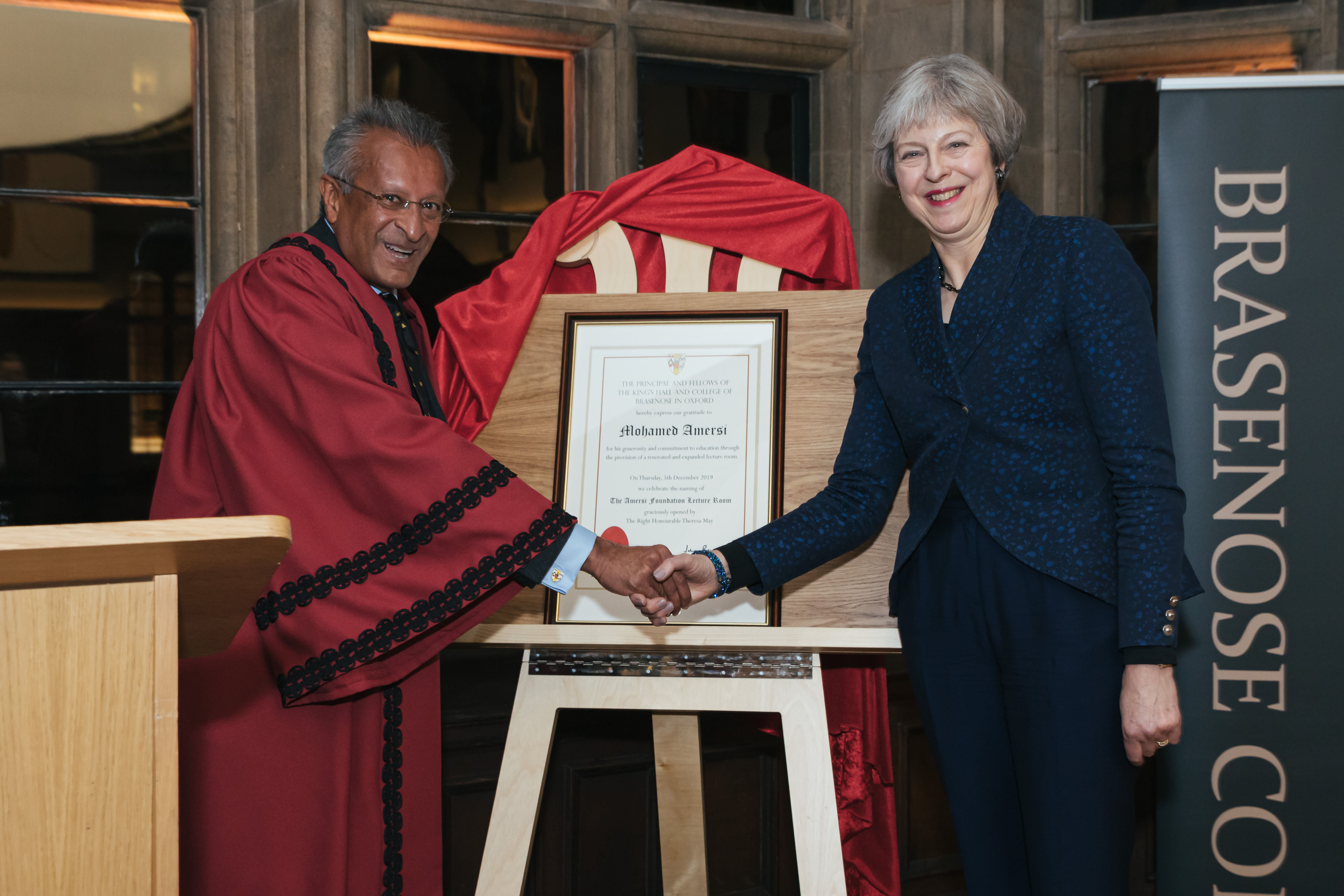 Amersi Foundation Lecture Room Opening:
It was a truly glittering occasion for the opening of the Amersi Foundation Lecture Room on 5 December as some 120 guests of Mohamed and Nadia Amersi crowded into our newly expanded and refurbished Room. The fine room was opened by Theresa May unveiling a plaque. It was a delight to have Theresa do so. She is an alumna of St Hugh's College andMP for Maidenhead, one of Brasenose's two link regions for schools liaison. She gave a wonderful speech championing the University and stressing the role of colleges as true communities. We were very lucky that she took time off her election campaign to be with us.
Mohamed then gave a rousing description of his philosophy. This includes supporting philanthropically 'Three Es' – Education, Engagement and Empowerment. He has supported a number of charities with a global reach whose focus is on young people and education.
We then went into Hall for a Gala Dinner and I made a speech in which I paid tribute to the strong relationship which we as a College have with Mohamed which means so much to Brasenose. He also supports the wider University.
Mohamed joined the College as an EMBA student in 2014 and was elected to the College's Honorary Fellowship in 2019. It was my pleasure to thank him personally and most sincerely for his enlightened generosity in funding the renovation and extension of the Amersi Foundation Lecture Room – our well used principal teaching and lecture space. The room has doubled in capacity and been sensitively renovated to respect its surroundings.
Research Succes:
I am delighted to tell you that Prof Sonali Nag has been awarded a grant from the Economic and Social Research Council and the Global Challenges Research Fund. It is a £2 million project and will focus on supporting children's language development in multilingual early childhood settings. Brasenose has an excellent relationship with the Education Department and a large number of teachers enrolled on the MSc in Learning and Teaching (which Sonali convenes) are members of our graduate common room, the HCR.
Election event:
I chaired a rumbustious Election Debate in the Amersi Foundation Lecture Room on 2 December. Our students Chengkai Xie represented the Conservatives, Beth Nott the Labour Party, Damayanti Chatterjee the Lib Dems, Erik Green the Brexit Party and Jake Freemantle the Greens. Each gave a great account of themselves and excellent questions were asked. A straw poll was taken at the end in which Abstentions won (and I don't want to reveal the party scores lest it influence the overall election result!).
Miscellany:
It was wonderful to hear our very own Prof Russell Foster grace Desert Island Discs on 8 December. He gave a fascinating insight into sleep and circadian rhythms and communicated his love for science and public engagement. I was upset that he did not choose the Mordaunt Crook History of Brasenose to take to his desert island!
Partly to prepare for her visit, I read "May at 10" by Anthony Seldon.
I wish a happy Christmas and Seasons Greetings to you all and a Happy New Year. I will resume the blog in 2020.