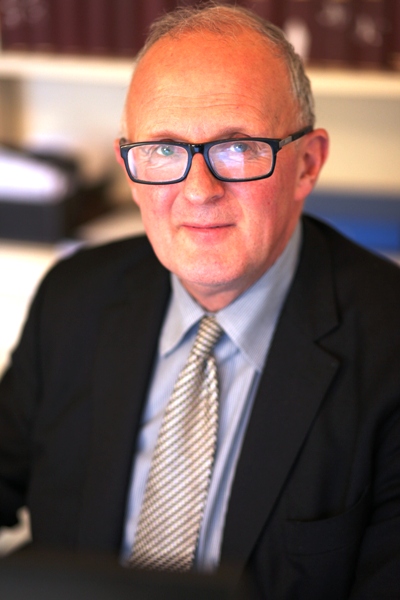 Our Principal, John Bowers, shares more thoughts on his time at the College.
College welcomes
Having been in the heat of Australia and Hong Kong over Christmas and New Year, it has taken some time to readjust to the cold and damp of Oxford. Brasenose is however as always a warm community.
At the start of the term we welcomed Prof Judith Brown as our chaplain for two terms. She became a priest after many years as Beit Professor of Commonwealth History at Balliol College and she is one of the foremost authorities on the history of modern India. The College invited as a visiting preacher on Sunday 22 January Rabbi Jonathan Wittenberg of the New North London Synagogue. As far as we know he is only the second rabbi to preach in our historic and beautiful chapel. He spoke in a timely manner about models of political leadership in the Book of Exodus, commenting that the style of Pharaoh was "Egyptians First" and that Pharaoh's sole interest was "To make Egypt Great Again". Does this remind you of anyone?
We also at the start of this term extended a warm Brasenose welcome to Geoff Bird our new tutor in Experimental Psychology and Sonali Nag, our new tutor in Education who joined at the start of term. They are both additional Fellowships. They are joined by Charles Hulme our new Golding Senior Fellow whose subject is also Education.
Community Cohesion seminar
On 19 January 2017 one of our graduate students Shailen Popat organised a seminar on Community Cohesion in College. We welcomed Dr Hopfenbeck from the Department of Education and Sister Jayanti, Director of the Office of the Brahma Kumaris in London. The keynote speaker was His Excellency Dr Rizal Sukma, the Indonesian Ambassador to the UK. It was fascinating to hear more about Indonesia, an enormous country about which I am afraid I knew very little before that evening.
One of the joys about living in Oxford is the range of speakers who pass through the city and are worth listening to. On 23 January, I went to hear Thomas Friedman the US columnist who spoke about his new book "Thank you for being late" in a packed Sheldonian Theatre. The book considers the future in a digital economy.
Congratulations
We are delighted that our Kurti Senior Fellow Christopher Kennard is standing in as head of the Medical Sciences Division of the University.
Our Library project has reached a further phase, with students queuing and excited at the door to get back into the refurbished reading rooms as soon as it opened (on schedule) at 9am on the Monday of the first week of term. Our excellent library staff were very happy to have the students back.
It is always a pleasure to preside at our Scholars and Exhibitioners Dinner as I did on 26 January. Our core business is academic and it is thus a particular joy to bestow the greatest honours on those who excel academically. I reminded them that they were ion a long line of distinguished Brasenose Scholars and Exhibitioners including Malcolm Turnbull Prime Minister of Australia, Lord Scarman the Law Lord and William Webb Ellis, the originator of rugby.
High heels and workplace dress codes
One of the centrepieces of my Principalship is to achieve greater diversity in College but I also try to assist in developing the law more generally in this area. I gave evidence in July 2016 to the Petitions Committee and Women and Equalities Committee on the House of Commons into the recondite but fascinating subject of high heels and dress codes. The report of the resulting inquiry was published on 25 January 2017. The law, the inquiry concluded, is "obviously not working in practice" to prevent 'dress-code discrimination' in the workplace. The Committees considered the hypothetical example of an employer whose policy required women to wear make-up but had no corresponding provision for men (for instance, a prohibition on unkempt facial hair). How feasible would it be for a woman subject to this policy to establish "less favourable treatment", when many women wear make-up as a matter of course? There was no clear answer as to whether this would be discriminatory in the abstract: much would depend on the facts of the individual case. In order to remedy this disharmony between principle and practice, the report makes two recommendations:
The Government's Equalities Office should research the proportion of discrimination claims in this area that have failed because the claimant was unable to establish less favourable treatment. If the number is significant, the statutory test may need to be amended.
Adopting my proposals, the Government should consider changing the law to limit and specify the legitimate aims of a dress code policy, namely: health and safety; to establish a truly necessary public image, such as the judiciary; to project a smart and uniform image; and to restrict dresses or insignia which may cause offence.
I am glad to see that the Committees also agreed with me that compensation for breach should be greater.