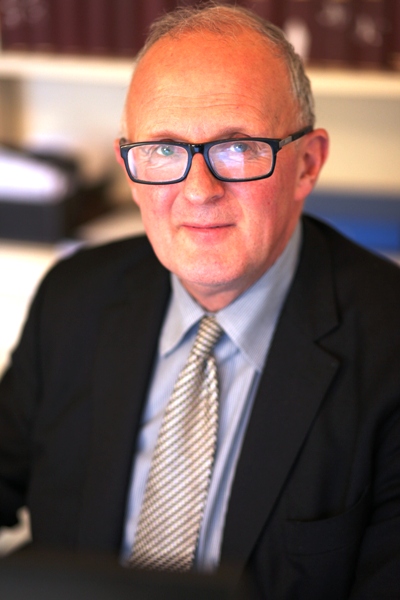 Our Principal, John Bowers, shares more thoughts on his time at the College.
BNC in the movies - 4 May:
As an excellent, exquisitely beautiful, city centre College, we are regularly used for filming purposes (although we are always careful to keep the unphotogenic Principal well out of "shot"!). It is however a first for us to appear in an episode of the Hairy Bikers which was shown at 6.30 pm on 4th May on BBC 2. It featured Alan Bennett (our steward; and not the Alan Bennett referred to below) and Georgie Edwards (our Archivist) and it focussed on the tradition of Shrove Tuesday and Ale Verses. Both are now hoping for a career in Hollywood! This follows hard on the heels of Brasenose Lane appearing on TV in the Undercover drama series.
Diversity breakfast:
Each term a group of heads of Colleges have a diversity breakfast to discuss matters of common concern on the equality agenda. This demonstrates how much the diversity agenda is at the centre of the priorities for Oxford Colleges. One of the ways we are seeking to proceed is by listening to the experiences of those who define themselves as Black and Minority Ethnic. Heads of Colleges are doing this in groups of three Colleges at a time and Brasenose is in the next round. I hope as many BME students in Brasenose will be prepared to take part in this important process. We as heads of Colleges will just listen.

Shakespeare's Dead - 28 April:
I was delighted to attend the opening of the Shakespeare's Dead exhibition at the Weston Library part of the Bodleian. It has been co-curated by one of our English Fellows Prof Simon Palfrey, and he has co-written the book to go with the exhibition. Dame Maggie Smith opened the exhibition; I had not before realised that she was at school in Oxford. Alan Bennett (the author) was also present; I was so thrilled that he wrote a postcard to me when I was appointed as Principal saying that he was so pleased that a boy from Cleethorpes had become Principal.
Tim Harford - 27 April:
Tim Harford one of our distinguished alumni who writes for the Financial Times and presents the Radio 4 series "More or Less" spoke at our excellent revived PPE society about the use and abuse of statistics by politicians. He commented on the way politicians generally misused statistics and especially now in the EU Referendum.
A gift of a special dinner service:
We have been given a superb dinner service for use in the Lodgings by Dr Caroline Franks Davis who after university studies in Canada and Germany, completed a DPhil in Philosophy at Oxford. The history of the dinner service is fascinating: The original owner, Victor Joseph Cox, was a great uncle of Dr Franks Davis and was married to her father's aunt. In the 1950s, Mr Cox was appointed governor of the National Bank of Cuba, and he used this dinner service for formal state banquets. When Fidel Castro ousted Batista as leader of Cuba, Mr Cox was placed under house arrest and his valuables were 'liberated'. Eventually he was allowed to retire to Canada, his homeland, and was able to take the banquet service with him.
Dr Franks Davis writes that "Uncle Victor would have loved the idea of his banqueting set being used by an Oxford College!" We are very pleased with the idea of using it too.
Annual Fund telethon:
Thanks to those who took part in an excellent telethon to raise funds for the College's Annual Fund. The telethon is the main stay of our Annual Fund which raised £380,000 last year. The most common gift is £20 per month by direct debit. Thirteen students had fantastic conversations with over 500 alumni from all over the world. Each and every one who contributes makes a difference to the College and we thank you most sincerely.
Finalists Lunch:
We held our Finalists Lunch last week as a send off for the final straits in the finals race. We emphasised the need for finalists to pace themselves and get plenty of exercise. Best of luck to all of them. I emphasised they were the very best year in my time here.
Brasenose Referendum Debate - 4 May:
Some 130 people crowded into the Brasenose Chapel to hear an excellent debate on whether Britain should remain in the EU. Clare Perry, the Minister for Trade and MP for Devizes (and most importantly an alumna), stressed that the arguments against the EU were framed by jingoism and that many were based on jingoism. Britain was she said the fastest growing economy in the world and this was helped greatly by the place in the EU. She was seconded by Vilija Velvyte, who is from Lithuania and studying EU law.
Austin Mitchell, the former MP for Great Grimsby, spoke for brexit. He said that the EU was like a failed marriage and pointed to the high cost of EU membership, running at some £350m a week. He was seconded by Hugh McHale Maughan, a third year PPE student. A terrific debate ensued. Fellows of the College, Dr Dinas a Politics Fellow and Prof Esteves an Economics Fellow framed the debate at the beginning and end. The vote was overwhelmingly in favour of staying with only eight against.
Congratulations:
One of our postgrads Linda Katona has been nominated for the FENS-KAVLI Network of Excellence PhD Thesis Prize in 2016. The presentation will take place in Copenhagen. Ian Carroll has won an OUSU award for outstanding Social Sciences Tutor.