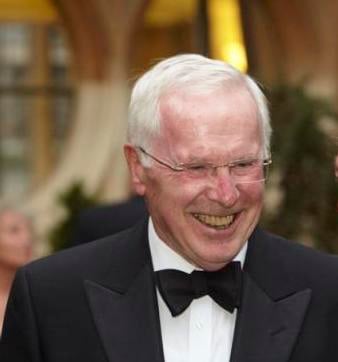 It is with great sadness that we report the death of Emeritus Fellow in Law, John Davies. John passed away after a short illness on Wednesday 21 October 2020, aged 86.
John Davies was a central pillar of the Brasenose College community throughout his adult life. Before arriving at Brasenose, John studied for an undergraduate degree at the University of Birmingham. He matriculated at Brasenose in 1954 to read for the Bachelor of Civil Law (BCL). He graduated in 1956 and won the Vinerian Scholarship for the best performance in his year. After a year as Bigelow Teaching Fellow at the University of Chicago, John returned to Oxford in 1959 to take up the College's Stallybrass Lectureship in Law. In 1963 John was appointed to a lectureship at the University of Birmingham, but later returned to Oxford to take up an Official Fellowship in Law at Brasenose from 1966, which he held until his retirement in 2001. On retirement, he was elected to an Emeritus Fellowship in recognition of his incredible contribution to the College.
Having taught many generations of Brasenose lawyers, his impact on the legal profession was profound. Many of his students have gone on to have glittering legal careers (including one to the Supreme Court of the United Kingdom) and they all credit him with setting them on this course. He will be sadly missed by his former students, his colleagues, and the whole Brasenose community.
John Bowers QC (Lincoln College, Jurisprudence 1974), Brasenose Principal, and former student of John Davies said: "John Davies was a wonderful teacher and lecturer. I well recall his revision lectures, in particular. I was so pleased to renew the acquaintance when I came to the College as Principal. I pass on my sincere condolences to his family and colleagues."


Given current circumstances, attendance at John's funeral will be limited to his family. The College is aware that many of his students will want to honour him in a full and fitting way and we will share plans for a memorial service in due course. Until then, please send your memories of John to [email protected] for inclusion in our online condolence book.
---
Tributes to John Windsor Davies (1934-2020)

---
I consider myself extremely lucky to have been a law student at Brasenose (1975-79) when John Davies was the senior law tutor. His calm, understated manner and quiet encouragement was the perfect foil for the unpredictable brilliance of his junior colleague Peter Birks. Together they made a formidable team (later enhanced still further by the arrival of Hugh Collins). I remember well the entrance interview in a smoke-filled room - John was then a chain-smoker – in which John had the role of trying to help me relax with some general questions before allowing Peter to cut loose. John's tutorials were of the old style. An essay was read out and John would sit patiently with a pad on his knee on which he made the occasional note (a technique picked up from his own tutor Barry Nicholas) before making comments that would guide one in the right direction: he once described it to me as helping students to find their own railway lines on which to move forward. His written remarks on essays were always succinct and clear and sought to encourage rather than to criticise. I had tutorials with him for Tort (very much his favourite subject), Land Law and Family Law but I know that during his time at BNC he taught many other subjects, including Roman Law and EU Law. Behind the scenes, everything for the BNC lawyers ran like clockwork and that was very much down to John's administrative efficiency and dedication in organising the BNC law school. Law students across the university knew John because of his famous revision lectures in Contract and Tort. Models of clarity, insight and humour, they were delivered to huge audiences of grateful finalists many of whom would say that they had John Davies to thank for saving them from disaster in the Exam Schools. The end of the lectures was always marked by a standing ovation (a rarity in those days). John continued to guide my early career as an academic and he was always a person I turned to for advice and to act as a referee. Later when I came to know him socially, he was terrific company, not least at dinners, with a fount of entertaining stories that he loved to tell laughing along as he did so. Like so many others, I owe a huge debt to John Davies and am enormously grateful to him for giving me wonderful support and encouragement from the first day I met him until the last.


Andrew Burrows (Jurisprudence, 1975 and Honorary Fellow)

The Right Honourable Lord Burrows, Justice of the Supreme Court of the United Kingdom

John was a fine tutor and good friend to many generations of Brasenose lawyers, setting them on the way to successful and enjoyable careers. His family's loss will be shared by a great many others.

Scott Baker (Jurisprudence, 1957 and Honorary Fellow)

The Right Hon Sir Scott Baker

This is very sad news indeed. I have known John for some sixty years and for most of that time he was an integral part of the College. He was renowned as one of the finest teachers of law the University has known. I am very proud to have been able to count him a friend.

Mark Saville (Jurisprudence, 1956 and Honorary Fellow)

The Right Hon the Lord Saville of Newdigate

As so many of the tributes to John Davies have testified, John was not just a brilliant tutor, and a charismatic lecturer (who can ever forget his "Recent Developments in Contract and Tort?"), but a deeply kind and decent man. In the first term of my second year reading Jurisprudence at BNC, I went through a terrible period when I had a mental block about writing weekly essays, and I don't think I was able to produce more than a couple of Tort essays for the whole of the term. John was hugely supportive, however, and without his understanding and quiet encouragement, I doubt I would been able to get back on track. As a student, I also remember being very envious of the large collection of LPs he had in his room in Frewin, including many Wagner operas. When we later became friends, one of the great pleasures was meeting up with John in London to go to a performance at the Royal Opera House or the London Coliseum, and catching up over dinner. Thank you, John, for admitting me to BNC, and being such a tremendous mentor. As so many others who were privileged to be taught by you must also feel, the debt I owe you is incalculable.

Stephen Moriarty QC (Jurisprudence, 1974)

I was sorry to hear about John's passing away. He was a great tutor and I always admired his clarity of thought and exposition. He was also a thoroughly nice person. He will be sadly missed.

Vincent S. Scheurer (Jurisprudence, 1990)

So sad to hear this news john was such a lovely person and was very helpful to me and the staff while I was there. Last saw him in Birmingham in the new library with his brother just by chance.

Alan Bennett (BNC Steward, 1980-2018)

I remember first meeting JD at my interview in December 1987 where he sat to my left and Hugh Collins to my right: I was terrified. I was talking about my experiences at a law firm and Hugh managed to turn these into a question which had me struggling. I made one attempt to answer but failed, then I had another go and stopped, thinking I was failing again, but JD encouraged me to persevere and when I finished he smiled and said "yes, that's right." "It is?" I asked, incredulous, and he laughed.

He was always very encouraging and if one was fortunate enough to have an early evening tutorial whiskey or sherry would be offered. He had a ready laugh and chewed away on sweets as he listened patiently to our essays. He was very reassuring as we faced Law Mods and Finals. His revision lectures were the only ones I attended and he always raised a laugh at them. I recall one of them outlining the "brief but eventful flight" of a drunk pilot.

I will forever be grateful that he was my tutor and saw something in me at my interview. I will miss being able to write to him.

Anthony Ward (Jurisprudence, 1988)

I read jurisprudence between 1972 and 1975. John was an engaging and patient tutor. I will be one of many who have happy memories of tutorials in his room at Frewin, set against the background of his huge collection of records.
It was always a great pleasure to renew acquaintance with John on visits back to BNC. He was unfailingly interested in the subsequent careers of his students, an interest which never, for a moment, seemed forced.
To describe John as part of the fabric of the college for over half a century is not an overstatement. My next visit back to BNC will undoubtedly be tinged with sadness at his absence. He will be missed.

Alistair Webster QC (Jurisprudence, 1972)

John, or JD as he was fondly referred to by his students, was an extremely kind and dedicated teacher. I still treasure the incredibly thoughtful letter he wrote to me in 1989 after finals results setting out my subject grades - he even managed to put a positive spin on my completely disastrous Jurisprudence result! Having moved back to Oxford in 2005 I would often bump into JD on the number 8 bus to Headington and it was always an absolute pleasure to catch up with him. My thoughts are with his family having heard the very sad news of his recent death.

Nicky Griffin (Jurisprudence, 1986)

I have just received the email from college with the sad news of John Davies's death. He was a significant part of my Brasenose education and managed to even vaguely interest me in Trusts (an uphill struggle for the best of tutors.) I remember him as always calm and kind as well as clearly hugely knowledgeable. When my interest in trusts turned out to be not only short-lived but also rarely transferred into an actual essay, he didn't complain or preach - he recognised that it wouldn't be for everyone and kindly suggested that it might be wise at some point to catch up before Finals. I did, and, to my surprise, Trusts was one of my higher-scoring papers. Along with Tort.I can only put this down to something that you referred to in the email - his revision lectures. They were, as you will recall, famed throughout the university. The one piece of advice that one would receive from the finalists in the year above was to GO TO JD'S REVISION LECTURES! I soon found out why. They were comprehensive, interesting and vital for any finalist. But more importantly, the rather quiet and gentle man who one met in tutorials was transformed on the stage - he was funny, engaging and hugely, hugely entertaining. Even though my area of law did not turn to be - and realistically was never going to be - tort or trusts, I, like all his students, owe him a huge debt for simply getting me through.

Mary Loram QC​ (Jurisprudence, 1988)

As a non-law student, I did not have the pleasure of being taught by John Davies when a student at Brasenose, but encountered him some years later when studying for a law conversion course at City University. His lectures were a real highlight of my time there - informative (without being didactic), comprehensive, and above all, sprinkled with a very dry sense of humour. He will be missed, I am sure, by all who attended.

Ben Zelenka Martin (PPE, 2009)

John was a lovely man, and the kindest and most patient teacher. He seemed to know everything there was to know about the subjects he taught, but he was never intimidating or dismissive of his students' essays. Instead, his criticism was delivered so gently that it was inspiring, rather than disheartening. John was hugely supportive and encouraging to me at the start of my career, and as well as teaching me Tort, Land and Family law, he taught me the importance of kindness in a teacher.

Professor Emily Jackson OBE (Jurisprudence, 1986)

I was just reading about the Peter Birks memorial lectures in College earlier this year. What a formidable combination they were…

The slow ticking of the clock in Peter's rooms and the clouds of smoke billowing from John's chair during my interview are indelibly etched into my memory, as are John's precise, clipped tones invariably leavened with a pinch of dry humour. It was an honour to have known and to have been taught by him.

I look forward to a proper celebration of his life when the current ghastly veil of separation is properly lifted.

Charles Scott (Jurisprudence, 1976)

I was a very fortunate Jurisprudence student to be at BNC 1957-1960 and thus have the benefit of John's earliest tutorial skills. Not only was his instruction and advice easy to understand and be invaluable, but he was such good company, cheerful, pleasant and full of humour. At the time I did not appreciate that he was only two years older than me, such was his knowledge and skill!

I have met him many times since at dinners at the college. He was always the same person, a delight to meet again.

I hope that the college has tutors of equal calibre at this time too!

Barry Capon CBE (Jurisprudence, 1957)

Thank you Mr. John Davies for the warm and kind welcome and mental support to a random Japanese M.Jur.

Mr. John Davies was however so evidently naturally welcoming and smiling that I felt instinctively that he was always that way, and not a forced obligation.

With heartfelt thanks, and my deepest condolences to your family,

Yumiyo Yamamoto (Jurisprudence, 1993)

I was so sad to read of John Davies' death. He was exceptionally kind to me during my years as Law Fellow at New College (1984-1995). I often came to Brasenose for lunch with Mary Stokes or Hugh Collins, and a chat with John in the Common Room after lunch was a substantial additional bonus. I can hear his infectious chortle as I write. Surely there can never have been a kinder or more generous colleague.

Nicola Lacey, School Professor of Law, Gender and Social Policy, LSE

So sad to hear of the death of John Davies. He was a born tutor, and the most civil of colleagues. As I noted in my college history, he turned the tutorial into an art form. Alas, few dons today combine scholarship and good fellowship so easily.

Professor Joe Mordaunt Crook CBE (Modern History, 1955 and Honorary Fellow)

I was saddened to hear of the death of my old tutor John Davies. He had a rare combination of an outstanding intellect coupled with the human touch and helped me as a young student to get to grips not only with my learning and content of the law but dealing with occasional motivational challenges during the drier discussions! I know that he played a major part in the human fabric of BNC as well and he will be sorely missed.

David Somen (Jurisprudence, 1984)

John was the nicest of men: civilised, urbane, gentle and self-effacing. He was my tutor, colleague and then friend over many years. He was integral to my image of the College and his death feels like part of the fabric has now gone. It was too unfashionable all those years ago (and maybe still is) to admit to having enjoyed a tutorial, but John's tutorials were enjoyable occasions. His technique of giving very careful attention to your essay and then a gentle steer to iron out the confusions or a penetrating remark taking things to a new level was the Oxford tutorial at its best.

Enough has been said about how students appreciated John's famed revision lectures. I know John loved doing them. If prompted, he would reminisce about them, telling how he used to keep his ear to the ground to find out when the House of Lords was going to hand down a judgment in a major contract or tort case and then get on the train to London to the House of Lords to get a copy, so that he could include an analysis of it in his lectures. He was encouraging and supportive of me as a very young colleague, even about my departure to try my luck at the Bar. Once I was in London, we would meet for the occasional long and very civilised lunch. His excellent taste in restaurants, wine and his wonderful dry sense of humour, together with plenty of news and amusing anecdotes about the College, made the occasions ones to treasure. I shall miss him sorely.

Mary Stokes (Jurisprudence, 1976)

I first met John some time in my second year at BNC when, in 1959, he took up the Stallybrass Lectureship. I was then halfway through Classics Mods and only turned to Jurisprudence in the third term of that academic year. So I probably first encountered John in the summer or autumn of 1960.

I do not now remember which subjects he first taught. Barry Nicholas dealt with Roman Law and Ron Maudsley with Land Law, but I cannot now remember how the other subjects were parcelled out. I have a vague recollection that John was responsible for Constitutional Law, which at the time seemed to consist of hardly any Law at all, but I cannot remember what else John was allowed to teach ahead of Barry and Ron, two of the most revered teachers I ever encountered. But John made his mark easily --- approachable, friendly, free of that sense of authority which Barry and Ron had to live with. If I had one word to describe John, I would have used "genuine". He was his own man, so equally available also to everyone else.

John had a huge influence on my future because, in my final year (1961/62), he had a very important part in the process which led to my selection as a Commonwealth Scholar at the University of Chicago Law School in the following year. John himself had been a Fulbright Scholar at the University of Chicago Law School immediately before joining BNC in !959 and he encouraged me to apply. I was lucky that the star lawyer in our year at BNC, Bob Burt, was an American from Yale, who therefore could not qualify. If I remember correctly, the panel of selectors were 3, one of whom was from BNC (was it Professor Lawson?), and John was the Secretary/Convener but not, I think, entitled to vote.

I got the nod. It was certainly John who persuaded me to apply and I always believed that he had a major influence on the decision to select me. I remained deeply in his debt ever since.

Francis Neate (Jurisprudence, 1958)

In his preface to An Introduction to the Law of Restitution, Peter Birks explained that his chief debt was "to Brasenose College, Oxford, where most of the work was done and which, under Herbert Hart and Barry Nicholas, was a wonderful place to be and to be a lawyer." Anyone who studied law at BNC in the final third of the twentieth century will attest both to how wonderful it was, and that this was due in large part to the presence of John W Davies.

Others have noted that the wholly positive influence of JWD on their academic study and professional life did not end when their years on the Radcliffe Square came to a close. Indeed for many of us, the benefit of having John as a tutor, mentor and friend developed fully only after we ceased treading cobbles on the way to work. If Clement Attlee was a modest man with a lot to be modest about, John was a modest man with, actually, not much at all to be modest about. His legal learning was simply immense, if lightly worn; his ability to convey complex ideas in straightforward terms was formidable; his generosity of spirit was widely admired; and his dry humour almost without equal.

It is to be hoped that the respect and affection expressed in these tributes was something of which John was aware before his life came to an end. He would of course have been embarrassed about it, and simply said that he just did his best. But his best was something most of us could barely aspire to.

The last word should perhaps come from Peter Birks. In his British Academy appreciation of the life of Principal Nicholas, Birks wrote of "Barry's indifference to personal glory. He had no idea of a life that was not service to others. Rewards for self had no priority." Though true of Nicholas, there is also no better way of summing up John Davies. In our sadness at John's passing we have much, so very much, for which to be grateful.

Geoffrey Mead (Jurisprudence, 1984; BCL, 1987)

As someone now sitting as a judge in the field of family law, I owe JD a lot. I remember my family law tutorials with him so well, the clarity with which he explained a concept, his kind and gentle approach to prising the best possible answer from you as he lent back in his chair. I remember a self-effacing man, modest and thoughtful, in tutorials, at the Ellesmere, and at Schools Dinner. Oh, and there were those revision lectures in Contract and Tort, the only lecture series I attended from beginning to end in my three years at BNC - I never would have passed those papers without him. He will never be forgotten by any of us.

HHJ Sarah Lynch (Jurisprudence, 1982)

I am very sad to receive the news of the death of John Davies. When I arrived at BBC to read law in 1957 John was one of my tutors. We were very blessed with all of our tutors. John was part of a team which included Barry Nicholas and Ron Maudsley; they were all inspirational. John was outstanding in his own way - very clear in his exposition of whatever we were considering and always cheerful and positive in his demeanour, so that leaving a tutorial with John I knew I had learned a lot but I had also enjoyed my time with him.

A contemporary of mine, Barry Capon, and I were privileged to be able to attend lunch in the college when John retired from his full time work for the college. It was another very enjoyable time to spend with John but sadly the last occasion on which I met with him.

He will remain for me a very valued and happy memory of my time at BNC.

Jim Knight (Jurisprudence, 1957)

The news of John Davies's death is very sad. Although I knew how old he was, it was also a shock. His calm and quiet manner led me to believe that he had an eternal quality. I had tutorials with him for about half my undergraduate subjects in his rooms in Frewin Hall. The business at hand was only very occasionally briefly interrupted by a succinct comment on some thing which had particularly struck him. John was undoubtedly a great teacher. He, like Barry Nicholas, then the senior law tutor, was fantastic at gently encouraging pupils to make the most of the topic at hand and of their abilities. I of course attended his famous lectures on "Recent Developments in Contract and Tort" which brilliantly and accessibly summarised an entire topic through the lens of a recent case. I also attended the seminar he and Don Harris of Balliol offered to finalists. Those attending were required to present a short paper on one of the topics which was then analysed by the two of them with rigour but also with kindness and encouragement. He (again like Barry) was wonderfully supportive when I started teaching law. I last saw him when we encountered each other at the Garsington Opera, he looking much as he always had, ageless and with a wonderful smile as we chatted during the interval.

Jack Beatson (Jurisprudence, 1967 and Honorary Fellow)

The Right Hon Sir Jack Beatson

John Davies was the still centre of Brasenose law. His calm, reassuring style, coupled with the sense that he knew everything, made us feel in the best of hands. His expectations were high but always realistic. Like all the best teachers he knew what we did not, and could not, know; he knew that we were feeling our way in unfamiliar territory. Such was his unobtrusive way that it was only later – and for some us only when we began our own academic careers – that we came to appreciate what masterclasses in teaching his tutorials were, as he steadily built our confidence and guided us in small steps, in our own time, always with good humour and accompanied by that unforgettable laugh. His influence was all the more profound for being so subtle, disguised by his good nature and the sense he conveyed that we were all equals. He honoured us by taking pride in our achievements, although he may have been too modest to acknowledge that they were his as well. Many generations of Brasenose lawyers will remember John Davies fondly and with lasting gratitude.

Professor Richard Fentiman QC (hon) (Jurisprudence, 1974)

I was very sad to hear of John's passing. He was one of those teachers who made an indelible mark on so many of those he taught. Kind, encouraging, gentle of manner and unfailingly good humoured. His tutorials were always sharp and incisive and, like his legendary revision lectures, hugely valuable. I met him many times over the years, particularly when he was teaching at City University, and he hardly seemed to age at all. My sincerest condolences to his family.

Richard Perkoff (Jurisprudence, 1967)

I remember meeting John for interview and will never forget him placing me at my ease before the late Peter Birks gave me the third degree on the hierarchy of ownership (I remember it to this day!). When John saw me floundering, he was able to pull me back on track with just a few words and a winning smile of encouragement.

I remember my tutes with him - his never-ending encouragement, patience (in my case much needed!), unflappability and absolute charm. After 45 years I can still remember his tutes, as I can remember his quite brilliant laser-focused revision lectures. I remember a Principal's Collection when I suspect I had not received (probably quite deservedly) the most glowing report from Paul Craig at Worcester College in Public International Law - John told our then Principal (HLA Hart), with his usual charm and insouciant manner, that unfortunately Paul Craig's handwriting was so apalling he couldn't make out a word of it, and thereby spared my blushes!

The nearest I ever got to a telling off from John was when I passed the port the wrong way at an early gaudy!

John was the epitome of all that is great about the Oxford tutorial system. I credit John with putting me where I am today for which I shall forever be in his debt. I had hoped to see him at my next scheduled (Covid allowing) gaudy next March. Sadly it will not be. We will all miss him and be the poorer for his passing.


Bill Lister (Jurisprudence, 1975)

I had the great good fortune to learn Land Law from John Davies. This being 2005, he had been teaching for some 46 years. He must have heard our potted summaries of Megarry & Wade a thousand times, but he never let that be known. He taught us with kindness and patience, and we left his tutorials feeling better, no matter how meagre our efforts. Later, as finalists scrambling to revise, we alighted upon his lucid account of tort(s) in English Private Law. "But isn't he a land lawyer…?" we wondered, naïvely. It turned out he taught everything. And more than that, he had a warm word for anyone he saw around college; he provided references within hours (!) of being asked; and he seemed to remember every face and name at Ellesmere, years later. No doubt generations of former students will remember JD with the same fondness. My thoughts go out to his family, friends and colleagues.

Adam Turner (Jurisprudence, 2003)

How fortunate we were to have had Barry Nicholas, Ron Maudsley and John as our tutors. Outstanding as they were, Barry and Ron didn't provide sherry (Ron, because it wouldn't really have been appropriate at the close of his 9am seminars!)----but John did. Our 6pm tutorials in his elegant rooms would always end with a glass of sherry, just before Hall.

Along with so many other Brasenose lawyers, I attended John's retirement lunch (where I rather expected to be the oldest of his pupils---only to find that Jim Knight and Barry Capon---1957--- had that distinction)

I remember one of the wonderful stories John told, in his speech, on the theme of how students had changed over all the years of his teaching: it was about a tutorial in which the male student's mobile phone suddenly rang. Rather than saying he would call back, the student began a long conversation. Feeling that he should not neglect the other student, John resumed what he had been saying, only for the male student to put up his hand and say "Hush, I'm on the phone"!

John was a marvellous tutor and a charming man, whom I was privileged to meet, over the years, at many Ellesmere Dinners.

To have taught five decades of Brasenose lawyers was a truly remarkable achievement.

Lewis Isaacs (Jurisprudence, 1960)

It is a bitter-sweet pleasure to read these memories and testimonials, especially from many of my contemporaries from the mid-1970s - how blessed we were to study under John Davies and Peter Birks in those years. Others have described John's style and personality in beautifully written contributions which have brought back happy memories of a wonderful man and teacher. I was never going to be a star of the legal firmament, but I was always conscious that John tried to get the best out of me, and took as much interest in me as he did in those (including many who have written here) who were clearly much more rewarding to teach and mentor.

I have always felt enormously grateful to John for accepting me at BNC - he was Tutor for Admissions as well as the senior law don at the time. I was grateful, too, when many years later I read the hugely supportive reference letter he had provided to the firm where I was to work very happily for over 30 years. He made a difference to so many lives of young people at BNC; I hope he knew how much we owed and appreciated him for that.

Tony Tyler (Jurisprudence, 1974)

It is very sad to hear of the passing of John Davies. Our law group (matriculating in 1957) must have been one of the first to be taught by him. He was only some two years older than those of us who had arrived at Brasenose after National Service and it was astonishing to realise all that he had already achieved at such a young age. As a teacher he was so respected and well liked; his patience and clarity of explanation guided us carefully through the potential traps and towards the hoped for result in final Schools.

Unfortunately we met in subsequent years only rarely and usually on occasions such as Gaudies where his attention was very much in demand. Nevertheless I was able to attend his retirement lunch in 2001 and be associated with the genuine affection and gratitude shown by so many for his outstanding achievements as a Fellow of Brasenose.

I think that he forgave me for not pursuing a career in the law.

David Gill (Jurisprudence, 1957)

I was saddened to hear the news about John Davies.

Over the years I have boasted that he was my first pupil. I was standing in for Barry Nicholas and gave some revision tutorials on Jurisprudence to two BCL candidates: John Davies and Tony Hughes. Both were older than me. John won the Vinerian and Tony also got a First. I should have retired from teaching at that point.

Whenever I revisited BNC, John was there, often a welcoming host, in touch with many of our contemporaries and full of news (I would not dare call it gossip) about BNC. Of course, I knew that he was a model tutor and I was sorry not to be able to sit in on one of his famous revision classes. I will almost remember him fondly.

Professor William Twining QC FBA (Jurisprudence, 1952)

John came to Brasenose from Birmingham in 1954, when he was beginning his BCL degree and I was in my last BA year. He and I were born almost in the same year, John slightly younger than me.

After we respectively graduated from Oxford I had a one-year teaching fellowship at Northwestern University in Chicago and John followed a year later with a more illustrious teaching fellowship at the University of Chicago, a few miles further down the shore of Lake Michigan. John's academic career proceeded from there and I had two City employers over the next forty years, travelling considerably meanwhile. We frequently compared notes on our respective careers experience.

We shall miss John very much. After this length of time he was one of my very few remaining contemporary friends at Oxford.

Bill Higman (Jurisprudence, 1952)

ON THE RETIREMENT OF JOHN DAVIES: Address given by Neil Withington at Brasenose College on Saturday, 5th May, 2001

It gives me great pleasure, tinged inevitably with some sadness at the end of an era, to say a few words about John Davies on behalf of his former students. Usually, when asked to speak after an excellent lunch, I have the usual reaction which I am sure most of us feel — that it is a bit like being asked to date the Queen Mother; you suspect that it is a very great honour but you really don't want to do it! In this case, I have absolutely no hesitation in accepting the opportunity to pay a personal tribute to a man who, in my view, is one of the great figures of Brasenose — and Oxford — law of the latter half of the twentieth century.

1956 was an auspicious year. Anthony Eden was hatching his scheme for the Suez Canal; Soviet tanks rolled into Budapest; the Government lifted the early evening ban on television transmissions between 6.00 p.m. and 7.00 p.m.; Elvis had a hit with Heartbreak Hotel; Look Back in Anger opened at the Royal Court in Didsbury, Manchester, Mr. and Mrs. D.H. Withington announced the birth of their first-born; and John Windsor Davies took a first in the BCL and the Vinerian, having arrived at Brasenose, via his hometown university of Birmingham, in 1954. After a year as Bigelow teaching fellow at the University of Chicago, John was elected Stallybrass lecturer in Law at Brasenose in 1959, an event missed by the national press in favour of Fidel Castro becoming President of Cuba. A junior research fellowship followed in 1961, again missed by the press when John F Kennedy was elected as thirty-fifth president of the United States. By 1963, John decided to use the cover of JFK's assassination in Dallas to sneak back to Birmingham as a lecturer in law.

1966 was a year in which the average Briton could have gone away and come back without missing anything politically, but John took the opportunity of the cover afforded by England's World Cup win over Germany to accept the second Law Fellowship of Brasenose (the first fellow being, of course, Barry Nicholas) on the departure of Ron Maudsley to a Chair in London. The rest, as they say, is history.

How I wondered, has it come about that Brasenose has progressed from an institution which, in Herbert Hart's memorable phrase, would only turn down sportsmen for college membership if they spelled Jesus with a small "g" to become the pre-eminent law college in Oxford? It is, indeed, the journey from the 1950s to date — a period which coincides exactly with John's association with this place.

Each of us will have our own personal memories of John the tutor. 1974 was the year of the three-day week, miners' strikes, the fall of Edward Heath's government and Watergate. The UK gave the impression of being cold and fed up, once again. On a wet Thursday in November, Mr. and Mrs. D.H. Withington's first born arrived at the porter's lodge, only to be told by John Watkins to come back later. He was certainly cold, wet and fed up. Peter Birks' leather-sofa'd room on Staircase Ten (warmed, as I recall, by a single bar electric fire) would have been a blessed sanctuary but for the uncertainty of what was to follow. Interviews are testing events at the best of times but an Oxford entrance interview is, genuinely, a once in a lifetime experience. I recall Peter, perched on the edge of his seat, firing questions about the definition of theft; and another, elegant figure stretched out on the sofa with the longest projectory of cigarette ash still connected to the filter that I had ever seen. My first meeting with John: I recall probing questions, delivered gently, which, on reflection, were clearly designed to get to the core of one's ability to reason and defend one's position. I was lucky enough to become very familiar indeed with this technique. For me, "et in Arcadia ego" was 1975-1979, matriculating, as I did, in the second year of female admissions to the college. In 1975, in a gesture of sympathy, the Conservative Party replaced Edward Heath with Margaret Thatcher. On a number of levels, things would never be the same again.

I moved on — we all moved on — but John remained, serving the university, the faculty, the college and — most importantly — the students, for another twenty-two years over a period of ever-increasing change. His forty-seven year association with Brasenose has outlasted that of eight Prime Ministers and eleven US Presidents; countless students and many colleagues. He is, quite simply, one of the rocks upon which the edifice of Brasenose law has been built.

As long ago as 1839, Ralph Waldo Emerson wrote "people say law but they mean wealth." Is John a wealthy man? He sits here today surrounded by ex-principals, colleagues and ex-colleagues, judges, professors, other scholars, ex-law commissioners, silks, other practitioners, and the occasional businessman but, most of all, by friends. We all owe him a great deal.

The toast is simply "John — a very fine fellow indeed."

Neil R. Withington (Jurisprudence, 1975)

John's influence on my life and career has been huge. It's hard to know where to start.

I learned a lot from John about the subjects I took with him but, predictably, I have forgotten most of that now. Much more importantly, John opened my mind. He had very liberal views about which ideas belong in the university study of law. John had no notion of trying to corral his students into thinking his way - if he had a way (we didn't know). There was no Socratic strong arming, even when we were dead wrong, just the suggestion that, perhaps, we might consider another way of thinking about the issue.

With John, I often ventured from the safely doctrinal and tried arguments from other subjects. I remember writing a tutorial essay on the lease/licence distinction which discussed Hegel's views about the importance of property for moral development. John's handwritten comments on the essay said that, when he had unstapled it and shuffled the pages back into the proper order, it was the best essay on leases he had read. That was certainly not true but it might have been one of the less boring.

The incident was typical John: patient almost to a fault, sanguine about what my essay might have in store for him, supportive of my attempt to speak in my own voice. I'm afraid John's encouragement only spurred me on. The same term, I inflicted on Bill Swadling an essay on presumptions and their justifications, when I should have been writing about resulting trusts.

When I became a graduate student I moved away from John's orbit of influence, to my lasting regret. John had become my mentor and I found no one to fill that role in the wider faculty. Happily, when I returned to Oxford to try my hand at a junior academic position, we got back in touch. He was very supportive and we became friends. John came to dine at St. Catz on a few occasions and I went to Brasenose a few more. John was the only person who made me feel half comfortable at these very Oxford occasions. He treated their theatricality as completely normal, so naturally, I copied him and pretended they were. The best thing about those dinners was the end. John and I would decamp to the common room to talk (usually over sherry) until the wee hours about law, judges past and present and what we were reading.

When I left Oxford to practice law, I lost contact with John again, except for the occasional email. For the last decade, I have been working in an appeal court, helping to write judicial opinions. Barely a week goes by without wondering what John would think. He was a connoisseur of judicial writing and tipped me off to the wry good sense of the Lord Reid opinion no less than the geometrical precision of the Justice Cardozo decision. Against such masters, my own efforts do not register.

So, yes, John has been a profound influence on my life and I haven't mentioned the most important part yet: his kindness. John had a special gift for it. More than 25 years on since I first met him, it is John's kindness I am still trying to emulate.


Sharif Farrag (Jurisprudence, 1995)

John and I first met when he was appointed supervisor of my BCL thesis in 1974 (under the old, two-year BCL regime). Out of concern for his (self-defined) lack of expertise in more theoretical aspects of the thesis, he arranged a meeting with Herbert Hart, then Warden. I learned very little legal theory from Hart but spent a pleasant hour discussing Julius Stone and then-recent jurisprudential shenanigans at Sydney Law School, my alma mater. After my BCL exams had finished, in July 1976, John kindly invited me to Brasenose High Table (I was at Magdalen).

Being vacation, dinner was served in Common Room. I remember this occasion so vividly because the first ritual at dessert was the passing around of the snuff box. Being the guest, it came first to me. Utter confusion! John, sitting on my right, helped me through with dry, compassionate humour! John's self-effacing and always-respectful kindness was lavished not only on his students but also on colleagues.

After a hectic year being told what to teach in Sydney, I was bemused by the lack of guidance provided to new lecturers by the Oxford Faculty.

John was then convenor of the tort teachers' group and I asked him what was expected. His reply says a great deal about the man: It doesn't matter (he said) what topic you choose so long as your lectures are useful to the students.

Peter Cane (BCL, Magdalen 1974-6; Fellow and Tutor, Corpus Christi 1978-1997)

I am so sad to hear about John passing away, a man who embodied Brasenose for me and the elegant but challenging tutorial system I benefited so much from. I was one of the few who 'got away' and never became a lawyer, although I made the most of my 3 years with him. Instead I went into industry and had a senior and enjoyable career in a big Pharma company. John taught me to summarise so much information and eventually just capture the key messages, to seek the right or possible answers and to understand the law - what is right legally but also what can be done with the right mind set. These skills were critical to me. He would no doubt be pleased to know our law group remains together, having had a number of lockdown zooms, a memorable evening together in college and some very firm and enduring friendships. JD was gentle, positive, always challenging and committed and had a sense of fun we tested as we left and, of course, captured on film. My best to all his family and friends.

Natalie Woodford (Jurisprudence, 1982)

I would also like to record my deep admiration for, and gratitude to, John Davies. Having switched to Law after 5 terms of Classics in something of a blur at the start of the summer term in 1967, his tutorials were ever interesting and conducted in a quiet and friendly, if certainly still challenging, manner. It was perhaps only later that I realised how well he had taught us all, almost as if by osmosis. Later, as the partner in Clifford Chance in charge of recruiting trainees for several years, I had the pleasure of dealing with John in a different capacity, communicating with him about potential candidates. He had a tremendous understanding of people and, even if my type of law was perhaps a bit less cerebral than his real interest, he nevertheless was always supportive and helpful in his analysis of candidates.

I do feel that I have been fortunate in my career, and fully appreciate that this is in large part to the start that John gave me through his qualities, and indeed patience, as a teacher. He personified Oxford's tutorial system at its best.

John East (Jurisprudence, 1965)

It was my great good fortune to be tutored by John (and Peter Birks) at BNC from the autumn of 1971 to June of 1973. Coming from a U.S. college background, it was quite a revelation for me to experience what a truly gifted teacher like John could accomplish in his tutorials. I remember Barry Nicholas telling me somewhere along the way that American law schools prepared their students for a lifetime of writing by using the oral Socratic question and answer method and that Oxford prepared its law students for a lifetime on their feet by teaching them how to write properly. John did both. It was a privilege to sit in the same room with him for all those hours together. In addition to being such a gifted teacher, John was a kind and generous man who took a genuine interest in what became of his students later. Although I could never lure him to visit the Pacific Northwest, we exchanged many letters and managed a couple of get-togethers in Oxford over the years. The last time I saw him was for a lunch, that meant a lot to me, in Oxford about ten years ago. If we're lucky in life, we meet a few significant people who help us along the way. John Davies was one of those for me. Farewell to one of the good ones.

Thomas J. Brewer (Jurisprudence, 1971)

I remember my interview with John vividly. Engaging and kind, he guided me through a lengthy discussion about contract. I knew almost nothing about it, and yet felt energised and inspired just by that one conversation. I left the interview fervently hoping I would be accepted, and be able to embark upon my law course with him as my tutor. I was fortunate to be able to study law and learn from him over my three years at BNC. His encyclopaedic knowledge of his subject and fierce intellect were accompanied by a humorous and encouraging demeanour which I think brought out the best in all his students. I went on to pupillage and then spent eight years practising at the Bar and whenever I returned to BNC he was always happy to catch up and showed interest in my journey. I can't be counted amongst his glittering student legal achievers. Yet, leaving the Bar for the world of commercial property I was interested to see that my legal training was still invaluable and I credit John with bringing the subject to life intellectually. On a personal level he was always a calm and benign guiding force. He will be remembered fondly by so very many people and I send my condolences to his family. He was a legend and an inspiration.

Felicia Fenston Morris (Jurisprudence, 1989)

I was very sorry to learn of this sad news. Like several others who have left tributes here, I had the good fortune to study law at Brasenose in the 1970s with John Davies and Peter Birks as my tutors. I remember well attending tutorials with John in Tort and Land Law in his room in Frewin Hall and seeing his impressive record collection and formidable pair of speakers. I also remember that some of my tutorials were late in the afternoon, not long before formal dinner in Hall, and that we would sometimes finish with a glass of sherry. I learned much from John's insightful and constructive comments on my essays and benefited generally from his helpful and reassuring guidance throughout my studies at Brasenose. At the end of that time, I remember not only John's excellent revision lectures before Finals, but also the farewell dinner which he and Peter so kindly gave for us afterwards. I owe John a great debt of gratitude and send my condolences to his family, friends and colleagues.

Andrew Griffiths (Jurisprudence, 1973)

John Davies was the person who enabled me to switch from medicine to law. He was kind, an exceptional teacher and lecturer with a brilliant mind.

Steven Gee QC (Jurisprudence, 1971)

I was so saddened to learn of the death of John Davies. I should have written to express these condolences straightaway, but I hesitated, because I realised he had meant a lot to me and I wanted to reflect and do him full justice. Instead, all I have done is allow time to pass!

John was always a genial and approachable figure with, of course, an impressive intellect. As an undergraduate, I was rather in awe of him. However on the handful of occasions when I saw him after I had left Brasenose, I was always touched by his warmth and friendliness. I had cherished the notion of looking him up again in the near future, only now of course, sadly, this won't happen. He interviewed me in 1980 when I applied to the college and I owe him an enormous debt of gratitude for granting me the possibility of studying at Brasenose, and of course for his excellent and careful tutelage whilst I was there. I hope these belated but heartfelt condolences will ultimately reach his close friends and family. Both they, and the college, have lost a very dear man.

Christine Gordon (Jurisprudence 1981)

I was John's colleague for about 15 years between 1976 and 1991. Those were busy but successful years for me, where I was part of an exceptional teaching team. Whilst Peter Birks and I could agree on little except the importance of legal scholarship, John kept a firm hand on the tiller to ensure that the examination results of the students were the best in the university. John was extraordinarily knowledgeable about the common law and always happy to share his insights and perspectives with me. His erudition was well-known in the academic community, so that I had the pleasure of meeting many of the greatest tort lawyers of the age at lunch or dinner in John's company. He also taught me a lot about tolerance: not only did he put up with my mistakes and forgetfulness with patience and good humour, but he also showed me how to find special value and even amusement in every student we taught, even the most indolent, such as the one who asked me for the location of the Bodlean law library in his third year. John was also my main instructor in academic politics, warning me away from the fractious power struggles in the College governing body, and regaling me with tales of the antics and tantrums of self-important statutory professors of law. John was urbane, cultured, and in his understated but elegant way, by general acclaim, the best dressed member of the law faculty. We should all be grateful that John gave such exceptionally dedicated service to the College for many decades. He was a private person and in many respects the College was the place where he felt most at home. I will always remember him with fondness and admiration.

Hugh Collins (Emeritus Vinerian Professor of English Law)
---