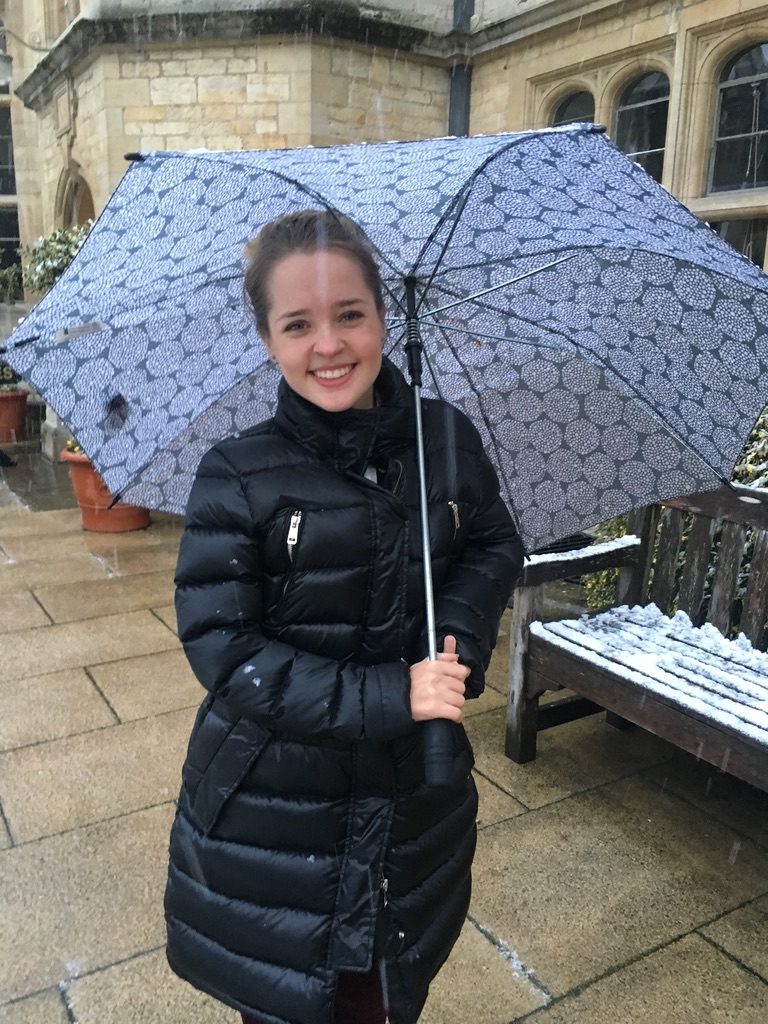 My first year at Oxford has gone by far too quickly. There has been a lot of work but even more fun and I've made many unforgettable memories.I have been overwhelmed with problematic problem sheets causing panic and subsequent pity parties but more importantly I have loved being part of the Brasenose community and learning at such an amazing university, I have enjoyed making fabulous friends and going to fantastic parties. I have had the time of my life.
Alas, I didn't get off to the best start, after a frantic but fantastic Fresher's Week, I came down with the renowned Freshers' Flu - not fun. However, I made sure I did not miss the Matriculation Ceremony, a once in a lifetime experience which sums up all the cliches of Oxford in one swoop (Fancy attire, a beautiful building, and a speech in Latin).
Having been ill, I had some work to catch up on and let me tell you, that first term of Maths was the biggest shock to my scholarly system I'd ever faced. I knew when starting this next academic adventure, that Uni Maths would be different from School Maths, I just wasn't quite prepared for how big a jump it was. Not only is the work much harder, there's more of it, a lot more, but after I got a handle my hysteria, I got my head down and remembered why I love Maths. It's intense challenging work but the reward is priceless. I've learnt so much is such a short space of time and Uni Maths has made me appreciate the subject more than school Maths ever could.
When starting Uni the Maths work wasn't the only adjustment I was preparing for, having mobility issues I didn't know how things would be moving away from home for the first time. I had small worries over the logistics of day-to-day living whilst knowing I would have a lot on my plate with an intense degree. It turned out to be easy. The college's welfare team are fantastic and everyone at Brasenose, from my tutors to the kitchen staff, are so willing to help. I've loved every moment and my mobility issues have not held me back.
I couldn't write a piece about my first year at Oxford without talking about Brasenose *cough the Best College *cough. Brasenose is my home-away-from-home I love the buildings and its history, part of which includes the quirky origin to Brasenose's name (it's named after a door knocker which hangs in the dinning hall today). The location of the college is right in the centre of Oxford, very handy for the shops, clubs etc. and you're surrounded by beautiful architecture not least the Radcliffe Camera. But what makes Brasenose such an amazing place to be part of is the people that make up its community; the students of course, but also the tutors, the porters, the scouts, everyone.
Although that dastardly Freshers' Flu, made me miss out on my first ever Uni party - the Matriculation Ball, I made sure to make-up for it. There were so many amazing events happening, my favourite of which were the BOPs, college held fancy-dress parties. There aren't many opportunities for fancy-dress parties when you get older and if I could change one thing about adult life it would be that there were more - well that and less emails. The Christmas Ball was another favourite of mine, everyone looked fabulous in their finery.
By the second term, I was getting a handle on the work and had more time to have fun with friends. There are only six of us studying Maths at Brasenose in my year, which means you really get to know and support each other, most of which consists of complaining companionably about the never ending workload. Second Term was going great until right up until the last week when the threat of Coronavirus became very real. Luckily term was practically over so we missed little, that could not be said for the last term.
Due to Coronavirus the last term was spent at home, distance learning. Working from home was the same academically as working at Brasenose, we still watched our lectures in the morning Monday-Friday, we did the same problem sheets set to the same deadlines as we would have had and we still had our tutorials with our tutors. However, working from home is a lot different than working at College, the distractions of being at home don't make it easy, the least of which is my cat who likes to sit on my keyboard. While, I've managed to keep in touch with friends online, it's not quite the same; no parties of course but also no talking about our days in the Dining Hall, no impromptu get-togethers and no accidental run-ins in College. I will be glad to return to College when the pandemic is under control, which hopefully will be soon.
It's been a Wonderful but weird-at-times first year studying Maths at Oxford but I wouldn't change it for anything and I can't wait for my second year.
By Carissa Cullen (1st Year Maths)