College buildings
For the first hundred years of its existence the College consisted of just one quadrangle. The only building to extend beyond it was the fifteenth century kitchen, which had been inherited from Brasenose Hall. The Tower was a much more imposing structure than it seems today, as it had only two storied buildings surrounding it, and a tangle of tenements and gardens where the Radcliffe Camera now stands. By the seventeenth century the College was running out of space, and the solution was to build a third storey, which seems to have been started in about 1614 and took some 20 years to complete.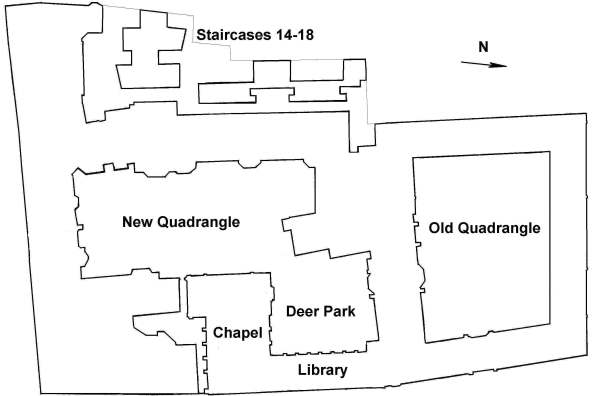 The Library and Chapel were built between 1655 and 1666. The further extension of the College to the High Street was planned for over 150 years before it actually happened. In 1770-1771 a house on the High Street was adapted to make a new Lodging for the Principal, but no further work was undertaken to improve the 'unseemly squalor' (Walter Pater's words) which lay between the Chapel and the High Street. The College finally took the plunge between 1880 and 1886, when a block designed by T.G. (later Sir Thomas) Jackson swept away a muddle of shops, cottages and miscellaneous back premises.
The old Principal's house was demolished between 1887 and 1889, and a new one constructed on the site, together with a set of undergraduates' rooms and the High Street Tower. There then followed a twenty year period during which the College had only half a High Street front, for the financial situation did not allow the risk of further building. It was not until 1909-1911 that Jackson was able to complete the building he had designed thirty years before.
During the twentieth century the numbers of students continued to rise, partly as a result of population growth and partly because higher education was no longer seen as the prerogative of the few. As more and more accommodation was needed commercial leases were terminated in favour of student use. In the 1940s Frewin Hall in New Inn Hall Street was used by students for the first time. Owned by the College since 1580, Frewin's most famous previous occupant was Edward VII, who occupied the house as Prince of Wales when he was an undergraduate in 1859-1860.
By 1959 every staircase except one was equipped with toilets and bathrooms or showers, and at last it was possible to demolish the old bathhouses. A small block of single study bedrooms was built in 1959-1960, designed by Powell and Moya and greatly acclaimed in its day. A building for graduates in St. Cross Road was completed in 1995.