F.E. Weatherly, Songwriter
F.E. Weatherly (1848-1929)
Songwriter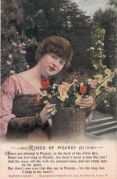 Frederic Edward Weatherly came to Brasenose from Hereford Cathedral School in 1867, and was awarded a B.A. in Classics in 1871. In 1868 he achieved a certain fame on, or in, the river. The Brasenose IV had practised for Henley Regatta without a cox; on being informed that they must carry one they decided to do so, but for him to jump overboard immediately after the beginning of the race. Weatherly volunteered to take the dive and the crew went on to win the race; although subsequently disqualified, they had established a precedent from which the Coxswainless Fours were to develop.

Weatherly earned his living first as a coach in Oxford and subsequently at the Bar, but he is best known as a songwriter. He is said to have written over 3,000 songs, of which the best known are
Roses of Picardy
,
The Holy City
and the most famous words written for the Londonderry Air,
Danny Boy
.