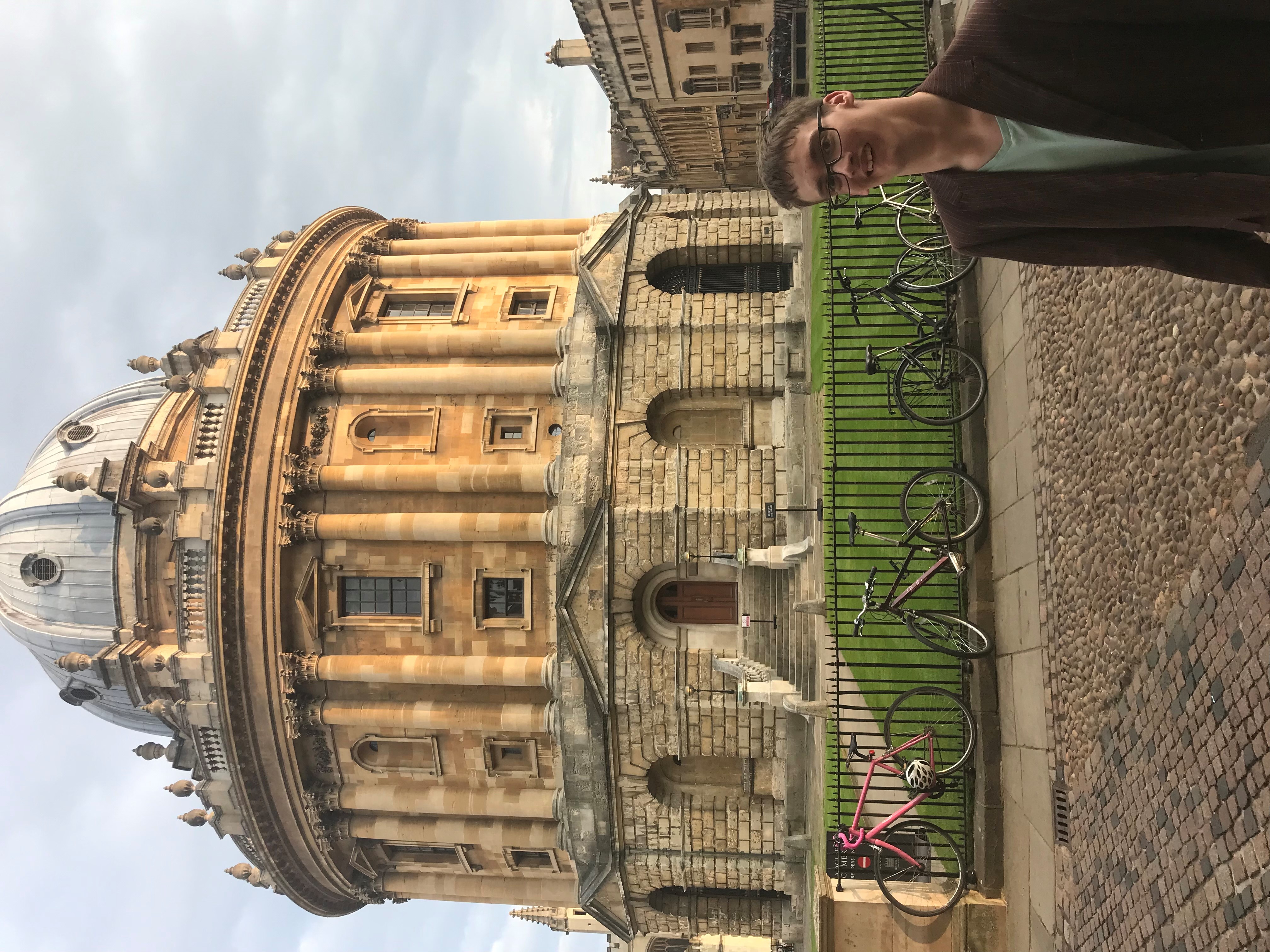 My name is James, and I am lucky enough to study Philosophy, Politics and Economics at Brasenose College, Oxford. I've just completed my first year, and still can't quite believe it. I studied for seven years prior at Outwood Academy Easingwold, a small school in rural North Yorkshire. The support I received from the staff there, as well as my family was amazing. I knew from an early age that Oxford was the best university in the world, and that as such, it was where I would aim. I developed a keen interest in Politics and was actively involved in local politics from the age of fourteen. PPE at Oxford seemed a fitting course, so I applied, just on the off-chance…You never know…
I went through some practice papers before my TSA, the admissions test designed for PPE and the Cambridge equivalent degree. Despite some computer issues, I got through it well, and some time later, a rather exciting email entered my inbox. I also found that doing some practice interviews with teachers and former Oxbridge students made me feel more confident about it all, I felt ready to take on the real thing. Sadly, not everything goes to plan. During the pandemic, much of my schooling went online, which was particularly difficult in a rural area, leaving me battling for Wi-Fi with my younger brother. I thought I was prepared for everything, but some things you can never prepare for. Just before my TSA we found out that my wonderful Grandad had become ill, and sadly he passed away the week before the two interviews. Somehow, after all this, and catching a bad cold just in time for the second interview, I received an offer. It was probably the hardest couple of weeks I've ever had, but the relief was immense.
Lots of planning went into my transition to university. Having cerebral palsy, several departments were involved in making things more accessible, particularly my room, tutorials, hall, and library. Everyone was really helpful and things were well organised. Upon moving in ready for 0th week, I was introduced to some fellow students and my future tutors. It's great to discuss important, sometimes controversial issues with some of the most intelligent people from around the world, and to have a good laugh with people I'm privileged to call my friends. From rural Yorkshire to central Oxford was a bit of a leap, but the support I received was amazing. The first formal dinner of the year was a particularly stirring moment, very 'Hogwarts', with candles lining the tables and a welcome from Principal Bowers. I was particularly enthused by his insistence that cancel culture had no place at Brasenose.
The workload is definitely a step up from sixth-form, but adapting to it just comes from a little planning. Sticking to deadlines, and setting aside time for work is especially important. Brasenose has a wealth of experience in dealing with student welfare, it's great to chat with tutors and staff, even just on an informal basis. Everyone is happy to help, so if you have the aptitude for high level work, don't hesitate to apply. Positive test results aren't always a good thing however, as I discovered in Trinity (summer) term, having to self-isolate for eleven days. The cleaners, porters and kitchen staff were amazing as usual, and delivered my meals to the door. Regular emails and telephone conversations with the college nurse were especially helpful too.
Away from the academic scene, Brasenose's central Oxford location is really convenient. Shops and restaurants line the high street, and the Oxford Union is only a short walk away. Over the past year I've had the privilege of being in the presence of the likes of Stephen Fry, Jordan B Peterson, Zack Brown, Peter Tatchell, Sir Peter Lampl and Fengsuo Zhou as well as many others who have taken the time to speak there. To be able to shake hands with Kriss Akabusi, was particularly surreal, as was speaking for the first time in an emergency debate.
There's often a misconception that certain people, from certain 'groups' are not made for, or aren't welcome at Oxford. If you prepare well, and believe that you can do it, you have as good a chance as anyone. I've always been told that what I dreamed of doing was possible. Now it's real.
James Forsdyke (1st Year PPE - formerly of Easingwold Outwood Academy)