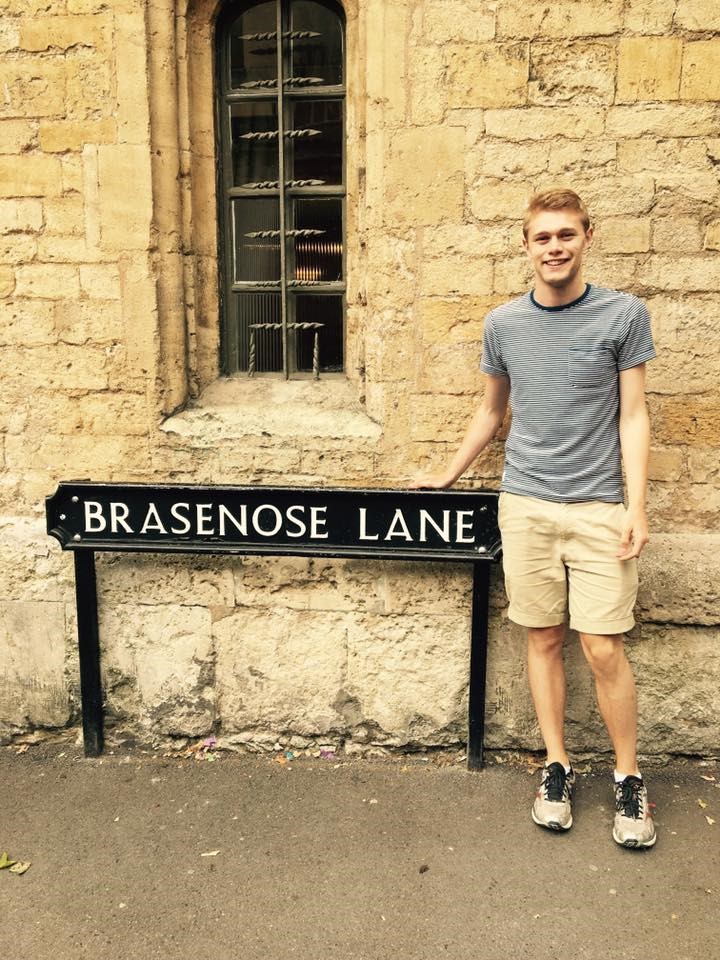 This summer I completed my final year exams in Law. Summing up three years at Brasenose is pretty difficult; Brasenose has been my home for what feels like a lifetime. As Sway (he's a hip hop artist) wrote: "Today could be the day that everything changes… You feeling like you graduating Oxford or Cambridge." Now I have graduated and can safely say that everything changed when I got to Brasenose. My time at Brasenose has been amazing, the friendships and memories I've made will stay with me for ever.

Oxford is the best University in Britain and probably the world (sorry Cambridge) so the academic side of University life is important. I chose to study Law and like all the other Brasenose lawyers in my year, I had never studied it before. I ended up really enjoying my degree. Law is a fascinating subject both in theory and in practice, but what is possibly unique about it is how it mixes the need to know what the legal answer to a problem is and question what that answer should be. A Law degree requires you to be able to answer both problem questions (short stories where you have to suggest the legal result) and essays. For instance does the law take account of my inability to know my actions are wrong? More interestingly should it? It's fair to say that Law can be a challenge to start with but everyone is in the same boat and the tutors know that you've never done anything like this before. It's a little bit scary but exciting.

What makes Brasenose Law so special is the incredible community we have within and between the years. The Brasenose Law Library, affectionately known as the Stally, is the centre of Brasenose Law and provides us with all the academic resources we need. There's always someone there for help and support, they've been there, got the t-shirt and are often looking for a distraction from their own work! It helps that the Law course at Oxford is highly structured, we do 10/12 modules together so we are in tutorials together and doing the same work.

However, Brasenose and Oxford are about more than just work. I had the privilege of being elected Secretary of the JCR (Junior Common Room) in my second year, which meant writing meeting minutes, preparing agendas and representing students at OUSU (Oxford University Student Union). I've also been involved in access work, helping out on school tours, open days, interviews and serving on the Committee for Target Schools (they run shadowing days for state school sixth formers. I tried my hand at college sport as well, which is a great way to get involved in sport if like me you're not that good. I was Captain of the Badminton team and played for the Hockey team despite never having played before in my life. Brasenose loves the arts too. So to my family and friends surprise I found myself performing in a play and in a musical version of Lord of the Rings where the songs were all set to the tunes of ABBA songs both as part of Brasenose Arts week.

Over the three years I did a few law themed extra-curriculars. I wrote an article for the Oxford Undergraduate Law Journal which was published and was part of the Oxford team that reached the Quarter-Finals of an international media law moot (like a mock trial but about the law not the facts); an incredible experience where I met teams from countries as diverse as Lithuania and the Bahamas. Oxford has also given me the opportunity to hear speakers from around the globe. At Brasenose David Cameron's right-hand man gave us the inside scoop on the 2015 General Election and in the wider University we've had Bernie Sanders, Marine Le Pen and Roy Hodgson to name but a few.

It's been a real privilege to spend three years at Brasenose. If you're a Sixth Former thinking of applying then check us out on an Open Day. If there is one thing about Oxford that has surprised me so much it's how different everyone is and how that difference is actually what makes the place what it is. If you don't believe me that my time at Brasenose has been great then I have proof. I'm coming back next year to do a master's degree. So all in all a three years that's been so good I don't want to leave!
By Paul Fradley - recently graduated Law student from St Joseph's College, Stoke-on-Trent