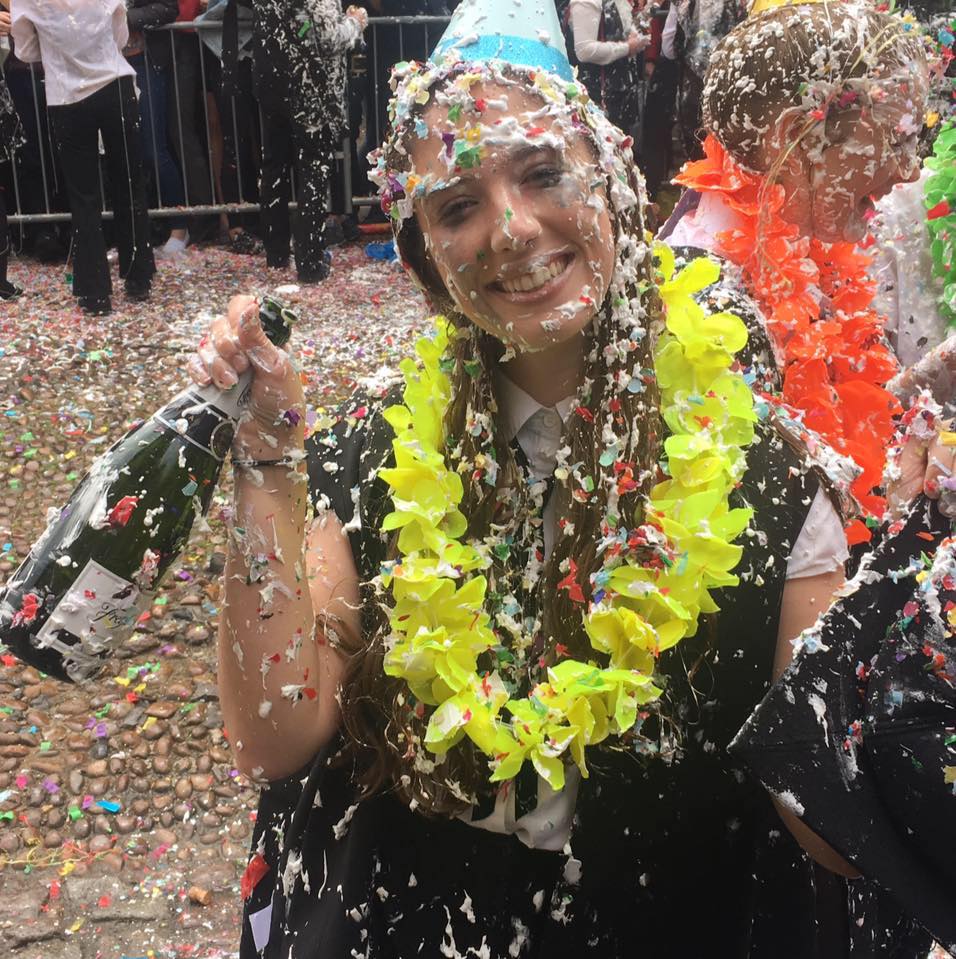 Three years ago, I left my small state school in the North East as the only pupil in my year to get an offer from Oxford. I moved to the dreaming spires, (quite literally, as Brasenose is so centrally situated on Radcliffe Square), and embarked on a three year journey of studying, of extraordinary experiences, opportunities and making friendships for life.

Studying English Language and Literature has meant working closely with texts ranging from Old English like Beowulf (which we learn to read in the original language!) up to work published this year. The breadth and depth of the course is literally incredible. Of course, this does mean hard work, and it isn't always easy. But the tutorial system really allows you to academically come into your own. Unlike at schools, where most of us were lucky if our classes had less than 25 pupils, during my time here I have had mostly one-on-one personal tutorials with my tutors, who read my writing, discuss my thoughts and teach or encourage me to think about my work differently. As it is so personal, the tutors can engage in work that you're interested in, and can tailor the course to suit your needs. On reflection, I feel so privileged to have been able to learn in such a stimulating environment, which is constantly focused upon my own academic integrity.

But Oxford hasn't only been about working hard! Outside of my academic life, I have really tried to throw myself into organisational roles that follow my two main interests: arty things like plays and dancing, and improving access to Oxford for state school pupils like myself. I've choreographed plays, kept up my weekly irish dancing lessons, produced Brasenose's Arts Week, heard talks from the likes of Mark Williams (Arthur Weasley!!) and Jeremy Paxman. I have also volunteered to do tours for schools, been an ambassador for the English Department, and took the role of organizational liaison officer for the charity Target Schools, which allows state school pupils to shadow students here for a day. These experiences and opportunities are really the moments that have formed my best days at Oxford. Whether its seeing a pupil you've toured round college going into their interview months later, or watching a production you've been involved in sell out in minutes, it is an exhilarating feeling of hard work paying off!

This all culminates in one great big release of pressure after your final exam, when you are free from all academic work and have a few weeks of term left to do everything in Oxford that you still haven't managed to fit into the three years. Your friends wait behind exam schools with shaving foam, silly string, and some confetti to 'trash' you. It's one of the many weird Oxford traditions I have experienced here, and it's definitely my favourite! I was lucky enough that the other English students in my year at Brasenose are also some of my closest friends. All six of us left the exam holding hands and faced a strong group of friends that had come to celebrate with us. It was possibly one of the happiest moments of my time here.

As I sit and write this, I cannot believe how quickly three years have passed. I began Oxford with no idea what to expect, only eager to learn more about English Literature from some expert tutors, and hopefully make some good friends. As I enter my final week here, I couldn't have asked for a better three years. I've learnt to think in a different way when I read and write, I have had opportunities I couldn't have ever imagined (one time, I even had a cup of tea with Tom Stoppard!) and I am leaving Oxford hopefully knowing I have helped work towards better access for pupils like myself! In all, I couldn't have found a better place to live, study or learn, and I will miss Brasenose very much.
By Jess Ward - Third Year English Student
Why not come and see Brasenose yourself during the University of Oxford Open Days on the 28th June, 29th June, and 15th September.