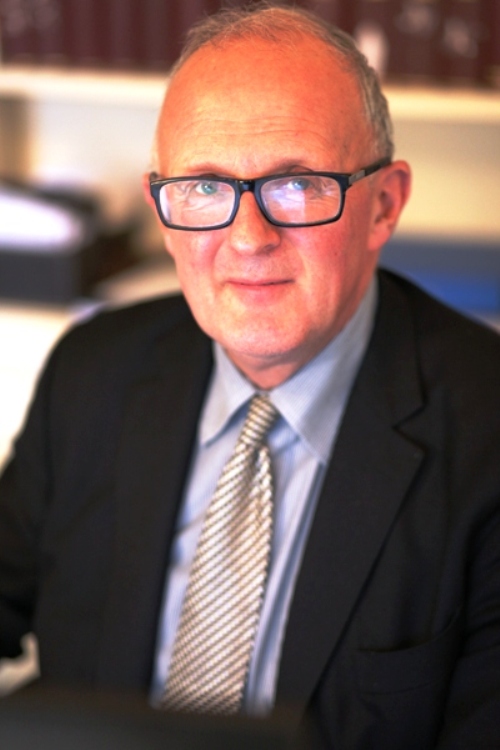 Professor Sir Fergus Millar Memorial:
On 1 December, I spoke at the memorial service in the Sheldonian Theatre for Professor Sir Fergus Millar, who was the Camden Professor of Ancient History attached to Brasenose from 1984 to 2002, and subsequently an Emeritus Fellow. I paid tribute to his role in being a Tutor for Graduates and saving Classics in the College. There were moving speeches from many others attesting to his work on Jewish History, as a mentor and international scholar, and as a father. These were interspersed with music played by our own Jonathan Katz and Susan Wollenberg. There was a tea afterwards in our Hall.
This is part of my address:
"The main claims of BNC (and they are big ones) in respect of Fergus Millar are that:
He was an outstanding Tutor for Graduates;
He saved Classics in College.
I am going to talk about each in turn.
Claim 1: A great TforG
He offered to many BNC postgraduates in all subjects the same selfless energy with which he worked for his own students in Ancient History. His role within the College was not something one could expect of a Statutory Professor; Fergus had masses of graduates of his own to supervise, was DGS in the Faculty for some time, did lots of University administration, and still found time to do this job and do it seriously and punctiliously. Such supererogatory labour was remarkable then, and is more so now. In the same vein, his taking the time to do development 'avant la parole' and get David's pupils onside – one mark of Fergus was his fierce loyalty to institutions, perhaps especially to this one, of which he was a part. He had no obligation to worry about the existence or the happiness of undergraduate Classics in the College, but he did that too.
Claim 2: Saved Classics in College
When David Stockton retired, the University's hesitant attitude towards renewing the post, and the lack of a consensus in support of Classics within College had created a question mark over the subject's future. Fergus' contribution was central: writing to David's former pupils he was instrumental in raising enough money to allow the Ancient History Fellowship to continue on an interim basis until its permanent re-filling was effected.
He took great pride in the achievements of Classics and he left an excellent legacy; he not only rescued the subject, but in some sense also set the tone for its revival as an academic community within College at a time when circumstances meant it needed nurturing. He cared enough to do that, which was exactly what was needed."
Ex President Cardoso:
We were honoured to welcome former President Cardoso of Brazil to College on 25 November for dinner. There was a gathering of Brazilian students in our Antechapel for drinks beforehand. Most of them were attending a conference on the following day commemorating the 50th anniversary of his book Dependency and Development in Latin America. As I said in my words of welcome, it is not often that a book is discussed and parsed over 50 years after its appearance. He provided a fascinating insight into current Brazilian politics which do not appear happy.
Lloyds Bank: Liz Woolley, a local historian, gave an excellent talk on 22 November in the Amersi Foundation Lecture Room on the history of Lloyds Bank at 1-5 High Street which the College bought earlier this year. Lloyds Bank occupies several buildings at Carfax, on the corner of the High Street and Cornmarket. It was described by the architectural historian Geoffrey Tyack as "the most original of Oxford's commercial buildings … memorably closing the vista north from St Aldates". Thomas Hardy's Jude the Obscure described Carfax, which was at the centre of Oxford's street markets until 1774, as having "more history than the oldest college in the city. It was literally teaming, stratified with the shades of human groups, who met there for tragedy, comedy, farce; real enactments of the intensest kind…".
There were many things about the building and the location which I had not realised before this fascinating lecture, e.g.
Carfax saw the first traffic lights in Oxford installed in 1933;
Lloyds started at 2-3 High Street and then gradually added.
The plaster ceiling was made from casts of the 16th-century ceiling which had been saved from Slatter & Rose's shop. The original ceiling itself was bought by an ophthalmic surgeon, Fergus Ogilvie, who had it re-erected by Benfield & Loxley in the library of his home at 72 Woodstock Road. That house is now the home of the Principal of St Hugh's College.
The evening was also enlivened by the fact that also present were representatives of Benfield & Loxley and Kingerlee, which firms had worked on the building over the years.
John Gardner Memorial Service:
In the Codrington Library at All Souls on the afternoon of St Andrew's Day, a large group of people assembled to remember the life and work of a proud Scot, Professor John Gardner. John died in July 2019 at the age of 54, robbing the University and the wider academic community of a scholar of warmth and wit, of remarkable talent and of huge integrity. Among many distinguished appointments, John had been a law tutor at Brasenose from 1991-1996, and more recently served as Oxford's Professor of Jurisprudence from 2000- 2016.
A series of speeches from those who knew John during his exceptional career reflected on his time as a student, tutee, tutor, mentor, colleague and (most importantly of all) a family man. These reflections were interspersed with music which made the event even more moving.
John's great friend, the late Tony Honoré, once described his own colleague and a former Principal of this College, Professor H L A Hart in the following terms: "Some who knew him well thought him the most admirable person they had met, a great and good man. I am not convinced that they were wrong." It was evident from what was said about John Gardner on Saturday afternoon, that many people hold him in the same regard.
[I am grateful to Geoffrey Mead for this report since unfortunately I could not attend].
Miscellany:
On 26 November, my PA Melanie James is sadly leaving at the end of term. It was great to entertain her at High Table. Attesting to her popularity it was the largest High Table since I have been Principal.
On 1 December, the Chapel was packed with 108 people for the memorable Carol service.