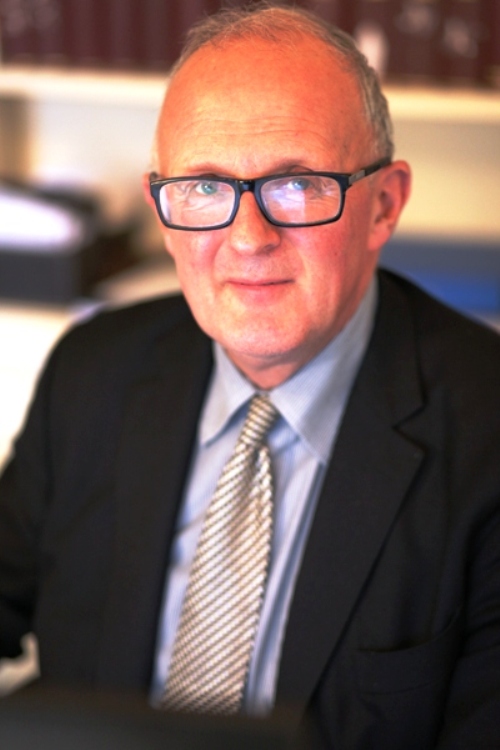 Jock Miller:
On May Day we had an excellent visit from Jock Miller, the CEO of Melrose plc. He gave a masterclass for Economics & Management students and then stayed for dinner. He started with a wide-ranging account of his varied career, which included spells as an accountant and then working for Lord Hanson before setting up two extraordinarily successful buyout funds, Wassall and then Melrose. He concentrated on the recent contested takeover bid for GKN which he predicted might be the last ever contested takeover. The philosophy of Melrose is "buy, improve, sell" and he detailed how the company goes about this.
Alumni cyclists:
On 26 April, I was delighted to see off from Radcliffe Square a group of cyclists led by Simon Godwin (Physics 1987) who are cycling for Diabetes UK whose Chief Officer is Simon Askew a BNC alum (Classics 1985). Four from 1985 to 1987 matriculations stayed in College overnight consisting of David Horner (Physics 1987), Angus Palmer (Engineering 1985) and Tim Whittaker Chemistry 1986). Susannah Stobart (Physiological Sciences, 1984) joined the next morning. They were accompanied on the ride by four current students. Simon himself is in the middle of a two year bike ride to the South of Italy.
Graduates and insects:
The guest speaker at the Graduate Dinner on 2 May was Dr George McGavin, who spent 25 years as an academic entomologist in Oxford before switching to work as a television presenter and science communicator. George gave a memorable and entertaining talk and Q&A, explaining that communicating science effectively to a television audience does not differ fundamentally from teaching an Oxford tutorial - the key thing is to enthuse and entertain. He is also an advocate of entomophagy - the practice of eating insects - although no invertebrates were served in Hall.
Finalist lunch:
It is always a great pleasure to address the Finalists lunch as I did on 3 May. It was especially pleasurable as I have grown up with this cohort having taken over as Principal four years ago (how time flies!). There were also speeches by the Dean and Chaplain. We wish them the very best of luck.
Amersi Foundation Room Opening:
On 7 May at 11am we held the internal opening of the Amersi Foundation Room, the culmination of a year of hard work by excellent craftsmen ably project-managed under the auspices of our Bursar and Domestic Bursar. We record the generosity of Mohamed Amersi our generous donor. The room has excellent audio-visual effects and will provide a versatile space for Governing Body meetings, lectures, events and plays. We are very proud of it. Besides some forty internal Fellows and staff, there were representatives of the architects and builders present. We will hold a formal opening next year.
Camilla Cavendish:
The first event of the Amersi Foundation Room was a Principal's Conversation with Camilla Cavendish (1986 PPE). She described her varied career as aid worker, McKinsey management consultant, journalist and politician. She spoke about meeting David Cameron at Brasenose and her views on the present political class (negative) and Brexit. We then discussed her remarkable new book Extra Time. This deals mainly with the greater time people will have post retirement and rapidly changing demography. It deals with how those extra years can be well used. I very much enjoyed the book and its combination of statistics, political proposals and the personal. I agree with the Sunday Times which described it as a "must read". It includes a clarion call for a fourth stage of education to complement the fourth industrial revolution. Peter Sinclair, one of Camilla's tutors, was in the audience of about fifty. Camilla also encouraged students to join Frontline of which she is the Chair, which is a Teach First style scheme for social workers.
HCR Handover drinks:
Each year we have a drinks reception to pay tribute to the outgoing and incoming HCR Committees. Mehroz Ehsan has stepped down after two terms as HCR President. Although I joked in my speech to the reception about him hanging on to office like Theresa May, we are really grateful for his service. We welcome Estella Kessler as incoming President with her excellent new committee.
Miscellany:
On 17 April, Sir Paul Silk (President of the Brasenose Society) and I co-hosted a lively dinner of ten alumni in Cardiff at the excellent Chapel restaurant. This is part of our round Britain alumni tour (not by cycle!). Next up are Leeds and Birmingham in early September. Please spread the word.
Congratulations to our Clare Fahy for taking part in the British Ladies Open Championship for Real Tennis.
May Day morning provided its usual share of extraordinary costumes and very loud music just below the Lodgings at 6.15am.
I have enjoyed reading Bad Blood a book about the Theranos scandal by John Carreyrou and Rhetoric by Prof Toye.
I strongly recommend the play Admissions which is currently on at the Trafalgar Studios in London. It addresses in a light-hearted way the complex issues of diversity in university admissions which we deal with in College all the time.