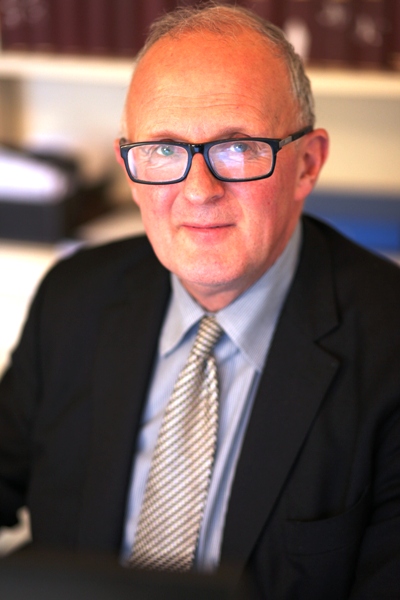 Our Principal, John Bowers, shares more thoughts on his time at the College.
This blog hopefully shows the breadth and amazing variety of events which go on at Brasenose and the intensity of this part of the term. I want to thank everyone who makes this breadth and diversity of endeavour possible and such a joy to be part of. In fact the pace has been so intense that it has taken me longer than usual to write up these events.
24 October: First year drinks:
One of the great pleasures of my job is meeting the Fresher students. There are lively minds from all over the world here at Brasenose and from all manner of backgrounds. I met a cohort of about 25 in my lounge for drinks. They were very complimentary about the welcome laid on by the older students who acted as their mentors, which we call the "college parents" system.
26 October: Oasis of Peace:
Brasenose hosted an event for the Oasis of Peace project which supports a school (with residential village attached) in Israel which caters for both Jewish and Palestinian children. Cobi Sonnenshein, who holds the Wolfson chair in theoretical physics at Tel Aviv University spoke here on "Lessons about the Palestinian –Israeli Conflict. Life in Neve Shalom/Wahat al-Salam", the name of the Village. He outlined what the Middle East could learn from experience in that village of which he was a founder member some forty years ago. It is clear the world could indeed learn much from the experience there.

27 October: Brain Mind and Society:
In our second Brain Mind and Society lecture series we were very pleased to hear "The problem with consciousness" by Prof John Jeffreys, Senior Kurti Fellow at Brasenose. He gave a broad sweep of the fascinating subject.
27 October: Mark Anthony McGrath:
Our excellent series of Platnauer Concerts continued with Mark Anthony McGrath a celebrated guitarist originally from Kilkenny. He played a folk rock and classical inspired programme. The most extraordinary part was that he played a 10 string instrument which he had created. We were really grateful for his coming since he was stuck on the M4 for 4 hours in a traffic jam.
31 October: US Election:
We held a very lively discussion on the US Election with a scintillating Panel of speakers. C Allen Foster, an alumnus who is a distinguished US trial lawyer, came over from the USA to put the Trump perspective (which would have otherwise have been un(der)represented). He was joined by three others who had less distance to travel; Mara Keire a Departmental lecturer in US history based at the Rothermere Institute in Oxford, Eric Haney, a doctoral student at Brasenose who hails from Atlanta, and Elias Dinas, one of our tutors in Politics. Subjects which I introduced for the panel included:
-Has Trump changed US politics forever?
-Were the debates a Debasement of US politics?
-what sort of Presidents will each of the candidates make?
The audience then pitched in with a whole series of questions and insights.
3 November: HLA Hart: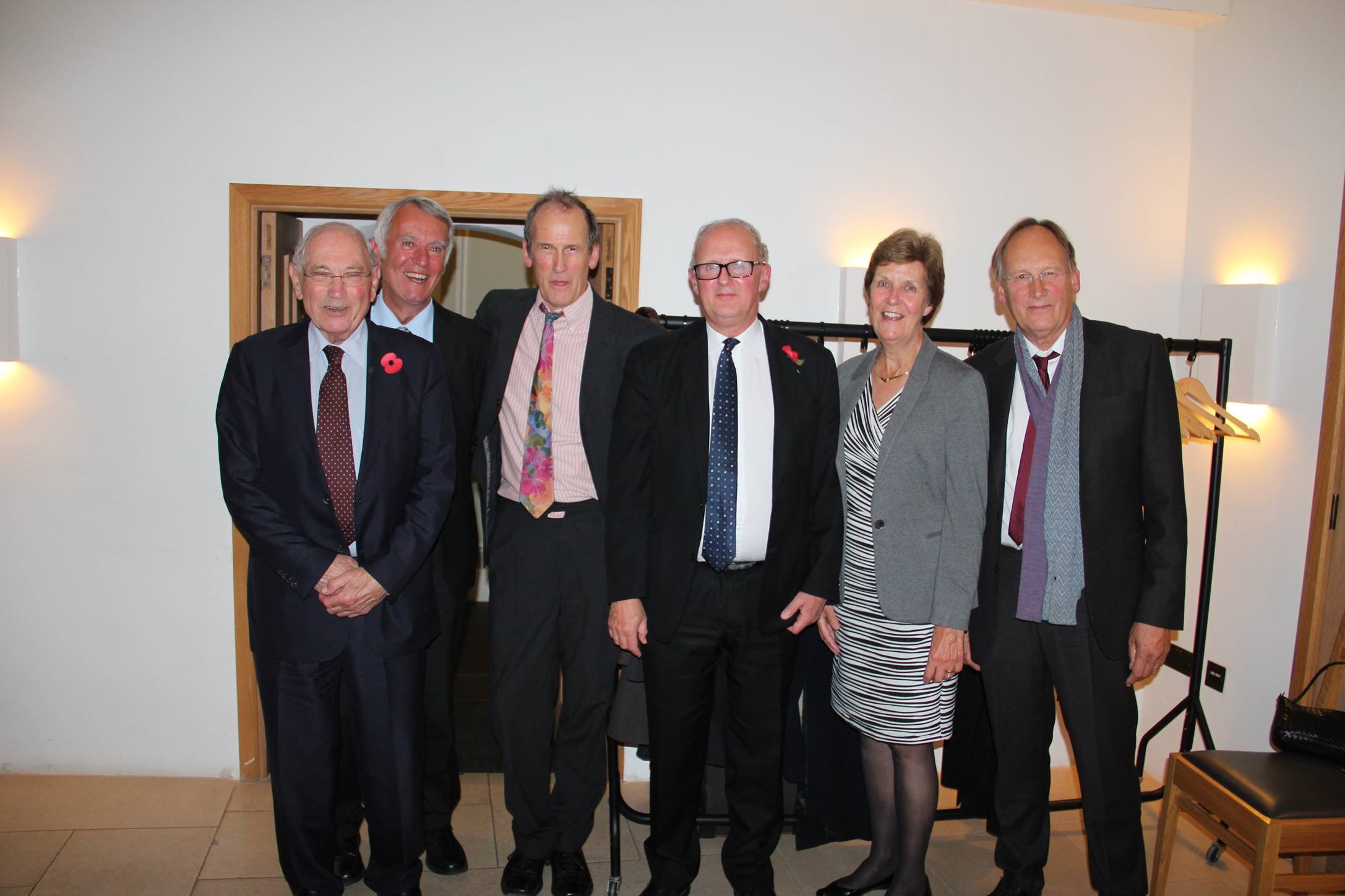 I chaired the first in our new series of Great Brasenose Lawyers. Although we have had many distinguished lawyers here at Brasenose the subject of the first such event was obvious, HLA Hart. He is one of my predecessors as Principal and author of one of the best-selling and most influential law books ever, The Concept of Law. The concept of the Great Brasenose Lawyers series is that we mix a retrospective on the subject's legal work with reminiscences of the person. The chapel was packed-out for the event. The fact that the chapel was used is somewhat ironic for a review of the life of someone who was Jewish and devoutedly secular.
We were lucky enough to be able to welcome three of his children and several other relatives back to Brasenose for the occasion. The discussion was conducted by Nicola Lacey, Professor at the LSE; Les Green Professor of the Philosophy of Law and Fellow of Balliol College and John Gardner Senior Research Fellow at All Souls College, Oxford, with the title of Professor of Law and Philosophy in the University of Oxford. John held Herbert Hart's professorial post, or "chair." They spoke of his work and the person (see picture).
The audience added their own recollections. For example, Andrew Burrows, a former Brasenose law student and an honorary fellow of Brasenose and Oxford Professor of the Laws of England, recalled introducing himself to Hart as a Fresher. After telling Hart what subject he was studying, he asked: 'you wouldn't happen to know anything about law would you?'
He was Elected as Principal in June 1972; and started in autumn 1973. He was the first non-Brasenose Principal. He had major impact on the College in modernising it. It was said at the time that "BNC toiled at games and played at books".
In his early days at Brasenose, we were told that Hart admitted to being confused as to whether Brasenose was a College or an Athletic Association. However, in his time at the College he cemented Brasenose's reputation for academic excellence both by his policy and his personal example.
Hart was keenly remembered by his former students for his wit and charm and his contribution to College life, organising lectures and advancing the arts. Perhaps the only one of Hart's additions to Brasenose that has not stood the test of time was the yellow lino he installed in the Principal's living space!
Paul Fradley, one of our students, has written a separate report on the event for the website.

4 November: Blurbs:
Each term we have one or two blurbs where a tutor and graduate students addresses us on a related fields. This term's first was a fascinating double act of Paul Goldberg a computer scientist specialising in Algorithmic Game Theory and Mark Gilbert a mathematician who spoke on modelling species invasions in fragmented landscapes.
Later that evening, Joseph Gordon Levitt and his wife Tasha McCauley (who runs a robotics company) dropped by. Amongst many other films he starred in the Dark Knight Rises, the Batman movie and he is Edward Snowden in the new Snowden film.
6 November: Disability Law Moot:
I was delighted that we were able to host the Disability Law Moot sponsored by Herbert Smith Freehills which is now in its third year. The problem was argued out before a "Court of Appeal" consisting of Dame Elish Angiolini Principal of St Hugh's, Ian Gatt QC of Herbert Smith Freehills, Anne Davies, Dean of the Law Faculty and a Fellow of Brasenose and myself (which is probably as close as I will ever come to being a member of the Court of Appeal). The finalist mooters were of a very high standard. The University Church, next door to our College, was packed for the event. The administrative hub, the earlier rounds and the dinner were held in Brasenose. The organising committee is to be congratulated for producing an excellent event.
Sad news:
On an unhappy note we mourn the death of Ted Wilson a member of the SCR.
He was born in 1938 in Liverpool and graduated in Physics in 1959 . Ted first worked in experimental particle dynamics at the Rutherford Laboratory but soon became interested in the theory of particle accelerators. He prepared the design of the Super Proton Synchrotron (SPS), which was CERN's first underground accelerator. - seven kilometers in circumference and stretching across the border between Switzerland and France. Ted led the commissioning of SPS before joining CERN's ground breaking Antiproton Accumulator team which converted the SPS into a proton–antiproton collider.
He spent twelve years as head of the CERN Accelerator School and then rekindled his connection with Oxford University, becoming Visiting Professor in Oxford's John Adams Institute for Accelerator Science where he taught post-graduate students, and was Member of our Senior Common Room. He was a keen and talented amateur pianist and singer and never happier than on his frequent visits to the opera. He was the author of two works on accelerators: Engines of Discovery and An Introduction to Particle Accelerators.
One of our tutors, Dr Carole Bourne Taylor, has written: "Ted's appearance in the SCR was always a delight; he could always be relied upon to engage his listeners with absorbing and thought provoking ideas: an enlightened and civilised member of our Common Room. Ted enjoyed his regular visits to Oxford and Brasenose although recently, the commute from CERN, where he played a leading role, had become a challenge. It is hard to imagine that he will not dine with us again...but on the shelf, his books will be a vivid reminder".