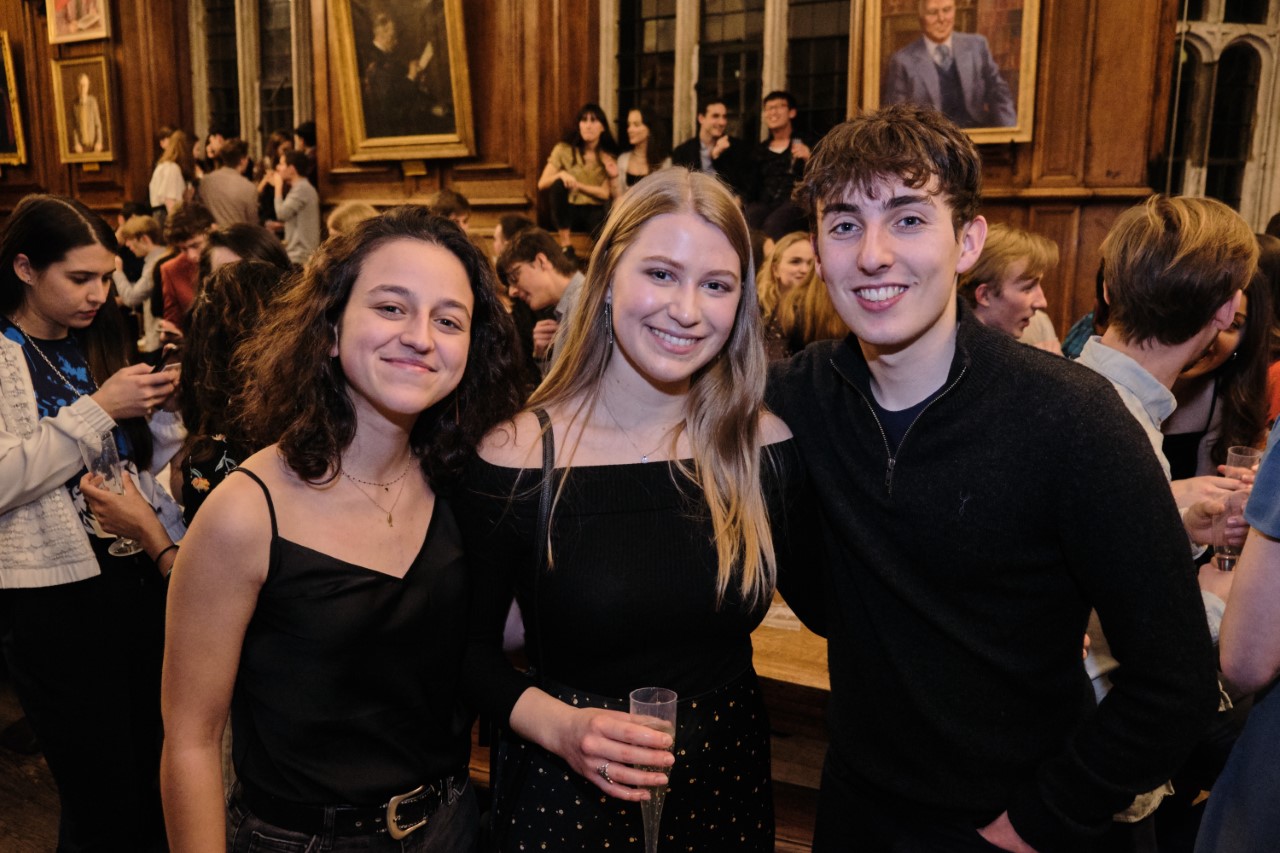 My first encounter with Brasenose began with a Year 9 school trip to Oxford organised by Joe Organ, the Access team and my school. Stepping through the front door beside the Radcliffe Camera and into Old Quad, I can remember how struck I was by the majesty and history of such a beautiful place. (Needless to say, this sense of wonder has never ceased every time I walk through college.) At that time, Oxford seemed to be the glistening spires of another world, one which was distant but left a lasting impression. It is only after I received my GCSE results and started sixth form that I began to think what if?... though the labyrinthine application process seemed like a daunting prospect! Through subsequent workshops, I learnt more about the application process and university life, which eased my apprehension; I eventually applied, came for interviews and received my offer to read French.
Coming from a large comprehensive school in Berkshire, where we were two students to receive offers from Oxbridge that year, I am determined to contribute to Access opportunities for prospective students as much as I can. Through giving tours of college I have sought to draw back the curtain on university life. The infectious enthusiasm of the undergraduate students played a pivotal role in encouraging me to apply and therefore I hope to do the same for prospective students. Helping during the interviews period in December, I hoped to be a friendly and reassuring face for the interviewees. Although the lockdown brought new challenges, it prompted an adaptation on Access opportunities, like being in regular contact with my old school through Zoom Q&A sessions and contributing to an access video.
The start to my degree has exceeded all my expectations. Drawing upon a particular focus in literature through theorists, authors, philosophers, playwrights, poets, artists as well as French cinematography, the course offers a reconceptualisation of 'language'. I have delved into the interpretation and translation of thought between cultures, building bridges across boundaries through an exploration of nuance, style and creativity. The symbiotic relationship between English and French within the course has enabled me to appreciate both languages in parallel with one another. It is a true privilege to have in-depth discussions with experts in their field who provide excellent academic and pastoral support.
It is the whole network within college that has made me feel welcomed and as though I belonged to this community. I have honestly met the most wonderful people, friendships and memories to (excuse the cliché) last a lifetime! The camaraderie throughout the year, supporting each other through the whirlwind that is university life is what has made this year so rewarding and enjoyable. This extends to the warm and approachable college staff who give 100% support. Of course, Oxford life encapsulates tradition but is by no means static; it is constantly shifting with the dynamism and energy of its students. I have to say that though the new and distinct terms relating to Oxford initially seemed like another language, they have now become second nature to me, capturing the quintessence of the university's history. From becoming an official member of the university at Matriculation, wearing my gown was an unusual yet extremely special experience. Subsequent formal halls (think along the lines of Hogwarts) but with a gown over some jeans, I felt less restrained than I had expected. The magical aura that surrounds Oxford never fades, you might even get flower and cookie fairies delivering goodies to your pigeonhole.
Over the year, I have joined in with college netball matches, tried my hand at pool and darts (though my aim needs improving), attended yoga classes and started squash (a sport I had never played before). I also joined the Art Society and attended conferences and art panels throughout the year. The terms were also filled with activities and events including the Christmas ball and fancy-dress parties called bops. And for all you foodies out there, a highlight of the week was brunch served in hall at weekends, whilst Gerties (our college snack bar) holds a special place in my heart for get-togethers with friends during the week.
My first term was filled with new and exciting opportunities, meeting amazing people and exploring the city; I can only say that the following term did not disappoint. It's worth noting that adjusting to university life has its challenges at first in establishing the balance between academic studies and the multiple activities on offer. Having settled down and adapted to the new environment, I felt that the second term was even better than the first. However, this blog post would not be complete without commenting on what virtual summer term was like. Leaving at easter, students expected to come back to an Oxford cloaked in its true golden hour. This was not quite the case. This past term was like no other, having tutorials via Microsoft Teams or Zoom and recorded lectures. Despite working from home, the tutorials were still as enriching and thorough as they were before, with my tutors providing detailed feedback. Having regular contact hours helped to structure the day and having recorded lectures meant that they could be paused or re-watched if necessary. Of course, I missed Brasenose and my friends dearly and it was difficult knowing that I would not go back until October, but the university adapted quickly to the covid-19 situation, providing more access to resources online. The Careers Service offered remote Internship opportunities and Liz, the college librarian, was so helpful in sending books via post. This year has certainly been filled to the brim with infinite possibilities alongside unexpected twists and turns!
To conclude, I can say, hand on heart, that this year has been one to remember and cherish. I have experienced wonderful opportunities and met lovely people, both staff and students. I honestly couldn't see myself anywhere else and I look forward to what the rest of my degree has to offer.
By Gaby Ford (formerly of Furze Platt Senior School middle in photo)