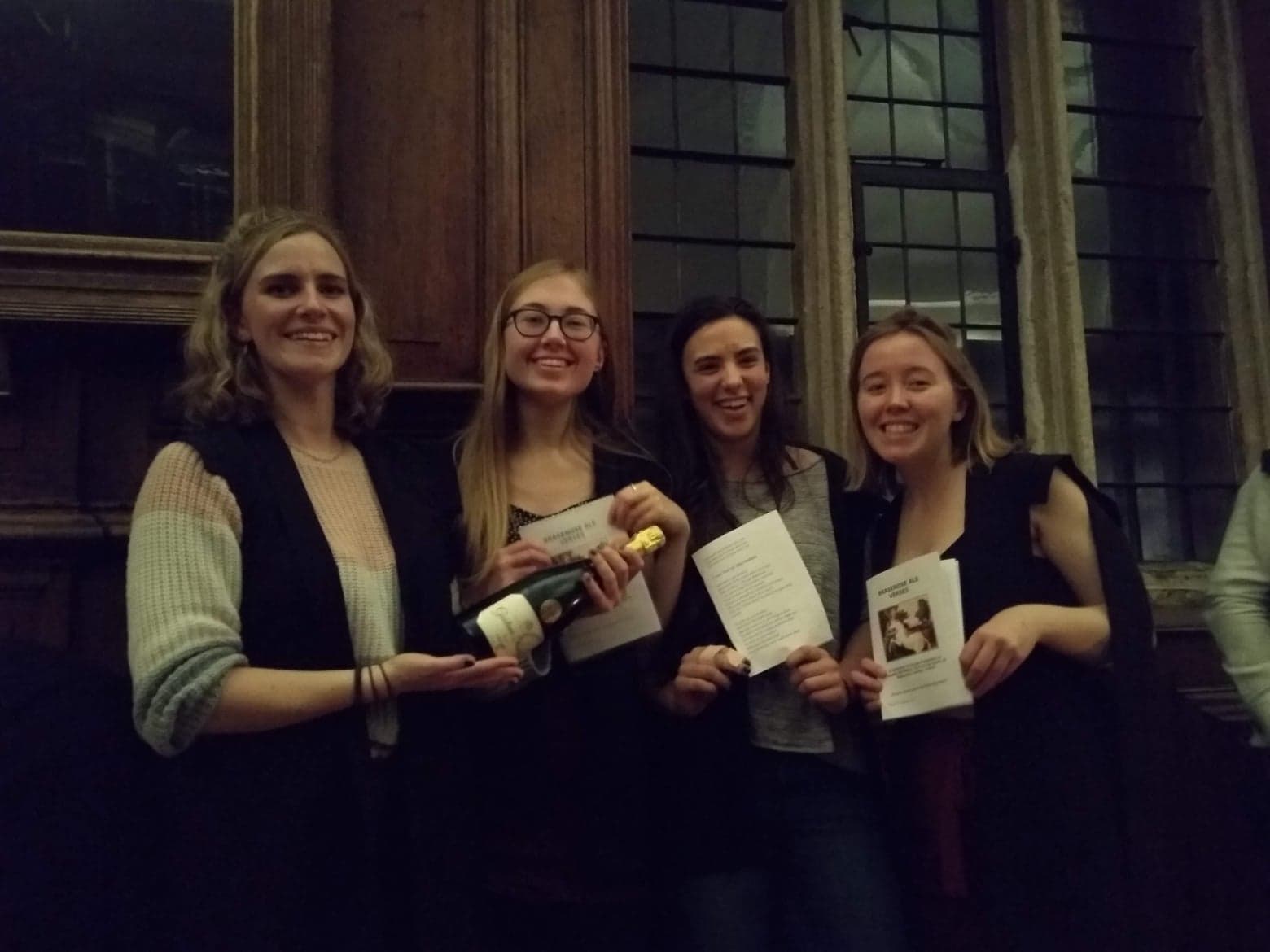 Every year on Shrove Tuesday Brasenose staff and students partake in a very peculiar tradition known as 'Ale Verses'. This tradition dates back hundreds of years when the college brewed its own ale and members of college would enjoy the Ale all together in Hall. Whilst Brasenose (sadly) no longer brews its own Ale we have kept the tradition alive!
Ale verses this year began with a three-course formal meal in Hall, with the classic lemon pancakes for pudding. Soon after the plates are cleared away and all the students clamber up onto the tables. Jugs of warm ale (and non-alcoholic alternatives) are passed around and merriment breaks out as students begin to sing satirical songs about Brasenose, set to current popular tunes. This year we were thankful to have Musical Director Christian Wilson present to help keep us at least partially in tune.
Staff and students are all actively encouraged to submit in advance tunes, with lyrics ranging from events, characters or even buildings that have made an impression on them during their time at Brasenose. For example a song from this year detailed the ongoing Frewin Annexe pigeon saga to the tune of YMCA as well as a song detailing the going ons in the Brasenose Boat Club.
However this years winning song was set to the tune of Eliza Doolittle's 'pack up'. Written by four finalists who, in their old age, are a bit fed up of some of the fresher's antics. This is what one of the co-writers Katie Sayer had to say about their song - "Being boring and irrelevant third years, all we want to do is sleep. Being young and vibrant freshers, all that the first years want to do is party. Given that we share accommodation, these aims aren't always compatible… so for Ale Verses, we wrote a parody song, to the tune of Eliza Doolittle's 'Pack Up', entitled 'Shut Up', and have enjoyed many a great night's kip ever since".
By Sarah Berwick (Second Year Geography)