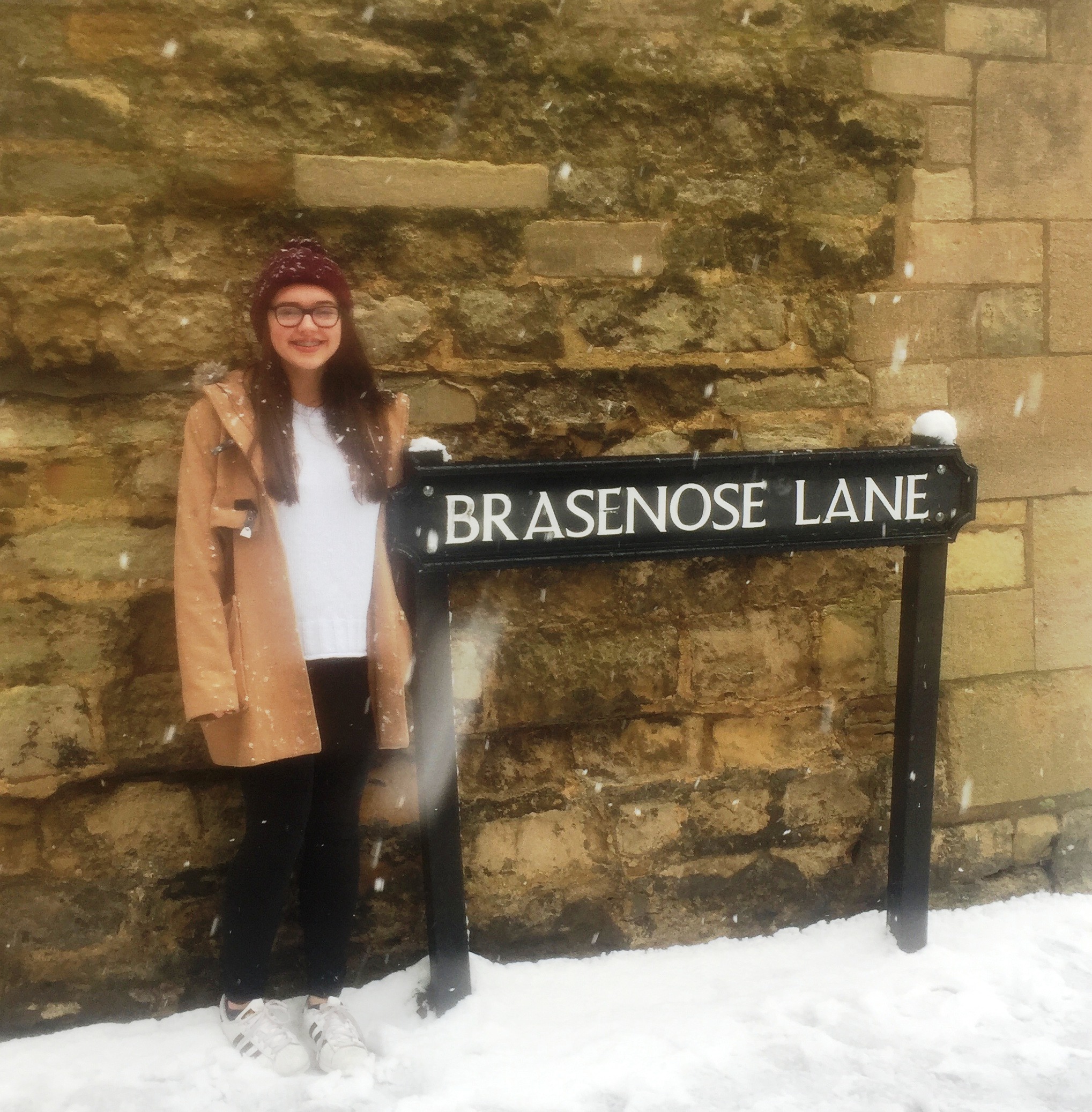 As I look back on my first term at Brasenose, I can't believe freshers' week was only a few months ago. It feels like I've been at Brasenose forever, but in the best possible way – it's amazing how quickly college began to feel like home. Coming up from a little village in South Wales, being in a city was a new experience for me, but it didn't take long for me to fall in love with how close everything in Oxford is to college!

When I arrived at the beginning of freshers' week, I was apprehensive about making friends and coping with the workload, but also comforted by the fact that Brasenose has the reputation for being the happiest college in Oxford. I chose it after coming to an open day and realising how enthusiastic all the students were, and within a few hours of being at Brasenose I realised why: every single person I'd met had been so welcoming and friendly. I'd also been in contact with my college parent before arriving – a second year student that did my subject, who was there to answer any questions and help me settle in.

I tried to get involved with as many things as possible during freshers' week, from club nights and BOPs (themed college parties) to sports days, barbecues and a ceilidh (a really fun Scottish dance which ended up being one of my favourite nights of freshers' week)! There were also events like family and subject dinners, so I was able to meet students from other years and integrate into college life.

Soon enough freshers' week was over, and Week 1 began. No one really uses the actual date in Oxford – instead of saying the 8th of October, for example, we would say Sunday of Week 1. This took a little while to get used to, but now I use it so often that I confuse my family all the time when I phone home! As a Biology student, my timetable is full of lectures (9ams every day…), labs and tutorials. The number of lectures I've had this term means that I've learned about topics from DNA to bacteria to sponges, and having lectures in a building as incredible as Oxford's Natural History Museum makes it a little easier to wake up for them each morning! Writing essays for tutorials each week was a daunting prospect, since I hadn't written an essay since GCSEs, but by the end of the term I'd gotten used to it and began to enjoy doing some of the reading for topics I was really interested in.

I also took up rowing this term, having never done it before coming to Oxford. Learning to row in settings as beautiful as the Isis (a name for the Thames River in Oxford) or Godstow has been incredible, and taking part in both Nephthys and Christ Church regattas was one of the highlights of term for me.

Towards the end of the term, we all celebrated Oxmas - since most of us aren't in Oxford for the build-up to Christmas, we celebrate Oxmas on the 25th of November instead. A few of us even got advent calendars for November (any excuse for extra chocolate)! The day was filled with singing Christmas carols, exchanging presents and lots of Christmas jumpers, and earlier on in the week I even got to enjoy a Brasenose Christmas dinner in hall. Oxmas was the perfect way to end the term – we even got to experience how beautiful Oxford looked in the snow!

While most students went home at the end of 8th week, myself and 40 others stayed for an extra fortnight to help with the admissions process. It was a strange feeling taking candidates to their interviews when that had been me just one year ago, but I loved trying to make the experience as fun and enjoyable as possible for them. Brasenose works incredibly hard to widen access and give state school students the confidence to apply here, and I have given tours and helped with Q&A sessions during the term, trying to dispel common myths about life as a student here.

I can honestly write that I've loved my first term at Brasenose – I'm sorting through my things to leave again in a couple of days (and taking a lot less this time – my room being on the top floor has definitely made me pack lighter) and I'm so excited to do it all over again.
By Angharad Morgan (First Year Biologist - from Ysgol Gyfun Ystalyfera)