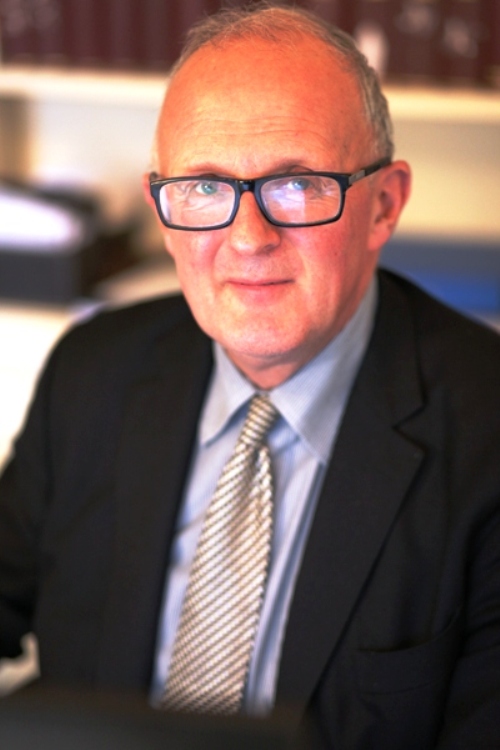 Lord Janvrin in Conversation:
We were treated to a terrific Conversation on 9 February by Lord Robin Janvrin (PPE, 1966). As well as being our Honorary Fellow, he is an independent Crossbench member of the House of Lords and Deputy Chair of the British Library. He served in the Royal Navy then the Foreign Office between 1964 and 1987 and between 1999 and 2007 he was Private Secretary to the Queen. He became Senior Adviser to HSBC Private Bank (UK) in January 2008. Since January 2014, he has been the Prime Minister's Trade Envoy to Turkey. He discussed with 120 viewers on zoom his various careers in the navy, diplomatic service, Royal Household and banking and what he describes as his "Afterlife".
In a very engaging introduction he said that his time in the Royal Navy changed his life and he emphasised the sense of unequal life chances in that our education system had failed some very bright and talented youngsters. He told of the difficulty of the Palace in gaining a fair press treatment. He accepted that the House of Lords needed to modernise but stressed the importance of an institution which brought together experts in many different fields of life. He also responded to question about what is it like being portrayed in film. He was played by Roger Allam in Stephen Frears' The Queen (2006).
In fact, Robin was not the first Private Secretary to the Queen to attend Brasenose. Philip Moore was PS from 1977 to 1986 – he had been a bomber pilot and then PoW during the Second World War and became Lord Moore of Wolvercote. He used to come into College quite regularly in retirement.
Please note the following future Conversations
-Owain Yeoman: Monday 1st March – Zoom 5.30pm
-Fighting the Covid-19 Pandemic: One Year On (Profs Ellie Barnes, Phillip Goulder, William James): 17th March - Zoom 5.30pm
-George Monbiot: Thursday 10th June (may be live, not on Zoom)
The Runcie Sermon:
Lord Chartres gave the Annual Runcie Sermon on 14 February. He had been the Chaplain to Archbishop Runcie between 1975 and 1984 and was Bishop of London from 1995 to 2017. He spoke against the backdrop of some wonderful photos of the Archbishop and his family including the Runcie Windows at his church in Crosby. The theme of his sermon was the true nature of freedom and our resulting responsibility - a subject very central to Runcie and his ministry - he argued freedom calls us ultimately to be free to love others and serve God in the world as Runcie's own life demonstrated perfectly.
Peter Sinclair:
It was wonderful to hear the fulsome tribute paid to Peter Sinclair by Tim Harford at the weekend on Private Passions. Tim remarked that he had gone up to read PPE and had always intended to drop economics. It was Peter who persuaded him otherwise and that it was therefore Peter to whom he owed his dazzling career. He said: 'If it wasn't for Peter I wouldn't have become an economist and I wouldn't have the career I have.' He also remarked on Peter's extraordinary personal qualities as one of the kindliest and least assuming people you could meet. 'A wonderful man.' We all miss Peter so much and will hold a fitting Memorial Service when we are able.
Brasenose past:
We have contributed to the Oxford and Colonialism project. The full submission is on their website but I wanted to highlight here some individuals of whom you may not be aware who were alumni:
-Charles Dadi Umeha Onyeama (1917-1999) of Nigeria completed a degree at BrasenoseCollege in 1940-41 and went on to have a distinguished legal career. He was Justice of the Supreme Court of Nigeria and Judge at the International Court of Justice.
-Mamoun Beheiry read PPE at Brasenose 1946 to 1949. Ten years later, he became the first commissioner of the Bank of Sudan and, subsequently, was President of the African Development Bank (1964-70). A plaque at the College commemorates him:
https://oxfordandempire.web.ox.ac.uk/article/mamoun-beheiry-c-1925-2002
-John Idowu Conrad Taylor (1917-73) studied at Brasenose 1937 to 1940. He became a very significant Nigerian jurist who was appointed as a Judge of the Supreme Court of Nigeria, and became the first Chief Justice of Lagos State
-Muhammad Aslam Khan Khattak read History at Brasenose as an undergraduate 1929-32 and was awarded a MA in 1938. After graduation he pursued a career as a Pakistan politicianand diplomat. He was appointed Governor of North-West Frontier Province (the present-day Khyber Pakhtunkhwa province) from 1973 to 1974
-Appasaheb Pant read PPE as an undergraduate 1933-36 at Brasenose and was awarded an MA in 1949. He was the son of the wealthy Rajasaheb of Aundh. Pant opposed British imperial rule in India and after independence was appointed Indian ambassador to several African countries, to Indonesia, and to other countries including the United Kingdom. In 1954, Pant was among the first to be honoured with the award of Padma Shri by the Indian Government.
Additionally, Sir Noel Hall, who studied History at Brasenose in the early 1920s and who subsequently became an economist, was appointed a Development Adviser in British West Africa at the end of the 2nd World War as part of post-war aid planning. He returned to the College as Principal 1960-73. The College archive holds Hall's personal papers, which include a collection of press cuttings documenting his African development work.
I thank Simon Smith and the College archivists for researching this fascinating area.
Miscellany:
Another excellent blurbs was held on 12 February. Dr Andrew Edwards, who is a Charles Wilson Career Development Fellow in the Global History of Capitalism introduced us to his work on the relationship between empire, global monetary regimes, and the European world system in the 18th century in his talk "The Global History of Capitalism: Old Problems, New Directions". The HCR speaker was Christian Norton, who is a DPhil student in the Natural Environment Research Council Doctoral Training Program working on the interactions between plant roots and soil microbes, and their effect on the composition of plant communities. His talk was engagingly entitled "Mom, just tell people I'm a gardener: plant roots, soil microbes, and a boy asking why."
The Tutor for Graduates and I have been conducting graduate collections this week or individual meetings with graduates as we now call them. By the magic of MS Teams we have coordinated graduates in China, the US and many other places with relative ease.
I have been reading Genius and Anxiety by Norman Lebrecht.