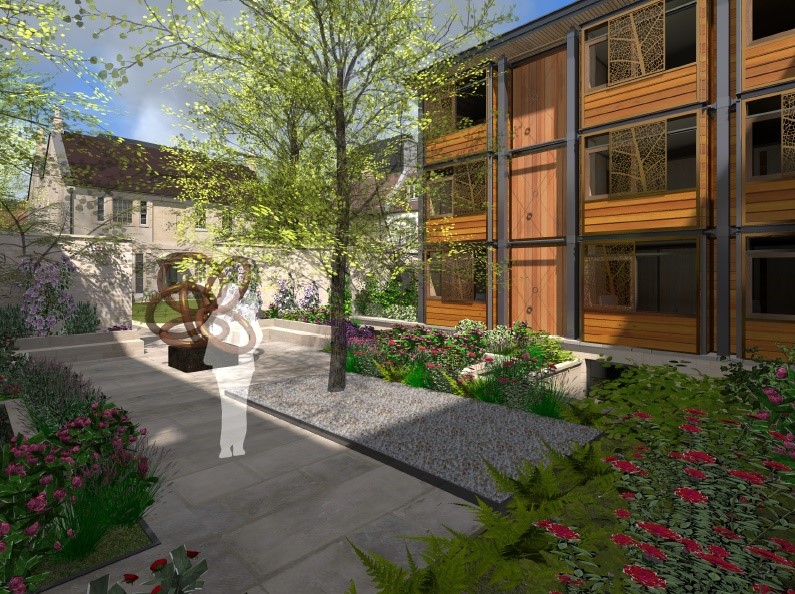 The College is delighted to have been granted planning permission for our new development plans for Frewin, our accommodation annexe five minutes walk from the Brasenose main historic site. On 8th December, the City council's Planning Committee granted unanimous approval of the scheme, with very positive comments by the Councillors about the excellent and sympathetic design.

The scheme will be delivered in two phases.

The first phase will be the construction of a new block of 30 ensuite student rooms, sharing a large kitchen and living space. There will also be two music practice rooms. The rooms will be set around a new courtyard garden, opening off the quad in front of Frewin Hall, which will also be re-landscaped. The construction will take two years, with the new rooms available for students to from September 2023.

The second phase will then be the restoration and redevelopment of the Frewin Hall. The highly decorated ground floor rooms will be opened up for a mix of social and study space for use by all 200 students living in the Frewin Annex. The Norman Undercroft, one of oldest inhabited buildings in the country, will be improved and better linked to the ground floor rooms. The upper floors will remain as student bedrooms, and converted to ensuites. Throughout the building some of the rather unsympathetic changes made in the 70s and 80s will be removed or improved.

The Bursar, Philip Parker, said "I am excited that we can now start to deliver these plans. It means we will be able to accommodate all our undergraduates within the main Radcliffe Square site and Frewin, and free up more rooms elsewhere for graduate students. It will also result in much better communal facilities for our students, and at the same time restore Frewin Hall, which is currently a rather under-recognised gem but is of historic and architectural importance."

More information about the schemes is available here.