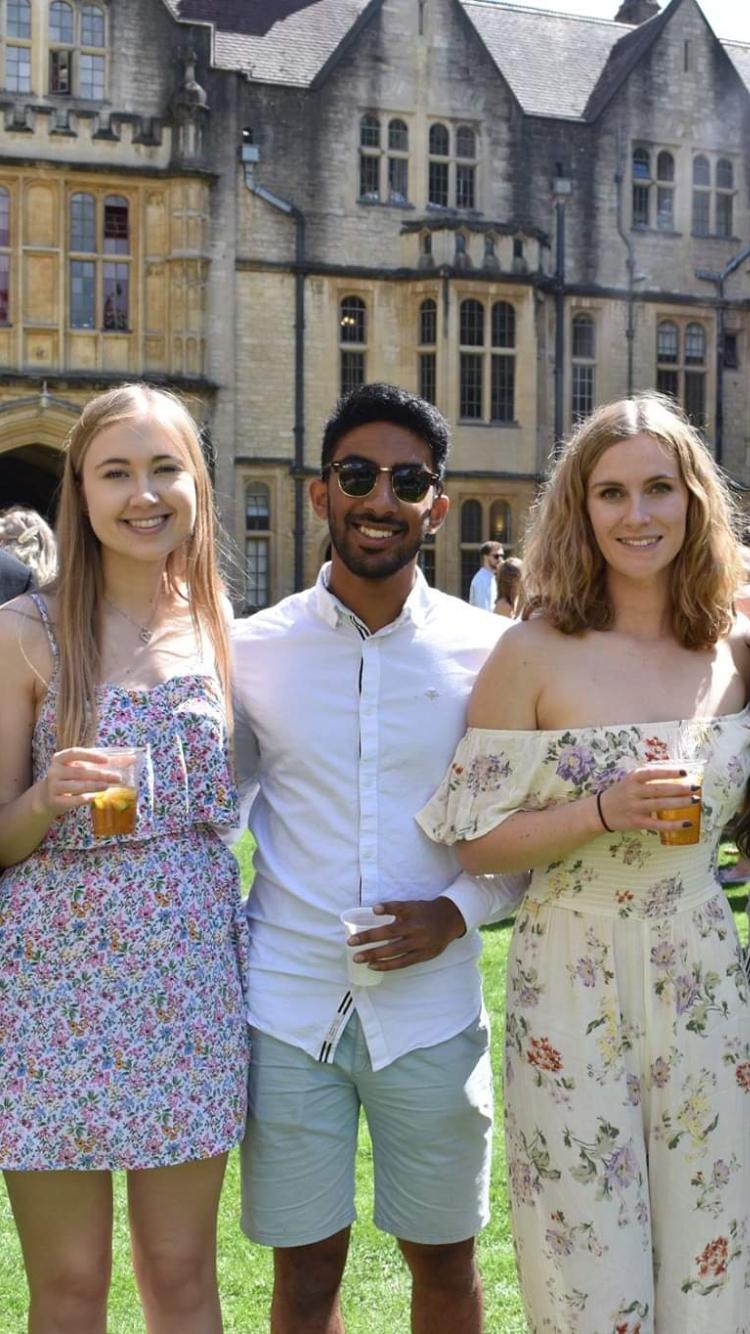 Brasenose College is delighted to announce excellent results for our undergraduate final examinations this summer. With 105 finishing their courses, 41 achieved first-class degrees and a further 54 secured a 2:1 (upper-second) classification. Several of our students were also awarded University prizes, topped their class lists, or received special commendation from the Chair of Examiners in recognition of their efforts. As was the case last year, there was an even gender split with 20 women and 21 men achieving first-class honours. Students reading History & joint courses (seven Firsts out of ten), Physics & joint courses (five Firsts out of seven) and Biochemistry (two Firsts out of three) performed exceptionally well.
This year graduating undergraduates come from a remarkable range of locations and backgrounds, with students hailing from all major parts of the UK and beyond. Former schools of the graduating cohort include Notre Dame School Sheffield, Harris Academy St John's Wood London, Rushcliffe School Nottingham, Greenhead College Huddersfield, two from Blue Coat School Liverpool, Caistor Grammar school near Grimsby, Douglas Academy near Glasgow, Biddenham School Bedford, Colyton Grammar Devon, Selby College Yorkshire, Ysgol Brynhyfryd Denbighshire, Banbridge Academy Northern Ireland and many more.
Principal John Bowers QC commented "To achieve an Oxford degree is an outstanding achievement and we congratulate all of our Finalists. Particular congratulations go to those who achieved Firsts. I pay tribute to all of our excellent teaching staff."
Senior Tutor Dr Simon Smith also commented: "I would like to congratulate everyone graduating this year and wish them well for their future lives after leaving Brasenose. On behalf of the Finalists, I would also like to pay tribute to the College's incredible staff team who have worked very hard, alongside our wonderful academics, to ensure that all of the undergraduates achieve their potential."
Brasenose is a friendly academic community situated in the heart of the city and university. The College offers an exceptional undergraduate experience and welcomes applications from students who are passionate and enthusiastic about their chosen subject. If you are thinking of applying to Oxford this Autumn, please view our prospectus online and consider visiting during our 20th September Open Day.
The recently finished students will be returning to Brasenose for a memorable graduation celebration in early August.
See some admissions statistics and other information on Brasenose College.
Photo shows Natalie, Manish and Amy enjoying the sun at our end of summer term garden party.