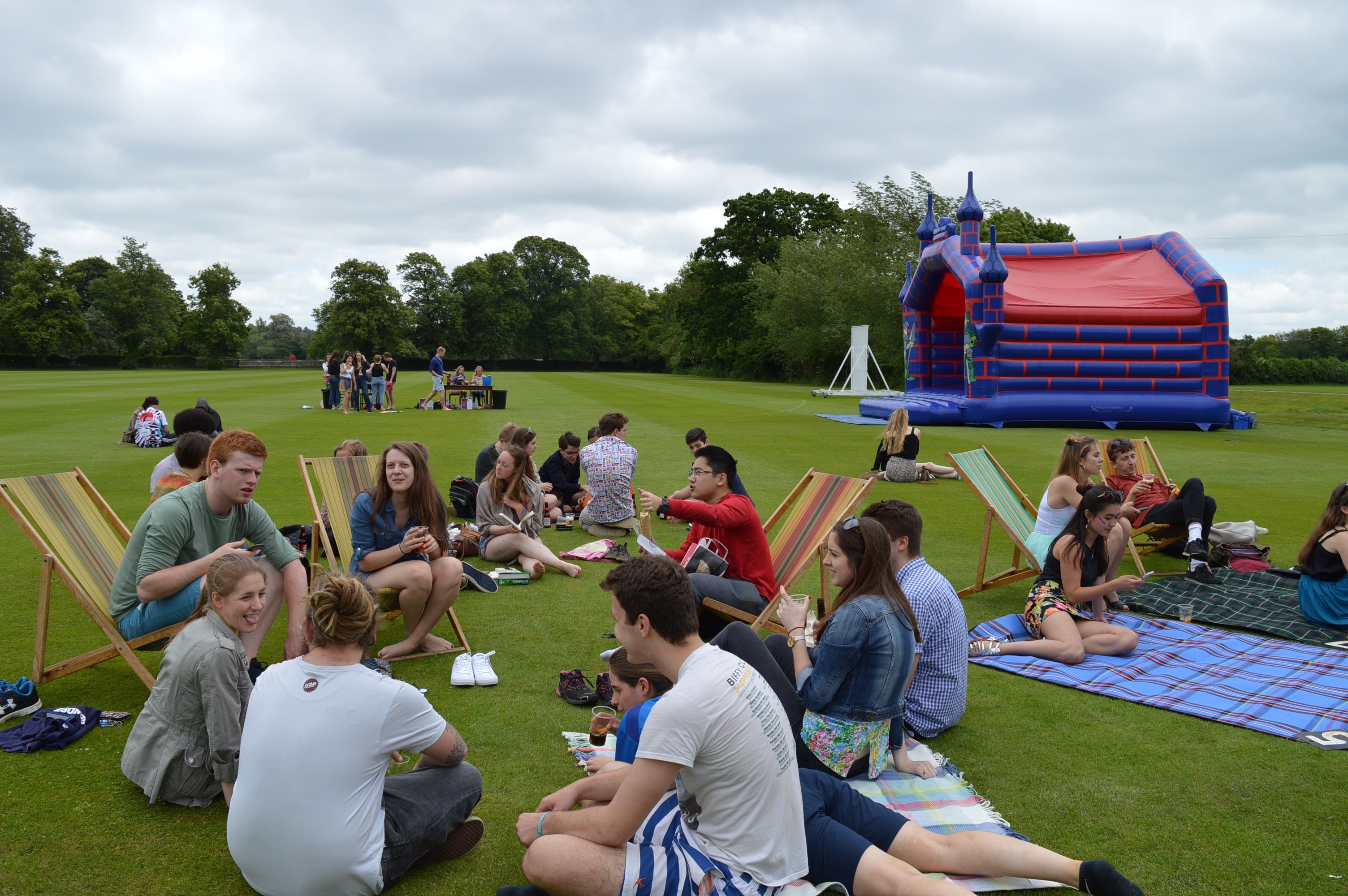 On a uniquely sunny day in the middle of May, Brasenose hosted Frewchella, the first music festival the college has ever seen. A combination of 'Frewin' (Brasenose's off-site yet central annexe for students in the 2nd and 3rd year) and 'Coachella' (one of the world's biggest music festivals held each year in the Colorado Desert and attended by some of the world's most famous celebrities), Frewchella was the most recent addition to the extensive list of incredible events organised for the students by the members of the student community.
With a keyboard and a PA system in hand, some of Brasenose's keenest musicians ventured down to our beautiful sports grounds to set the stage. As has become traditional for Brasenose, fairy lights were a crucial part of the decoration. Our entertainment officers had bought an incredible selection of food and drinks to enjoy; a glitter stall was organised by our arts rep and a huge bouncy castle was being assembled. Over the course of the day, several members of the student community volunteered to perform in front of their peers. First in the line up were Hiba and Joe who performed crowd pleasers by Stevie Wonder and Tom Jones, to name but a few. Josie and Bethany followed suit with some stunning solos. After a few deep breaths, I stepped on to the stage, joined by our very own student President, Miles. After a beautiful set for Jasmin, who performed a range of popular songs from the charts, Miles and Bethany returned for an incredible set which culminated in a rendition of 2017's favourite chart topper.
In the midst of exam season in Oxford, Frewchella was the perfect opportunity for the members of the college to come together and relax for a while. We not only enjoyed the music and the food on offer, but the vast possibilities afforded by the sports ground. Some played games of doubles tennis and badminton, others played football, whilst others made great use of the bouncy castle to stretch their legs after a few hours in the library. Two things are certain: firstly, a great day was had by all who attended. Secondly, Frewchella is set to become one of Brasenose's great traditions.
By Sarah Hughes