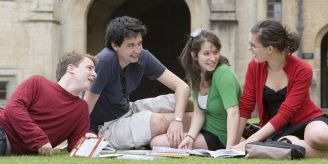 Students working for higher degrees are an important and valued part of the University of Oxford and make up over a third of Brasenose's students.
For graduate studies applicants to Oxford must first be accepted on to a programme of study before their applications are passed on to colleges. During the application process, applicants may choose to either (i) indicate no college preference, in which case a college will be selected on their behalf, or (ii) state a college preference. Applicants will not be able to amend college choice after submitting their application.
Whether or not college preference is stated will not affect how the department assesses applications and ultimately whether or not they decide to make an offer.
For more details on the graduate application process please see:
https://www.ox.ac.uk/admissions/graduate/colleges/brasenose-college
If you are offered a place on a course by a department or faculty then you will be guaranteed a place at a college or hall. Please note, however, that this may not necessarily be your preferred college.
Though colleges are concerned for the academic success of their students, their role in respect of their graduates is more pastoral in nature: they are concerned to see that their students - especially those who are new to Oxford or to the United Kingdom - are sufficiently well provided for to be able to make the most fruitful academic use of their time in Oxford.
Many graduate students find their college membership an important aspect of their wider life in Oxford, providing immediate contact with other graduate students through the graduate Common Room, opportunities to meet undergraduates and fellows of the college, and access to college societies and sporting facilities. In most colleges there is also a number of staff who are particularly concerned with pastoral support and guidance for graduate students, all of whom are available to be consulted.
Brasenose College welcomes applicants from graduates in most disciplines but particularly those whose research interests are close to those of one of the Fellows of the college.
The College has a special common room for graduate students, the Hulme Common Room, which is run by an annually elected committee of graduate students and has a wide social, sporting and cultural programme. Graduate students are automatically members of the Junior Common Room also and have access to its activities as well.
The College provides purpose-built accommodation for graduates in the Graduate Annexes, St Cross Road and Hollybush Row, both a short distance from the main College. At St Cross accommodation is laid out in clusters of five bed-sitting rooms, sharing two shower rooms and a well equipped kitchen. Meals can also be taken in college during term-time. Each room is equipped with a computer outlet and a telephone point, use of which is optional and paid for by the occupant. Priority for accommodation is given to graduates in their first year. Hollybush Row is close to the railway station and Said Business School and was newly opened in September 2008. It comprises single rooms with en suite bathrooms and shared kitchens. In 2010 Hollybush Row won Oxford City Council's David Steel Sustainable Building Award.
Brasenose College has Selection Criteria for Graduates - as follows:
Applicants must first have been accepted by a Department or Faculty of the University of Oxford before any college or permanent private hall may consider them.
Applications are considered for any of the courses in which the College offers admission. See the University's College search tool to see if your course is supported by Brasenose College.
Applications are usually considered by academic staff in the relevant subject area.
Preference will normally be given to applicants whose area of study overlaps with the academic interests of the College's academic staff.
The College aims to admit a certain number of graduate students each year spread across the range of subjects in which it accepts graduate students, and this will determine the number of offers which can be made to applicants. Where there are more applicants than offers which can be made, the relative academic merit and potential of the applicants may be taken into account. It may not be possible to make offers to applicants whose applications are received late in the admissions round, when places are full.
The final decision on whether to offer a place in the light of the overall competition for graduate places and the spread of those places across subject areas is usually taken by the Senior Tutor.
Please note that any offer of a place will be subject to satisfactory financial evidence that the applicant can meet the tuition and living costs for their course. Please consult this guidance for more details: https://www.ox.ac.uk/admissions/graduate/fees-and-funding/financial-declaration

See a sample of our terms and conditions.