Accommodation
The College provides purpose-built accommodation for graduates in two buildings: the Graduate Annexe, St Cross Road and Hollybush Row.
Where are the Rooms Located?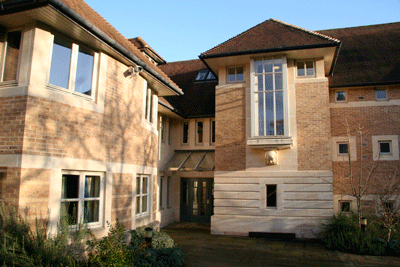 St Cross Annexe is a short distance from the main College. Accommodation is laid out in clusters of five bed-sitting rooms, sharing two shower rooms and a well equipped kitchen. Cooking utensils are not supplied. The Standard rooms are approximately 150-160 sqare feet. For guidance, fees range from £7,754 (N) band per annum for a standard room and £8,908 (M) band per annum for an en-suite room.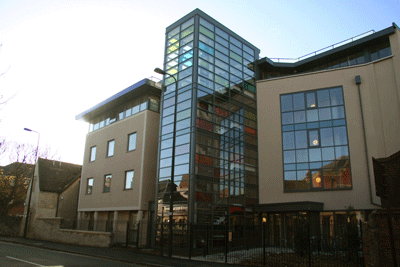 Hollybush Row, opened in September 2008, is located close to the railway station and Said Business School and is comprised of 34 single rooms with en suite bathrooms, 2 disabled rooms with en suite bathrooms, 4 Superior Rooms with en suite bathroom, large enough for 2 people and and shared well equipped kitchens. There are two separate 2 person flats at Hollybush Road. For guidance, standard rooms are £8,069 per annum, for a superior room £12,102 and £14,114 for the flat.
What Will I Need to Bring With Me?
All kitchens are equipped with cookers, microwaves, fridges and freezers. Students should bring their own bedding, towels, cutlery, and crockery. (These can be purchased cheaply from large supermarkets and other stores locally.) There are laundry rooms in a separate building at St Cross, on the 4th floor of Hollybush Row.
For questions regarding Brasenose accommodation or College facilities, you should contact the Accommodation Manager, Mr James Hellyer . He can also be reached by phone at 01865 277 878 or go to the Brasenose web page where there are various pictures and descriptions.
The University also offers accommodation for couples and those with children. Applications for University accommodation should be made to the University Accommodation Officer, Ewert House, Ewert Place, Oxford OX2 7DD.
University Accommodation Office

Brasenose College subscribes to The Universities UK Code of Practice for the Management of Student Housing this is available for viewing at
http://www.universitiesuk.ac.uk/acop/.
Dining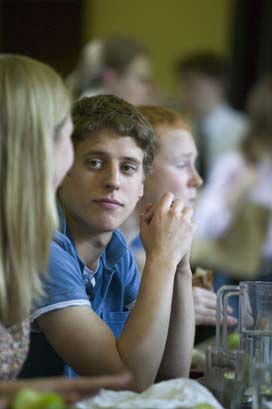 All meals are optional. There is plenty of choice and food is paid for using a pay-as-you-go swipe card system. All students, including those in self-catering accommodation, are welcome to use their cards to eat in Hall. The kitchen can cater for a wide variety of dietary requirements.
Breakfast is an informal, self-service meal which alternates between a full cooked breakfast and continental. Cereals, toast and tea, coffee and juice are always available.
Lunch is also self-service with a wide variety of hot and cold options. There are three hot mains, fresh vegetables, a hot pudding, a cold sweet, and fresh fruit salad daily. There is also a salad bar with cold meat, fish and vegetarian choices; and a chef's snack bar with pasties, pies, and hot jacket potatoes with a variety of fillings.
On Saturdays and Sundays breakfast and lunch are replaced by Brunch.
Gertie's snack bar is another option. Their bacon baguettes are popular with late risers who miss breakfast. Gertie's also serves hot and cold drinks, cakes, chocolates, crisps and baguettes and panini with a variety of fillings.
There are informal dinners on Mondays, Wednesdays, Thursdays and Sundays. Dinner is self-service with a choice of three hot options, together with fresh vegetables and a cold sweet. There are themed nights, such as Mexican, Italian, or 'Green' where all produce is sourced locally.
There are formal dinners on Tuesdays, Fridays and Sundays when gowns are worn and a three course meal is served at the table. There are several College feasts during the year, including the Burns Dinner in January and Ale Verses on Shrove Tuesday.
Sport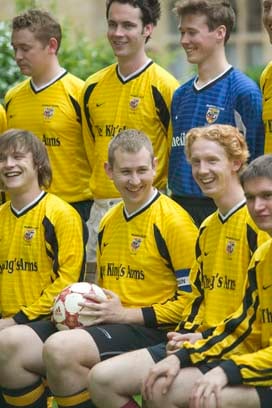 Traditionally Brasenose has been a sporty college and has produced some very strong sides. However, there is no compulsion for students to participate and a full range of sporting abilities is catered for, from the competitive 1st XV rugby and 1st XI football to the more relaxed 3rd XI football, 2nd XI cricket and mixed lacrosse teams.
Each year Brasenose produces several blues and half blues (awarded for playing in a 1st team against Cambridge).
The Brasenose sports ground is near the river, about ten minutes walk from the College. The groundsman does an excellent job of looking after the pitches and is available if help is needed.
There are rugby, hockey and football pitches as well as a netball court, and in the summer, there is a beautiful cricket pitch and both grass and hard tennis courts. The clubhouse has a small bar for drinks and snacks, which can be put on a tab and settled at the start of the next term.
Brasenose has a strong rugby side as well as a summer sevens competition. Other teams include netball, cricket, athletics, tennis, mixed lacrosse, squash, table tennis, fencing and pool.
Brasenose also has a strong tradition in rowing with its own boathouse by the river and each year has at least two men's and women's crews.
There are three college rowing competitions each year including the famous "bumps" and the "beer eights".
At a more relaxed pace, the College owns a croquet set which can be used on the New Quad in the summer. The college also rents out four punts for use in the summer term.
Music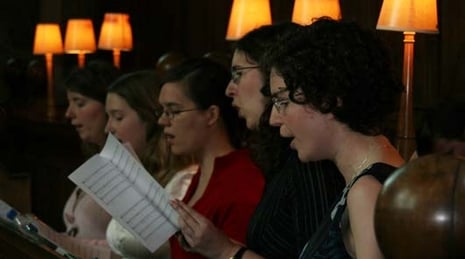 Music is flourishing at Brasenose, with regular concerts both by students and visiting professionals. Students can practise in the music room and the Chapel, which has a fine organ and grand piano. The College has many fine musicians, with a variety of ensembles and individuals giving concerts every term, organised by the Director of College Music. These range from the termly Platnauer concerts at which many well-known classical musicians have performed, to informal ensemble and solo concerts, open mic nights, and live music 'down the bar'. The College Choir (reputedly the largest in the University - currently 42 strong) perform a wide variety of music in the Chapel every Sunday, and vist Cathedrals regularly, and tours abroad are also organised.. For more information about what's happening musically in Brasenose, please follow this link.
Drama and Art
A College drama club puts on plays in the College and the City. In recent years a highly successful summer arts festival has been organised, at which a wide range of music and drama, both old and new, is performed on the New Quad Lawn and in the Chapel.
Exhibitions of art are staged from time to time and the College contributes a Culture Fund from which grants are made to support a range of activities.
ICT Facilities
Linked below is ICT information for Freshers: