Debbie Hall has worked as a scout at Brasenose for a quarter of a century. And a lot has changed in those 25 years, both in the college and in Debbie's own life, she tells me, over cuppas in the housekeepers' room, a tiny den at the end of a maze of service corridors.

When Debbie first came to Brasenose for an interview, having heard from a friend who worked at the college that there were jobs going for scouts, it was with her mum. Both were given jobs starting the very next day.

The job was a new challenge for Debbie, who had spent the previous decade recovering from a serious car crash.

36 years ago, when her son Anthony was eight months old, Debbie got into a car with her son's father – who was no longer her partner – and he drove them to buy fish and chips near Debbie's home in Cowley. She ha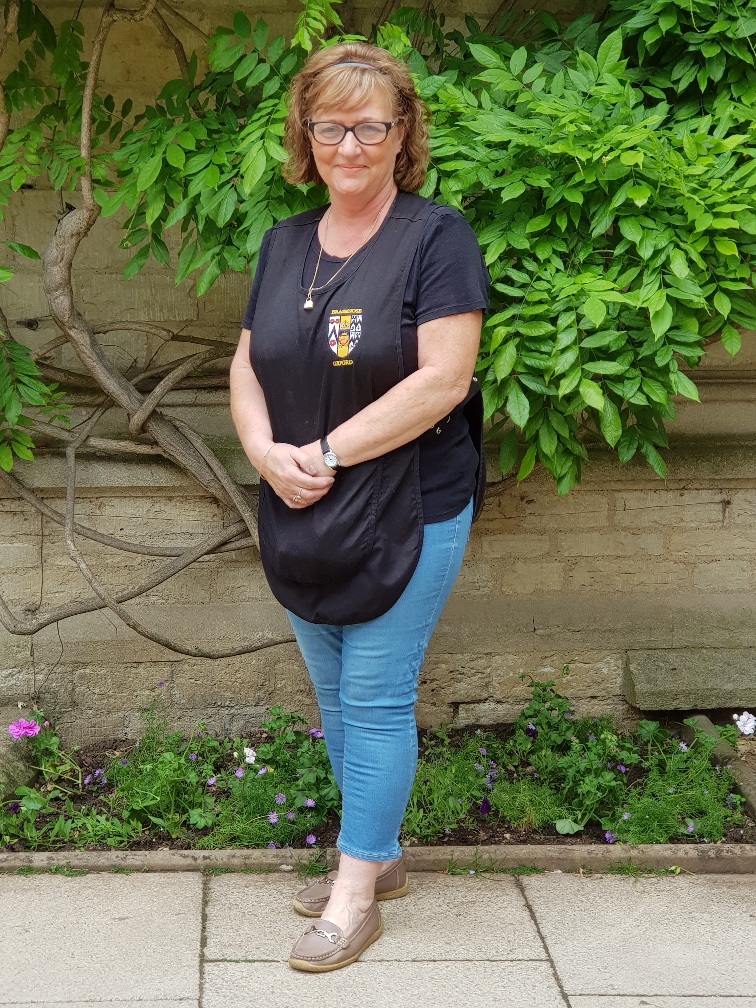 d no idea that he had been drinking. Just as he drove around a corner, a tyre burst, he lost control of the car and they hit a brick wall. 'I can't remember much,' Debbie says today. 'I can just remember lying in a pool of blood and trying to say "I can't see".'

Fortunately, it was a doctor's house they had hit. But while Debbie's ex partner escaped with a few scratches, for Debbie the accident was life-changing. She had been flung through the car's windscreen, and as well as sustaining injuries from head to toe, she instantly and completely lost her sight in her right eye.

The process of recovery over the years that followed involved multiple operations, and many periods in hospital. Debbie's parents, brother and sister rallied around, and over time Debbie married her childhood sweetheart Kevin. Eye doctors eventually told Debbie there was nothing more they could do and she accepted the loss of half her sight. The emotional recovery was very tough. Debbie says: 'You just think everyone's looking at you, you don't want to go out in the world, you don't want to see anyone, you just want to shut yourself away.'

In 2011, thanks to medical advances, a natural-looking artificial lens was implanted over her blind eye. Still, it hasn't been a smooth path. In the last year, Debbie has had more surgery, due to eye infections and a small growth discovered at the back of her damaged eye. She had to have her original eyeball removed in an operation. In its place, she now has a metal ball implant, attached to her nerves. Initially her body rejected the implant, but after a second implant was tried, the operation was a success. The effect was a new eye, a perfect match with the healthy one – today, looking at Debbie, one would never see a difference between her two lively green eyes.

Extraordinarily, despite all she has been through, Debbie has refused to let anything stop her. A keen runner, she has run two half-marathons, and this year would have also run a third, the Oxford half-marathon, had her surgeon not forbidden it. She has 100 per cent vision in her original eye, and her next challenge is to learn to drive.

Anthony was 10 when Debbie started as a scout at Brasenose. She vividly remembers her first day: 'I was just given a tabard and I was put into one of the lecture rooms and told: "There's the cleaning bucket, there's the mop, get on with it!"' Born and bred in Oxford and from a family who have lived in the city for generations, Debbie had never had any dealings before with the university, and had never done cleaning work apart from a Saturday job cleaning floors at BMW with big machines, having previously worked in an office and shop.

She started working from half past seven till half past ten, 'then I worked my way up to half past 11, and they finally gave me a staircase. Staircase 14 was my first staircase I had.' She worked her way up to deputy housekeeper, overseeing the team of 20, and says: 'I've just seen so much change. We've got new buildings, we've got the Rotunda, we've got all the new servery.'
Working life has evolved too, of course. At Brasenose 25 years ago, the induction of a scout was very different from today. Back then, says Debbie, 'you had no training with chemicals, when you first came. Today everyone is trained with high standards of cleaning.'
The weirdest thing Debbie has seen in a Brasenose room was many years ago in Staircase 14: 'one student had a rabbit in there, and one had a big tropical fish tank. I went in there and thought "Oh my God." Obviously we had to report that. Don't get me wrong, they looked nice in the room, but you can't have them.'

Most students are reasonably tidy, although she says girls can be messier than boys, and she remembers another room on staircase 14 years ago 'where I literally couldn't open the door; you just couldn't see the floor.' Mostly though, Debbie's experience of students and fellows has been very positive. Today, scouting in Staircase 9 and Stamford House, she says: 'I've got a tremendous lot of lovely students.'

She gets to know her students quite well – many away from home for the first time tend to see her as a motherly figure. She says: 'I think it's nice to have a good relationship with your students, because I think then they do appreciate you. A lot of my students, if they see me cleaning the showers on the landing, they'll say "Good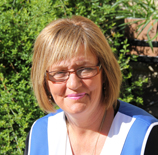 morning, Debbie."' When students thank you for cleaning their rooms, 'it gives you a little boost'.

She tries to make admissions candidates feel comfortable, too, asking them how it's going and reassuring them the tutors are nice.

In 2016, Debbie reduced her hours – she has many commitments looking after her elderly parents, as well as her own health. Today, she says, 'I love coming into work - and going home.' In September the college celebrated her 25th year of work with a party and flowers – a highlight of Debbie's time at Brasenose.

Oxford colleges have gradually become part of Debbie's family's life as well as her own. Anthony is now 37 and has been assistant steward at Queen's since the age of 18 – having started his career at Brasenose aged 14, earning pocket money by waiting in the dining hall after school. To Debbie's great happiness, he's getting married soon - in Worcester College, where his fiancée works in the Development Office. Debbie's sister is buttery manager of Wadham. And after 45 years in the car factory, Debbie's father went to work at All Souls.

Today Debbie's wish is for health, for her and her loved ones. 'I've been through quite a lot really, but I just say don't give up,' she says. Working at Brasenose has been a constant in her life and she is grateful for the support her colleagues have given her over the years. 'I couldn't imagine not working here. I'm part of the family.'

Five things you never knew about Debbie Hall
She loves gardening, especially growing flowers. Her favourites are begonias and pansies.
Her first dance at her wedding to Kevin was to 'Cherish' by Kool and the Gang.
She enjoys holidays abroad, and usually goes to Tenerife or Gran Canaria in the winter.
She ran her two half-marathons for the blind, raising more than £3500.
She's a big fan of the Inspector Morse spin-off show Lewis, and when Kevin Whately filmed at Brasenose, she had her picture taken with him – then the following day he sat next to her at breakfast in the dining hall, a moment she will always remember.