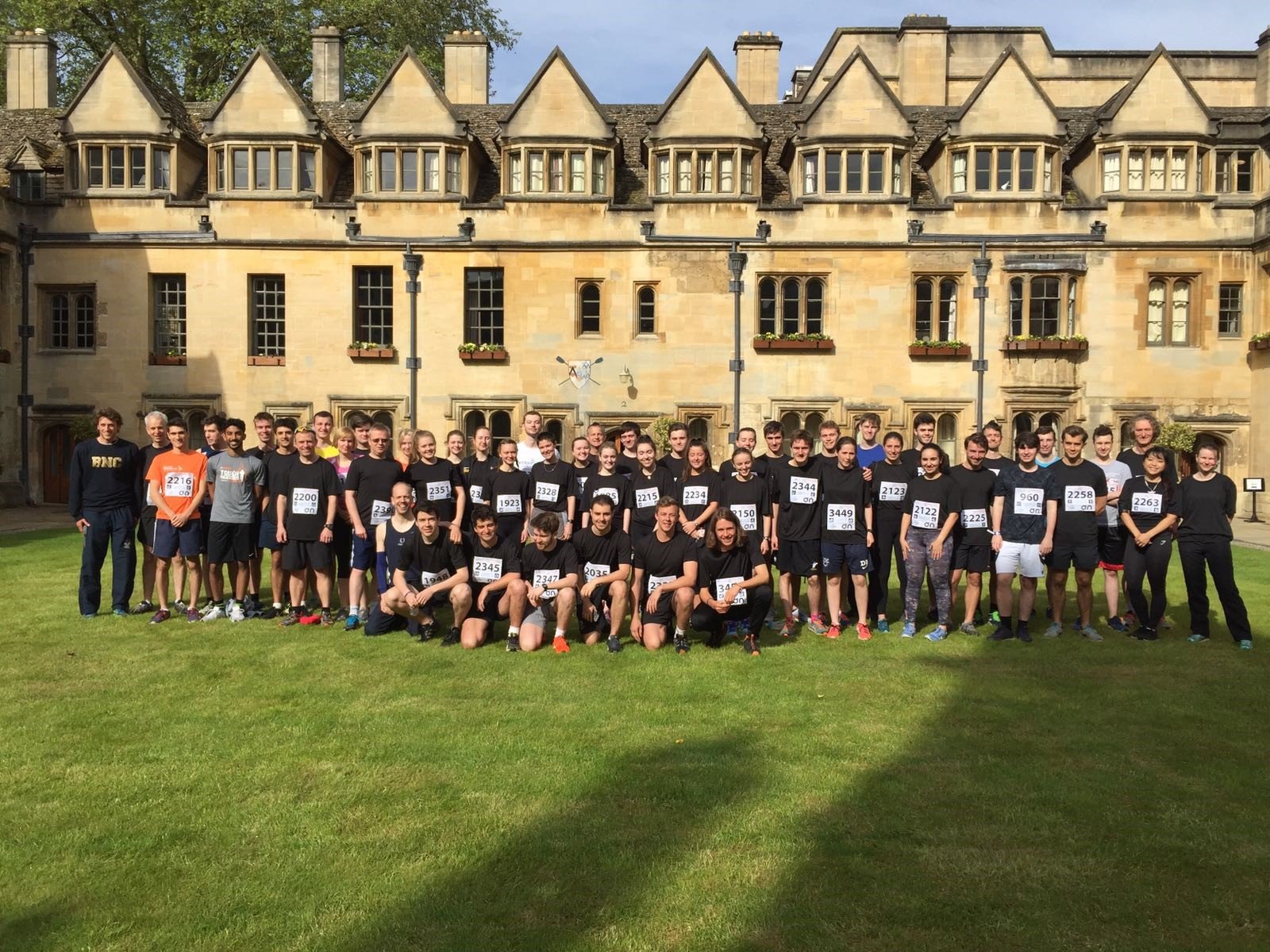 Brasenose College once again had a fantastic turn out for the Oxford Town and Gown 10 kilometre charity race. Now a firm Brasenose tradition, the college produced a large team, with a team of over 50 students, tutors, alumni and staff forming Team Brasenose for the run in support of Muscular Dystrophy UK.Thanks to a generous donation from an alumnus, runners were kitted out in technical running shirts in college colours.

In total, 4500 runners participated in this event, held on Sunday 13 May 2018. Mustering at 9am for the team photograph (as pictured) on a perfect morning for exercise, Brasenose runners then walked up to the Event Village in the beautiful University Parks to take part in the race warm up, which featured Bhangra dancing as well as more conventional stretching. The College presence was so large that the compere at the start-line made special mention of Brasenose, and Tabitha Everett, a second year Philosophy and Linguistics student who organises the team was interviewed for the Oxford Mail newspaper, commenting "The atmosphere is really great and it's wonderful to see the whole city come together to support each other."

Once underway, the picturesque route took runners right through the centre of the city and past many colleges before returning to the University Parks for the finish. Every Team Brasenose member, from the fastest to the most unhurried, deserves praise for turning out and running in this esteemed event.

Special mentions must go to Professor Alex Betts, who finished 10th overall in a time of 34 mins 37 seconds, 4th year Chemistry student Tom Spearman, who finished 13th overall with a time of 34 mins 51 seconds, and Economics and Management student Aini Putkonen, the first Brasenose female to finish with a time of 44 mins and 8 seconds. Professor Owen Lewis (Biology Tutor) once again turned up a good performance, clocking a time of 41 mins 38 seconds. Aini commented: "I was very happy with the run and glad I did it before leaving Oxford after my finals this year. Of course it was helpful that it was a beautiful day and we had a great turnout from Brasenose".

Post-race, Brasenose runners hobbled back to Brasenose for a famous College brunch of sausages, bacon, hash browns, baked beans and of course tea.

Many thanks to Tabitha Everett, formerly of Biddenham Sports College near Bedford, for her efforts in organising the team this year.