On Saturday Brasenose gathered around our infamous 'King's Door' on Radcliffe Square, for only the second time since it was originally opened in 1664, to name the last unnamed library on the iconic square.

Philip Pullman, Carnegie Award-winning author of The Northern Lights, Oxford resident, and much-loved middle school English teacher of one of the College staff, opened The Greenland Library, the third and final library on Oxford's Radcliffe Square to be named after a benefactor.

"I am particularly delighted to open this Library as it represents many things I hold to be important, most obviously literature, however this 'King's Door', unusually for the time, allowed the public direct access to an Oxford College: so it is both Town and Gown… like me."

Brasenose College library was previously too small for the number of students and academics wishing to use it countering the modern assumption that libraries are a thing of the past. As part of this project, a considerable extension was undertaken which cost around £4million – this was completely funded by donations from alumni.

Guests at the ceremony included the University's Chancellor, Lord Chris Patten, and local city dignitaries including the Leaders of the city and county councils, and the High Sheriff of Oxford.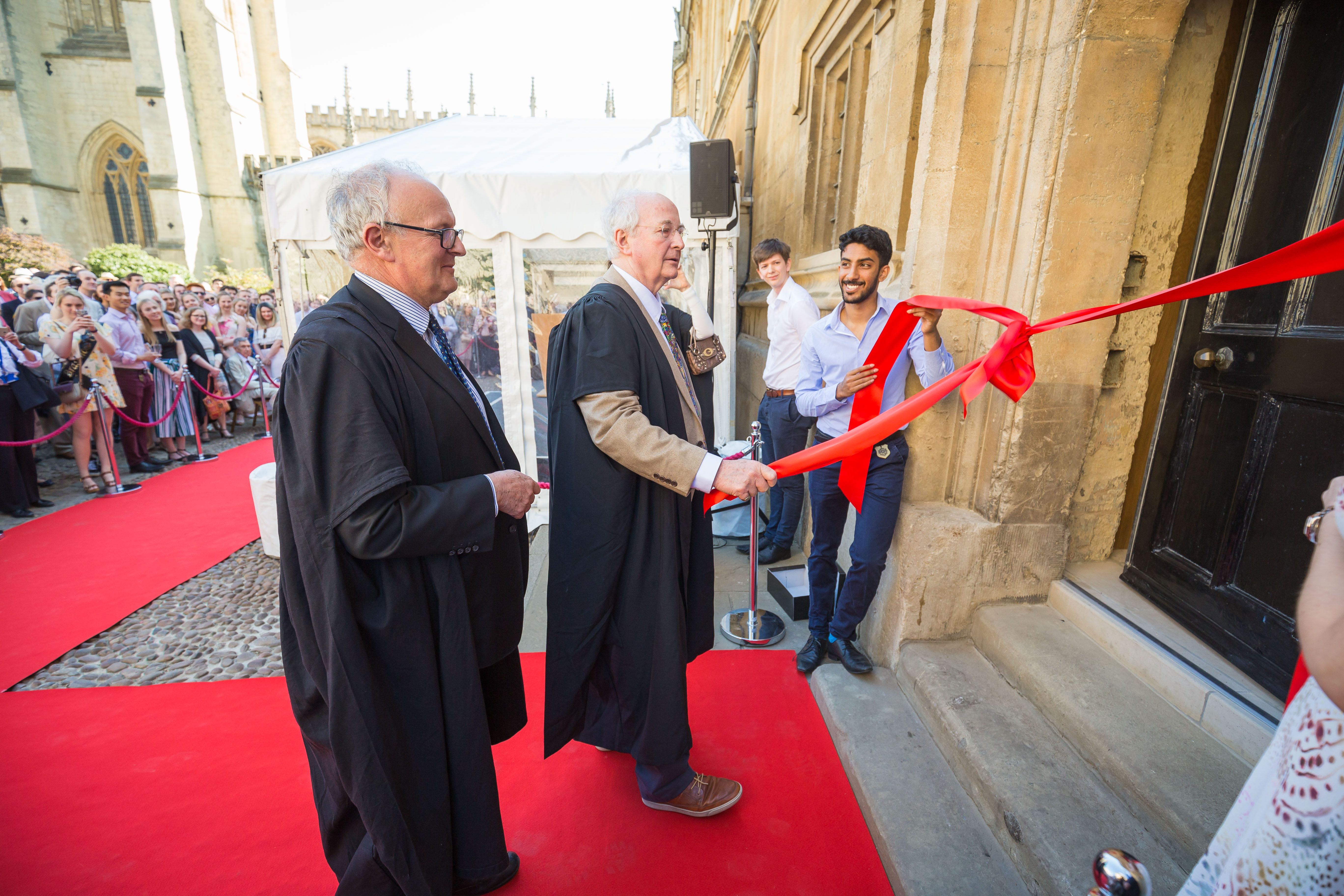 Pullman cut the ribbon across the beautiful liveried 'King's Door' at a ceremony to celebrate the completion of very extensive renovation and extension works to increase the capacity of the College library. These works included transforming the original college cloister (a previously covered walkway open to the elements) into the ground floor of the library. This area also served as the College's burial ground, complete with initials and dates of those buried underneath carved into the stone floor. The contractors had to dig down to check how deeply the bodies were buried to ensure that the works did not disturb the graves. The college left them undisturbed and re-laid the original floor after cleaning off hundreds of years of dust. Despite the grave slots being neatly cut some were discovered to have collapsed, likely disturbed in an earlier century by later building works. This led to the archaeologists finding miscellaneous pieces of skeleton throughout the site, such as a knee cap and shoulder bone. In one or two cases the grave diggers are seen to have made mistakes, with half started slots at the edge of the precinct that had to be abandoned because they were too small.

The Greenland Library was originally built by a bequest from Samuel Radcliffe (Principal of Brasenose College 1614-1648) who left money in his will to build:

'a Chappel' and 'a buildinge upon Pillars . . . which will make a walke under it, the greate want of Brasennose Colledge' (sic.)

The 'building on pillars' was the Library, constructed after his death, between 1657 and 1664 with open Cloisters underneath to provide a sheltered place for exercise and a burial ground.

Following the royalist defeat, in defiance of Cromwell and the Commonwealth, the College commissioned an unusually ornate chapel and its adjacent library building, featuring the rebelliously-named door. The Greenland Library is one of the very few buildings of significance built during the commonwealth period. The College, like many in Oxford at the time, was clearly royalist, and constructed its very own 'King's Door' complete with a royal crown above the door as a veritable two fingers to the new protector.

The Greenland Library is open to students and faculty 24 hours a day and contains over 60,000 books and periodicals.

The library works were funded by three College alumni, Duncan Greenland CBE, James Del Favero and Gerald Smith. Two reading rooms will be named in honour of Del Favero and Smith respectively with the overall library taking Greenland's name.

John Bowers QC, Brasenose College Principal, said: "We are delighted to officially open The Greenland Library at Brasenose College. The library is at the centre of College life and we are incredibly grateful that our alumni and friends Duncan, James and Gerald have all made substantial contributions to ensure it remains fit for twenty-first century learning and research. The whole Brasenose community – current and future – thanks them for their tremendous generosity."