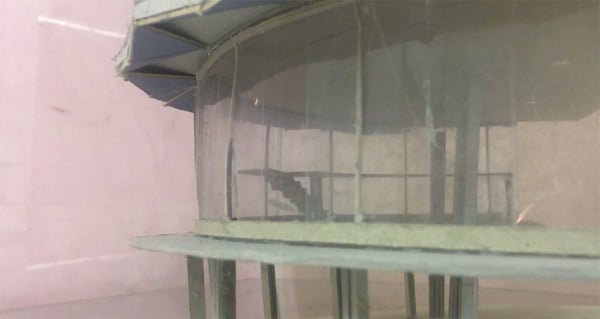 Congratulations to Ian Kiaer, tutor in Fine Art at Brasenose College, who is presenting his first solo museum exhibition in Paris, at the Musée d'Art Moderne.
The exhibition, entitled Endnote, tooth is a project Ian began several years ago and whose configuration changes with the circumstances. Drawing on the notion of marginal endnotes in books, it references the utopian concepts of the Austrian-American architect Frederick Kiesler (1890-1965). In the late 1940s, Kiesler – whose writings were a signifcant influence on postwar art, architecture and design – came up with the (unrealised) ToothHouse, a residence modelled on the human tooth and integrated into its environment.

Guided by his reading of art history and architecture, and by the structural concerns underlying his own ideas, Ian has been developing an approach to painting as a "minor form". Each of his installations has a title linking it to a thinker, architect, philosopher or utopianist, with everyday objects and found materials assembled in such a way as to raise the question of their use and their appearance. Here he continues his explorations of modernist architectural styles, taking as his cornerstone the Monsanto panoramic restaurant overlooking Lisbon, built by the architect Chaves da Costa in 1968. Intended as the embodiment of modernity, luxury and power as seen by Portugal's "New State" dictatorship (1933–1974), the building is now abandoned and and as a ruin continues to ask questions of its history, politics and present position as a critical monument. Ian has used the floor and walls of the museum space for various elements. Paintings on Chinese paper echoing his interest with 16th-century Confucian scholar painting have been overlaid with plexiglass advertising panels whose marks, scratches and city grime testify to the passing of time. On the floor a summary cardboard model of the Monsanto restaurant reminds us of the fragility of materials and further emphasises time's inexorable march. This is an experimental shape that gives concrete expression to thought and makes it breathe. An inflatable plastic structure is brought to life by a household fan. A video shot in Ian's studio is projected onto a panel. In a mise en abîme the eye scans the outside of this recreated building before penetrating into its interior. The overall layout suggests the spatial arrangement of the different elements of a painting. Each overtly fragile piece – sometimes broken or incomplete – is precisely placed. The impression is one of low-key improvisation, as if things are still in the planning stage. In this exploration of Chaves da Costa's architectural concept Ian raises the questions of scale and of material and its adaptation.

We are fascinated here by a kind of anatomised landscape whose delicacy and poetry demand real attentiveness on our part. At odds with the limitations of language, Ian's work teaches us to slow down and take account of life's margins.

Click here to see more details and the exhibition, and read more about Fine Art at Brasenose.