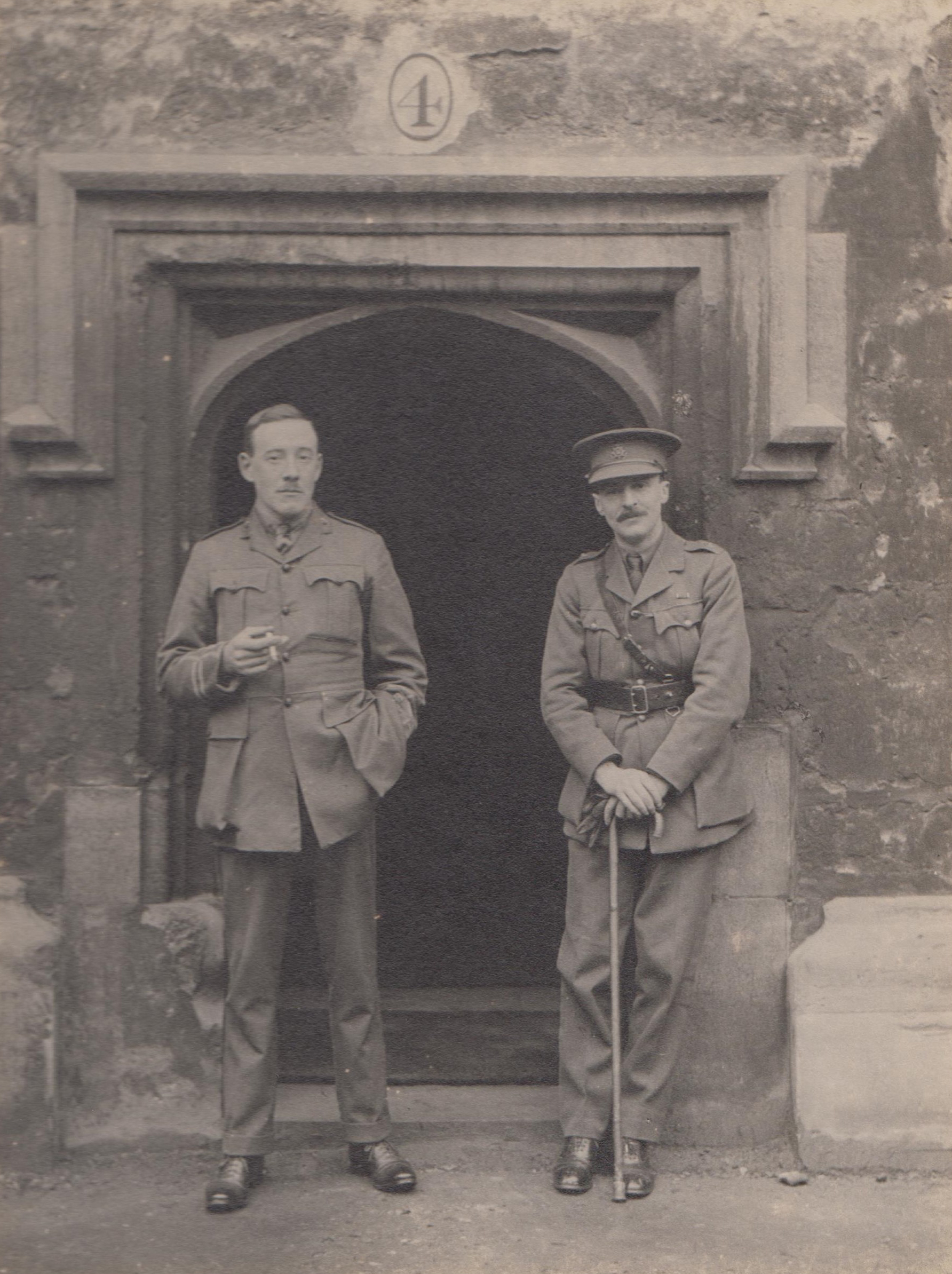 To mark the centenary commemoration of the First World War there is currently a display in the Chapel, which includes material from the college archive. Amongst the display is a Roll of Service, which lists the 665 members of the college who served in the war. Of these 116 lost their lives. Tutors, undergraduates and members of staff were all involved in the conflict, which severely affected daily life at Brasenose from the autumn (called 'Michaelmas') term 1914. During the war college was made available to several military authorities, who used lecture rooms for reading and the Quads for parading. A few undergraduates did remain at Brasenose, side by side with the military, though numbers remained low throughout the war. The tutors shared their Senior Common Room and Common Table with the dons of Lincoln College but towards the end of the war there were difficulties in obtaining foodstuffs, especially meat and sugar.
Amongst the many Brasenose men who served in the war were Druce Robert Brandt and Alfric Euan Allies. They were amongst the 116 men who lost their lives and it is their stories which are highlighted in the display in Chapel. Druce Robert Brandt, a Classics tutor at Brasenose was a Lieutenant in the 6th Battalion of the Rifle Brigade. He had only been at Brasenose for two years before the war began and had recently left the College to become a social worker in Bermondsey. Brandt was only aged 27 when he fell in action at Flanders in 1915. Alfric Euan Allies was a student at Brasenose from 1910 to 1913 and commenced his war service in August 1914, for the 8th Battalion of the Royal Welsh Fusiliers. Within a year of commencing his war service he was sadly killed in action at Anzac, Gallipoli in 1915. The Gallipoli Campaign, which was also known as the Dardanelles Campaign, was fought on the Gallipoli peninsula in what was then a part of the Ottoman Empire between April 1915 and January 1916. His letters home, a selection of which were published as 'Letters of a Subaltern in the Dardanelles' in the Oxford Magazine, reveal his experiences from the beginnings of his voyage from Avonmouth to life in the trenches.
One member of College, WTS Stallybrass, who in 1914 was Vice-Principal, documented many serving members of the College in his photographs. Many of these photographs were taken of members whilst they were on visits to Brasenose during leave from active service. His photographic collection serves as a poignant reminder of Brasenose men who served in the First World War. For more information about Brasenose and the commemoration please visit the Library and Archives Blog.