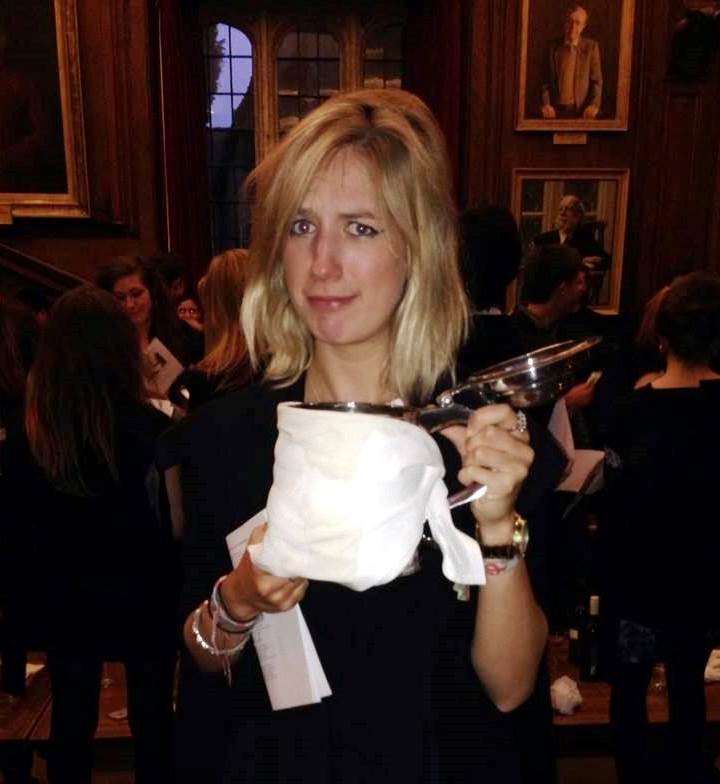 By Henry Zeffman - JCR President and Second Year PPE student
On the evening of Tuesday 29th April, Brasenose came together to perform Ale Verses, one of College's most peculiar traditions, which dates back to the days when members of college would gather round the braziers in the Dining Hall to keep warm. Nowadays, the occasion takes the form of a three course meal, followed by standing on the benches in Hall, while (optionally) drinking warm ale from silver jugs, to sing satirical songs about college life to the tunes of popular hits. Dr Christopher Timpson presided over ceremonies in a rich and lyrical baritone, with the verses accompanied by the three organ scholars on a semi-functional and sometimes-audible Clavinova.
The topics of this year's verses ranged widely. The freshers were taken down a notch in the style of The Who (talkin 'bout those pesky freshers); Jerusalem was reworked to extol the virtues of Brasenose's northerners (Bring me my cup, of burning tea!/Bring me my pasty of desire!); the academic pressures of an Oxford degree were decried to the soulful melodies of Jessie J (It's not about the study, study, study/We don't wanna study, study, study); and the forthcoming retirement of the Principal was marked by a call for his wife, Jackie, to fill his shoes (Jackie Bowman, I'm down on my knees!/I'm begging you please, don't go home!). First prize, though, was awarded by the scientifically-dubious measure of the 'clapometer' to a verse relating the storied Brasenose career of the student body'sDomestic Representative, Harry Ager. It was the sixth year that the author of that verse, Andrew Sillett, had submitted an Ale Verse, and his first victory: it was no surprise, then, to hear him describe his success as "the greatest day of my life." The Brasenose home brew was pretty potent, after all.
The photo shows Becky Heaysman (Second Year English Student) clearly enjoying her jug of ale.
Read more about life at Brasenose College