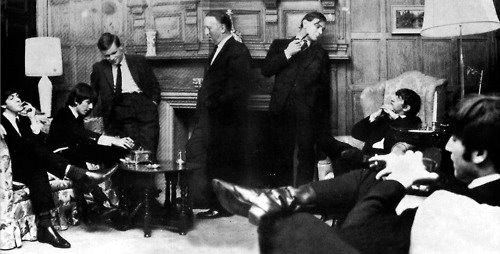 This week marks 50 years since the Beatles visited Brasenose College. The Fab Four came to Brasenose on 5th March 1964 for a short time, at the climax of a fund-raising appeal by the charity Oxfam.
1964 was a period of frenetic activity for the Beatles. Shortly after their visit to Brasenose, they embarked on their first world tour, including shows at exotic locations such as Copenhagen, Hong Kong, Adelaide, Auckland and, most glamorously, Blackpool. Just before coming to the College, they had visited America for the first time. With Beatlemania gripping the United States, they were greeted at John F Kennedy airport New York by thousands of screaming fans, and later played the Ed Sullivan show, with 73 million viewers (still considered the largest number of viewers for an American TV show) watching. Musically, the band were in a prolific phase too; their second album With the Beatles had just been released, and a Hard Day's Night album was just around the corner. During the days either side of their visit, the band were filming for the Hard Day's Night movie.
Only a handful of grainy photos survive of the visit. The image presented here shows Sir Noel Hall, an eminent economist who was Principal of Brasenose College at the time and David Stockton, a history tutor, chatting to the group, along with author and former politician, Lord Jeffrey Archer, who is said to have arranged the visit.
Looking back, the Brasenose College of 50 years ago was a galaxy away from the modern, progressive social and academic community we have today. Just like the other colleges of Oxford at that time, Brasenose was single sex, with only male students, and it would be another 10 years until women were admitted to the formerly all-male colleges. Reflecting on the photo presented here, Dr Llewelyn Morgan, Classics tutor at Brasenose, who coincidentally went to school on Penny Lane, commented: "This is such a striking image: modern Britain in the shape of Ringo relaxed in his chair set against the stiff Oxford traditions of gowns and sherry. To me, the Beatles are entirely familiar, while the images of the Brasenose dons are from a different world. Brasenose, and Oxford in general, has changed so much in these fifty years, above all with the admission of women students a decade after the Beatles' visit, which is another anniversary we'll soon be celebrating!".
Brasenose, along with, Jesus, Wadham, Hertford and St Catherine's College were the first all-male colleges to become co-educational. Today, all colleges in Oxford are co-educational.
Read more about life at Brasenose College today.