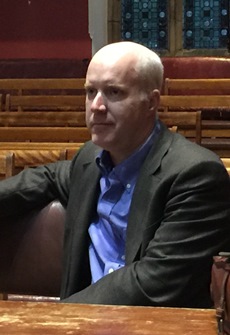 Positions
Tutorial Fellow in Management Studies, Brasenose College
Reader in Business History and Strategy, Said Business School

Subject
Business History & Strategy
Qualifications
BA, Amherst College; MA, PhD, Johns Hopkins University
Academic Background
McKenna holds a BA in Economics from Amherst College and a Ph.D. in History from The Johns Hopkins University and he has held visiting academic fellowships at Harvard, Yale, Georgetown, and Toulouse. Before coming to Oxford in 2000, he taught at the Wharton School of the University of Pennsylvania. A popular lecturer of undergraduates, MBAs, and executives, in both 2005 and 2006, McKenna was nominated as one of the three best teachers in the University of Oxford for the UK's National Teaching Fellowship Award.
Undergraduate Teaching
McKenna teaches on the Economics and Management course as a tutor and lecturer for both the Introduction to Management and the Strategy courses.
Research Interests
Christopher McKenna is particularly interested in the historical development and evolving strategies of professional firms and their role in the international transformation of business, nonprofits, and the state. More generally, McKenna is interested in integrating the empirical analysis of organisational and technological history with the theoretical and pragmatic interests of scholars in business schools. He is a founding member of the Clifford Chance Centre for the Management of Professional Service Firms at the Said Business School.
Publications include
The World's Newest Profession (Cambridge University Press, 2006);
"Writing the Ghost Writer Back In," Management & Organizational History (2006);
"Mementos: Looking Backwards at the Honda Motorcycle Case, 2003-1973,"
in Steven Usselman, Naomi Lamoreaux, and Sally Clarke (eds), The
Challenge of Remaining Innovative, (Stanford University Press, forthcoming).
The Fellowship: Interviewed
Explaining the scandals of our time
Click here to read an interview with Professor McKenna by Editor of Oxford Today, Richard Lofthouse
Email
Link