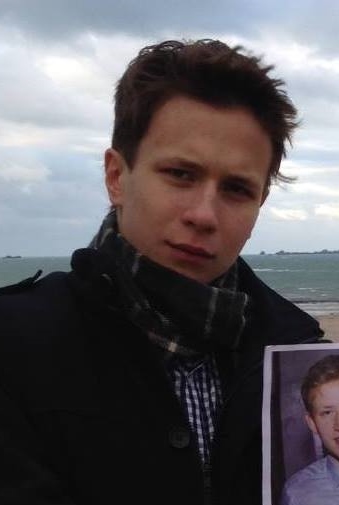 Hometown & Region: Folkestone, Kent
Degree: History and Politics
A levels: English Literature, History, Sociology, General Studies
Year of study: Third
When I'm not working I'm…
...Socialising, a lot – I have a good group of friends both within Brasenose and at other colleges, and there's so much to do. Whether that's just a quiet night at a bar, recovering from a hangover in a friend's room, or going out in Oxford, it's a great place to make friends and to enjoy the social side of university. I've also been active in the college's history society, as well as participating in political debates and standing as a city councillor.
What made you choose to study at Brasenose and/or Oxford?

I chose Brasenose after attending an Access Day back in 2009. What really swung it for me was the friendly atmosphere, as well as the Brasenose tutors, who were not only very good but also relaxed and enthusiastic. I looked at other colleges afterwards, but from that moment on Brasenose was the college for me. I chose Oxford as a whole because of the great teaching and academic provision on offer, as well as really liking the city.
Is life in Oxford different to what you expected it to be?
The image I had of Oxford from my school was one of serious faces, hurrying from library to library in gowns, laden with books. This couldn't be further from the truth – the nightlife is brilliant and very fun, and I've enjoyed nights out in Oxford more than in London and other cities across the UK. The other thing about the city which surprised me was how there is something for everyone, regardless of interest.
What do you like most about studying in Brasenose?
It's in a great location, in the heart of the city and right next to the main libraries. It suits lazy people well – I've never had to walk somewhere for more than 15 minutes. Added to that, there are many opportunities for meeting people and making friends for life – I'm moving to London when I graduate with two of my best friends from college.
A quality you think is important for someone looking to study at Oxford?
I think the most important thing is enthusiasm – not only for your subject and work, but also for having fun and making the most of the wide range of opportunities on offer here.
What are the perks of your degree?
Oxford really is the heart of the action for studying history – there are three excellent museums just a stone's throw away, and the course is expertly delivered by the leading voices in academia. I couldn't think of somewhere better to study.