Page 6 of 8
Special Collections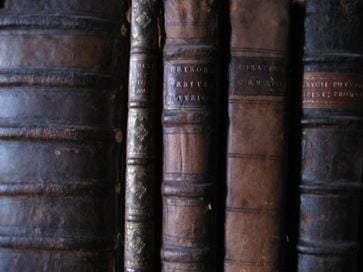 In addition to the collections held in the three main areas, the College Library has two older collections, namely the pre-1640 collection consisting of approximately 2560 items, and the collection known as the Stamford Collection (owing to its previous location in Stamford House basement) which contains an eclectic range of books mostly dating between 1640 and the late 1700's. The core of the Stamford collection consists of bequests, most of which reflect the libraries of former Principals of the College, from the period of the Civil War, the Commonwealth and the Restoration on into the eighteenth century. The subject coverage as established thus far, is diverse including antiquarian learning, law, political and religious pamphlets in addition to both English and European literature. Cataloguing of the Stamford collection on to OLIS has commenced but it is a slow process and until completed the full richness, or exact size (thought to be in the region of 10,000 items), of the collection cannot be determined.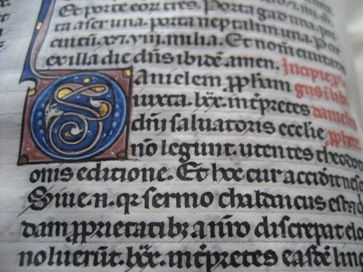 Items in these collections are not for available for browsing but may be consulted if genuinely required for research purposes. Books with a shelfmark prefix of Lath, UB/S, MS, Yarb, Σ, LR/Foilo are contained in these collections. These items are not available for loan. Most of these items have recently been placed into storage to facilitate building renovations, and are unable to be consulted. We are hoping for their return by the end of 2022. Please contact the library if you have any questions.
Learn more about our retrospective antiquarian cataloguing project below.
Brasenose Authors
The College has a substantial collection of books written by, and about, members of BNC past and present. The books range from modest pamphlets and anecdotal tales of yesteryear to major works such as Foxe's Book of Martyrs. Not all works by BNC authors find their way in to this collection as many of those more recently donated and deemed to be relevant to the studies of current students are added to the main collection. The Brasenose Authors collection is divided between two locations owing to shortage of space and suitable storage conditions. Many items are already catalogued online (SOLO) but cataloguing of the remainder is work in progress. Items that are held in this collection can be identified by the "Bras" prefix e.g. Bras B 112. Please ask if you would like to view any item in this collection.
A list of presentations to the library appears in each volume of the Brazen Nose. It includes all those authored by current and old members.
Oxford Collection
There is a small collection of books relating to all things Oxford such as college histories. The History of the University and Oxford Historical Society publications. Again, owing to shortage of space these items are not held in one place but if required can be quickly retrieved upon request.
Camden Society Series
The College holds the Camden Series' 1-5. They have the shelfmark "Camden" and are held in the Del Favero Reading Room.
Periodicals
The College still subscribes to around 50 titles and are listed in the card index located in the Hulme and are also appear on SOLO. Periodicals are for reference only and must not be taken out of the library without special permission. Periodicals are in various locations throughout the library and older volumes are housed in stack areas. Please ask for assistance if you require a volume that is not on the open shelves.
Recent copies of Nature, Science, The Economist and Harvard Business Review are put out on top of the section of card catalogue adjacent to the counter. These journals are available a week (a month in the case of HBR) after publication as they go straight to the SCR for a week (or month for HBR) on arrival. The back issues of these titles are held for two years in the library office and are available on request. In addition, Scientific American and New Scientist are passed on from the SCR and each issue is kept in the library until a more recent issue is received.
Oxford University e-journals is a rich collection of journals available in electronic format and we strongly recommend the use of these.
Cataloguing the Antiquarian and Rare books at Brasenose
In the Summer of 2007 we were able to recommence the cataloguing of antiquarian books. The catalyst was a donation from alumnus Paul Lloyd and we were fortunate enough to recruit experienced antiquarian cataloguer Sophie Floate as featured in the Brazen Notes issue 5 2007.
The vast majority of the College's collection of pre-1640 works are yet to be catalogued on OLIS as are all but a very small proportion of the 17th and 18th books held in the recently refurbished Basement XII area. Sophie has almost finished working on the Yarborough collection and this is just the tip of the iceberg.
The importance of this project is obvious: we need to know precisely what we have in our collections. To date we have made do with hand written, often illegible cards which carry little useful data other than a shelfmark, and handlists that do not even record complete title and author information. This is a sorry state of affairs when we belong to an age where searchabilty is paramount. However, by cataloguing the books on OLIS and recording data accurately and fully we aim to make our rare and antiquarian collections much more visible not only to our own members but to scholars all over the world.
The information recorded as each book is catalogued will always be of great value. However trends in research methods and technology shift, the data we record now will remain, in perpetuity, accessible in some shape or form. For the time being it is held in the University Union Catalogue (OLIS) but even as researchers move away from using library catalogues as a first port of call, it should always be possible to find our items of interest through whatever the in-vogue medium might be.
Most of the BNC student body probably know nothing about these collections secreted in College, and although we do not hold the grand collections, housed in wonderful ancient rooms like some colleges, we do nevertheless own scholastically and historically interesting works. It is only through careful cataloguing that we will discover the full extent and richness of our older collections.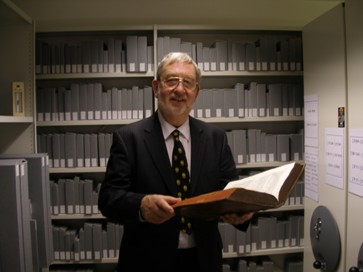 We are thrilled that Paul Lloyd is taking such an active interest in our work. Paul was a keen library user in his undergraduate days but knew nothing of the existence of our rare books back in the 1950's. We are thankful that he quickly recognised the true value of such a project and value his support.
Anyone interested in learning more about this project should email Sophie Floate.