Page 4 of 8
How to find a book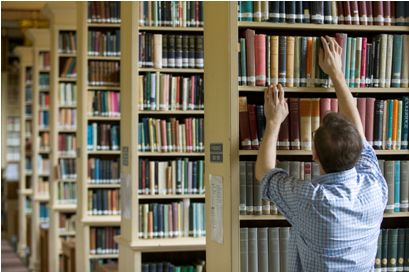 The majority of the library's collection is catalogued on the online catalogue for the University of Oxford, accessed via SOLO. However the Library does maintain a card catalogue that is located in the office off of the History Library. This includes items not yet catalogued on online but not law books.
The shelfmark system at Brasenose College is based on subject areas. The basic format is a letter or letters (corresponding to a subject area) followed by a number. For example, the shelfmark F/MR 12 indicates English language and literature (in this case, Shakespeare). Subject letters are:
| | | | |
| --- | --- | --- | --- |
| B | Modern Languages | P | Medicine & Biological Sciences |
| E | Philosophy | O | Geography |
| F | English Language & Literature | Q | Psychology |
| G | Ancient History | R | Economics |
| J | Classics | S | Business and Management |
| L | Physics & Chemistry | X | Theology |
| M | Mathematics | Y | Music |
| NX | Engineering | ART | Art |
| LR | Law | Hemi | Reference material, such as dictionaries, grammars and companions |
Reserve Collection
Books that are in high demand for individual courses are often placed on reserve in the library office at the request of college tutors. The shelfmarks for these books follow the same convention as non-reserve material, with the prefix "Res" added to indicate their location. Most Res books are available for short loan (3 weeks) and are accessible upon request during normal working hours.
Reference
Books that are marked "For Reference Only" or "Not to be Taken Away" may not be checked out or removed from the library at any time.
Stack
A shelfmark with the prefix "stack" indicates that the book is held in one of several of the College's underground store rooms. If you require a stack book please ask library staff for assistance. Most stack books are available for loan.